Podcast: Play in new window | Download (Duration: 35:58 — 16.6MB) | Embed
Subscribe: Apple Podcasts | Google Podcasts | Stitcher | RSS | More
Steve Jaxon, co-host Dan Berger, Barry Herbst and guest Greg La Follette talk about Greg's wines. Along the way, Dan Berger remembers André Tchelistcheff, "the godfather of American wine," and the black wine glasses appear for a mystery tasting.
Dan introduces Greg Follette as, "…one of the great winemakers of America." Steve asks Greg to introduce Alquimista, which means alchemist in Spanish. https://alquimistacellars.com/
Greg tells how he was fortunate to encounter the great André Tchelistcheff early in his career. André Tchelistcheff is described as "the godfather of American wine" on the Alquimista website, where Greg describes his association with the great winemaker.
Dan gives a brief biography of André Tchelistcheff. He was a White Russian who was living in France and got his degree in Paris. He was originally a winemaker. He stood about five foot two and was a great talker. He was hired by George de la Tour to be winemaker at Beaulieu Vineyards in the 1930s. He was also an early associate of Dr. Maynard Amerine who led the Department of Viticulture and Enology at UC Davis since it opened in 1935. He died in 1994 at the age of 92.
(For information about a feature-length documentary about André Tchelistcheff's visit the film's website here. 
He was more insightful than anyone and had the vision to overcome certain obstacles. He did his own research and advised a lot of people on what to plant in what areas. In 1946 he was the first to plant Pinot Noir in the Carneros. His student and research partner was Joe Heitz, who founded Heitz Cellar. https://www.heitzcellar.com/
He consulted 75 wineries throughout the US. Dan says he could tell us ten or twelve legendary stories about him and the fact that Greg has such a connection to André is important. It was André's view that we could do things with wine in this country that had simply not been done before. Greg mentions that some of his BV (Beaulieu Vineyards) Cabernets are the best he has ever tasted, such as 1968 and 1970.
Next, Dan brings out some black wine glasses for tasting, to guess if the wine is white or red. Steve explains that Justin Wangler from KJ brought them onto the show once and said they are black so you can't tell anything about the wine from looking through the bottle, forcing you to taste with your nose and mouth.
Dan has a wine to be tasted in a black glass. Steve can't see it but tastes it and guesses it's a white. Dan says it's an old, tired, German rosé, essentially a white wine. It's made from a Trollinger grape, from 2010. Dan says that in a clear glass, the color would put you off. You'd say it was tired, already oxidized. But it still tastes nice!
They use these black glasses for study and special tastings at UC Davis and Fresno State.
Greg La Follette explains that he consults for different bottlers and also makes his own wine. Once, a client paid him with the wine he made for them. That started him in his own production, which he sells mostly direct to consumer and sold as futures. That means, the consumer comes to barrel taste a wine and then order by the case. He also sells barrels or half barrels.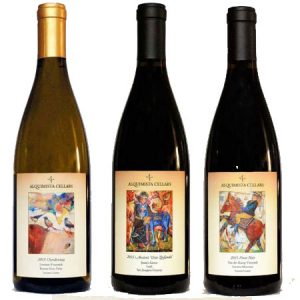 Greg La Follette gives talks about biodiversity in farming and Alquimista is dedicated to giving back to the community. They also commission label art from local artists. See this page on the Alquimista website for examples of label artwork: https://alquimistacellars.com/shop/futures Greg just wants to work with friendly people whom he enjoys. Alquimista is very small, only about 1000 cases per year.
Then they taste the Alquimista Chardonnay, from the Lorenzo vineyard. It is one of the oldest Chardonnay vineyards in the Russian River Valley. Dan says it is in the Burgundian style with real Burgundian flavors and aromatics. It has a very slight funky component, which is an essential component of white Burgundy. Dan suggests it's made to go the long distance. Greg compares the process to going almost too far, then pulling back from the funky earthy flavors. Dan says it has it all, whether you drink them now or hold them for ten years, they're still there. Greg says he makes his wines to last and Dan says yes, it's due to their acidity.
The next tasting is a 2015 Pinot Noir from the van der Kamp vineyard. It's one of the highest vineyards on Sonoma Mountain and one of the oldest Pinot Noir vineyards around. Dan says its strength comes from old Pinot Noir clones and old vines. It has nice acidity, not sweet in the entry or the finish. Greg explains that they use shallow dairy tanks, and instead, each cluster is placed whole into the dairy tank and all the air is pumped out of it. Every single berry is fermenting separately. This captures aromatics that you can never capture from a traditional fermentation. He gets nice brown, ripe stems, which contribute to the flavor. Dan says the trick is to avoid green stems. You have to wait until the stems are ready. Greg loads the tank in his truck and the clusters go straight to the fermentation tank, which has its oxygen bled out using CO2.
Barry Herbst brought in a 2014 Wild Hog Grenache from Eagle Point Vineyards, in Mendocino County, made by Dan Schoenfeld. He also makes other varieties which all sell well at Bottle Barn.
Dan says it has nice wild strawberry, cranberry almost, great acidity. It's a whole different game from Zinfandel. Dan asks Greg La Follette to compare Grenache and Zinfandel. Greg says this Grenache comes from a high elevation so it has a lot of depth and intensity to it. It retails for $17.99 and Dan says it's worth $40.
Next is a Lodi Zinfandel from a 129-year-old vineyard, one of the oldest in America. Apart from Zin it has Black Prince, a heritage table grape, Flame Tokay, another Caragnon and Mission Grapes, which Dan notes is the first grape planted in California, in 1769 at Mission San Diego.
Dan mentions that it is nice to be able to give high ratings to these wines that are actually available, instead of the practice of "certain other wine writers on the east coast" who write reviews and give 100 points to wines which they then say are unavailable. Greg La Follette reiterates that he is happy to be so deeply rooted and connected to his community.