Podcast: Play in new window | Download (Duration: 36:11 — 16.7MB) | Embed
Subscribe: Apple Podcasts | Google Podcasts | RSS | More
Rebecca Robinson is today's featured guest on California Wine Country with Steve Jaxon and Dan Berger. Rebecca is the Executive Director of ZAP, Zinfandel Advocates and Producers.
ZAP will be holding ZIN EX, the Zinfandel Experience, in San Francisco, January 18-20 dedicated to Zinfandel.
Robert Larsen is also back in the studio today. He spent many years at Robert Strong and now runs The Larsen Projekt. (He was last on California Wine Country in September of last year. Here is a link to the podcast of that show.)
Recap of Wines Tasted Today:
2014 Acorn Zinfandel, Heritage Vines, Alegría Vineyards, Russian River Valley.
2015 Robert Biale Vineyards Zinfandel, Black Chicken, Napa Valley.
2015 Ledson Zinfandel, Sonoma Valley Reserve, Estate Ancient Vine.
2015 Armida Zinfandel, Maple Vineyards, Dry Creek Valley, Sonoma County.
First, Steve asks Dan Berger about his wine column published today in the Press Democrat. Dan tells that it is about the large number of 2017 white wines that will start to appear in the stores over the next two months. They will be very fresh and young but they would benefit from at least another 6 months in the bottle. Read the whole article here.
Dan introduces Zinfandel as a natural grape for the United States because it doesn't grow anywhere else. It was a variety that came from Europe around the turn of the previous century. It has a lot of fruit and not a lot of other places grow it. (It is grown in Italy and known by its Italian name, Primitivo.) It has a long growing season and phenomenal flavors. It can make many different styles.
Rebecca Robinson's experience in Zinfandel goes back to when she was a student at Sonoma State University. She worked in the wine industry for a while before starting as Executive Director of ZAP about 20 years ago.
Rebecca Robinson on ZIN EX
She describes the Zinfandel Experience, which they have been producing since 1991. They are at 3 locations this year; Thursday January 18, there is a farm to table dinner at One Market. The next day there is an educational session about growing the grape and making the wine. Then on Friday night there is a winemakers' dinner and auction to support their educational foundation. On Saturday they finish with the grand tasting at Pier 27 on the Embarcadero in San Francisco. Some events are sold out, see the websites prior to the event for all updated information.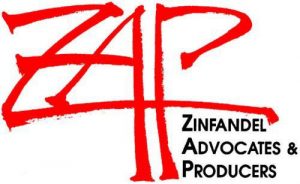 Rebecca Robinson talks about how they are telling their story of how the California winemaking business has evolved and how they were successful at promoting big tasting events early on. Dan points out that Zinfandel has become one of the most interesting varietals in terms of vineyard designations. Joel Peterson at Ravenswood was a pioneer at this. You don't just look for the brands, you look for the vineyards. Some of the vines are over 100 years old and the flavors are consistent from year to year. He mentions that it can be made into everything from white wine to port, and you will see (and taste) all of those and everything in between at the event.
The Flights event on Friday is about carrying Zinfandel into the future. They celebrate the living treasures of the old vineyards, but the young winemakers are in a unique position to carry it forward.
Dan discusses Zinfandel as a food wine. They all had lunch today and talked about how they go with food. Lamb goes well with Zinfandel, says Steve. The 2014 Acorn Russian River Zinfandel that they are tasting is a good example. It should be decanted at least, or left in the cellar for several years. They thought that other dishes would be better with other Zinfandels that are not as assertive as that one.
Next, after the break, they taste some 2015 Zins, starting with a Robert Biale Black Chicken Zinfandel, which is a vineyard designation. It's medium bodied, not as heavy and alcoholic as many others, with good structure, well balanced with nice oak aging.
Robert Larsen agrees and tells how this Zin, by comparison, in from Napa Valley, and that reminds him of the variety of Zins that will be there at the Zinfandel Experience tasting. They are 3rd generation Napa Valley Zin growers. Only 2% of vineyards in Napa Valley are planted to Zinfandel. Dan mentions that you can understand why, if you can get $150 per bottle of Cabernet Sauvignon, you might as well just plant that.
Dan says it was aged in French oak and has a bit of mint and cranberry in the aroma. It has good structure, finished on the tongue with lots of fruit. It would go well with beef stew cooked with bay leaf for aromatics. The Biale sells for $48, and Robert Larsen mentions that similar ones go as high as $60.
Dan mentions that Pinot Noir is so popular with collectors but Zinfandel is popular too because it can be drunk right away without long time in the cellar. It can really open up with just a couple of hours in the decanter and that releases the flavors, primarily of strawberries, that is in it. He says they opened a bottle of 1976 Ridge Zinfandel last Saturday night and it was fabulous. They also had a bottle of 1980 Hacienda del Rio Zinfandel from the Jack Hess Hill vineyard (the Martinelli property) and it was in great shape like the other one.
Dan observes that people really do love Zinfandel, especially the vineyard designations. Joel Peterson of Ravenswood has led the way in this regard, also Rob Berglund at Joseph Swan has worked to preserve the old vineyards. Rebecca Robinson notes that part of their mission is to spread the word and to help people understand and appreciate Zinfandel.
Rebecca Robinson describes the different events within events planned for this year's ZIN EX, The Zinfandel Experience. For example, at the Grand Tasting on Saturday, anyone attending can join a small intimate "Meet the Maker" session. There will be more than 40 of them all day and it's a chance to ask the winemakers about the wine. For example, you can ask why they use French or American oak, which Dan points out can give very different results.
There will also be an interactive exhibit with a Zinfandel Aroma Wheel (see illustration above; click on it to enlarge) and much more. It's about the interactive nature of tasting and they want to give a full experience with Zinfandel.
Steve is fascinated by the name Black Chicken, which is a vineyard in Napa, one of Robert Biale's vineyards. It's the third wine down on this web page at Robert Biale's website. It is also available from this shop page on the same site.
Next they taste a 2015 Ledson Zinfandel, a Sonoma Valley Reserve Ancient Vines estate wine. Not quite as assertive as the Biale, a little more evidence of French oak, says Dan. His only objection is its price $86, but he understands, since some of these old vines produce much less per acre, than most others.
After the break, and a plug for the podcast, they give away a pair of tickets. Rebecca Robinson notes that one of the unique features of ZIN EX is that attendees have the opportunity to talk with the winemakers. The lucky winner is Jody from Petaluma.
The fourth tasting is the Armida 2015 Zinfandel from Maple Vineyards in Dry Creek Valley, which Dan says is one of the finest vineyards in Sonoma County. Tom and Tina Maple really know what they are doing. It's made in a more delicate style. This is $42 per bottle and Dan says that's a special price for a wine that typifies what Dry Creek Valley does best. It's one of the greatest regions for Zinfandel in the US.