Podcast: Play in new window | Download (Duration: 23:53 — 11.1MB) | Embed
Subscribe: Apple Podcasts | Google Podcasts | Stitcher | RSS | More
Today's guests are Sheila Quince from the Sonoma County Harvest Fair and Tom Simoneau who join Steve Jaxon Dan Berger and Barry Herbst from Bottle Barn. Barry has brought in the three top Sweepstakes Gold Medal winners from the 2019 Sonoma County Harvest Fair. Shelia is the wine judging coordinator for the Harvest Fair. Tom Simoneau has never judged at Harvest Fair. In 1992 Tom won the Best Amateur Wine Sweepstakes award, and Steve's station called Tom to get an interview for a show about wine and food. That is when Steve named Tom Simoneau The Sonoma County Wine Guy.
There are three sweepstakes winners, red, white and specialty, which includes anything else like rosé or sparkling wines. The first tasting today is the Specialty category Sweepstakes winner, the Balletto Sparkling Brut Rosé 2018. They have won three times. Two years ago they won the award for best red. Dan describes its unique copper-ish color. It rests on the beautiful soft tannins. It's a red wine in sparkling form, pink in color, but the tannins are gone. Barry says the wine's great acidity comes from them picking early in their own vineyards.
Bottle Barn already has over 100 bottles of Gold Medal and above Harvest Fair wines, right in the middle of the store. Tom says the Harvest Fair has done a lot for great local winemakers. Sheila tells how they started Harvest Fair in 1975. There were 19 wineries that entered 155 wines. This year, 148 wineries have entered 1,024 wines. Tom describes how they still have customers today that they got in the wake of their Gold Medal wins three years ago. Dan remembers the Glen Ellen 1985 Cabernet won in 1987, which catapulted that company into a major brand. The Harvest Fair Gold Medal that Kenwood won for their Sauvignon Blanc had a similar effect for them.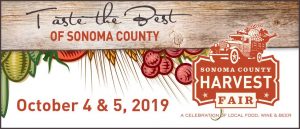 Sheila Quince tells how they have three sweepstakes winners, the Specialty, red and white. All are judged by private ballot. The top 3 are kept secret until the awards night gala. Next they open the White Sweepstakes winner, the 2018 Russian River Winery Chardonnay from Peterson Vineyard. Barry Herbst says it nicely straddles the middle between the buttery and the steely styles of Chard. Dan says it is unoaked and the spicy flowery components are in all kinds of Russian River Valley grapes, not just Chardonnay. This may be the first unoaked Chardonnay to win a Harvest Fair sweepstakes. The running score is Sauvignon Blanc 17, Chardonnay 10, over the last 27 years. No other white varieties have won the Harvest Fair sweepstakes.
Finally, the 2017 J Vineyards Pinot Noir is the red sweepstakes winner.