Podcast: Play in new window | Download (Duration: 30:53 — 14.3MB) | Embed
Subscribe: Apple Podcasts | Google Podcasts | Stitcher | RSS | More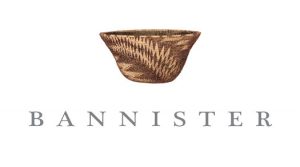 Pete Foppiano is sitting in for Steve Jaxon today. Dan Berger has brought in Brook Bannister from Bannister Wines. He is the son of Marty Bannister, the noted wine chemist and wine maker who also founded the family label. Marty Bannister and Mary Ann Graf ran Vinquiry in Healdsburg, which was for a long time the leading lab testing firm in wine country. Marty started Bannister Wines 1989 to 2006 when she had to retire due to illness. Brook came to California in 2012 to revive the winery and his first vintage was 2013. Dan says that Marty's wines were great, based on acidity and structure. Brook is happy that he has been able to bring the family brand back.
First, they taste the 2017 Chardonnay. Marty Bannister was a pioneer of cooler climate wines, which was not a popular style in the 1980s. Then, rich and bold wines were more popular. But the most she ever made in a year was 1500 cases, so when you're that small you can make the wine you want to make and it will find its audience, even if it's not the trendy or popular choice. This Chardonnay is stylish and citrusy, says Dan. It's from Alexander Valley, from the cooler region. It stays on the lees for 11 months. Dan says it doesn't need much oak because it has such bright fruit. It's almost like a Russian River aromatic style. Dan asks Brook if he used his mother's advice and he replies that he is definitely carrying forward her practices and style. The goal is to make food-friendly wines. Dan says this is really a boutique kind of style, not like the mass market Chardonnay style.
"From a historic point of view, the Bannister brand is critical to Sonoma County's history."
— Dan Berger.
Brook was never involved in the business side of the wine business, so he had no idea how that was when he started. Prior to this he had a furniture making business in Oakland. Pete Foppiano says that Sonoma County is blessed to have several small family owned wineries, although there are not as many as there used to be. Dan notes that the market has changed as well. Styles became bigger and richer and bolder, but with food part of the daily experiene, wine and food go together daily, so as the 2014 and 2015 wines come out, those were cooler years so the styles were less aggressive. "This has led to a rebirth of the food style of wine, which is really helpful." He says his mom's protocol for making Chardonnay is evident.
Brook also has brought 2015 Bannister Green Valley Pinot Noir to taste. Dan says the under ripe cherry flavor comes from the cool climate. The secret is you don't smell the barrel at all, says Dan. It has a balance between fruit and oak. 2014 was a big crop so they had 300 cases.
Dan says that as global climate change increases temperatures, this area is still going to have its marine influences. So you can hang the fruit and the sugar doesn't go up. You ripen with the phenolics without so much sugar meaning higher alcohol, says Brook. They pick at 24 but the plants have a lot of acid too.
Dan mentions that Vinquiry was very important for the wine industry and that Mary Ann Graf and Marty Bannister were very well respected for their work.
The Zinfandel they taste comes from a highly regarded vineyard, Saini, on the eastern bench of Dry Creek Valley. Dan says it is perfectly balanced.
Finally they taste the Bannister Riesling. This is an orange wine made from Riesling. There are wines in the south of France that they call orange wine, but this is an Eastern European style. There are very few who make it. Dan says the Cole Ranch is the best Riesling in America and this wine is "caliber number one."