Podcast: Play in new window | Download (Duration: 38:55 — 17.9MB) | Embed
Subscribe: Apple Podcasts | Google Podcasts | Stitcher | RSS | More
We continue our series of repeat podcast episodes featuring women in the wine business this week, since there is no new show today due to ongoing Coronavirus coverage on our home station KSRO in Santa Rosa, CA. This episode with Bernadette Byrne from the Mendocino County Wine Growers, is originally from July 11, 2018. 
---
Bernadette Byrne, Executive Director of the Mendocino County Wine Growers, is our guest on California Wine Country today. She joins Steve Jaxon, Dan Berger and Barry Herbst to talk about Mendocino County grape growers and vintners and to taste several examples of their production.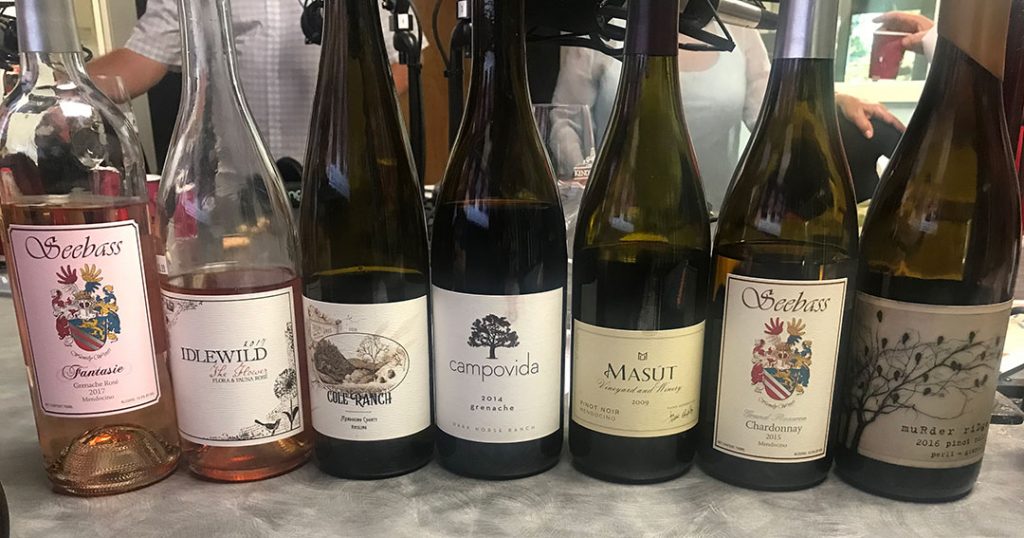 Dan Berger describes the Mendocino County as having a series of sub-regions regions such as Anderson Valley, Redwood Valley and Potter Valley. Each one has very different characteristics that come out in the different varieties that they produce. Potter Valley produces a lot of good Riesling, it's cooler and produces a finer quality of wine, same as Anderson Valley.
There are eleven different sub-AVAs in Mendocino County, says Bernadette. This page on the Mendocino Wine Growers' website has detailed information about the AVAs and sub-regions.
Bernadette has been in the Mendocino County wine business for thirty years, including time working for Fetzer and then in other wineries in Napa. She was the hospitality director for Fetzer in the '80s and '90s when they were growing rapidly. They were innovators in organic farming at the Food and Wine Center in Hopland, and introducing the Bonterra line of wines. She was marketing director for McDowell Vineyards and had a wine shop called Sip Mendocino, which she later sold.
Barry says that Mendocino County wines are on the move and that there is an intertwining between Sonoma and Mendocino counties, because some Sonoma based vintners are using grapes grown in the cooler climates in Mendocino.
Dan says that for a long time, Mendocino fruit was sold outside the county but now, Mendocino County is making more of its own wine than ever before. The fruit from Mendocino County is high quality and costs less than Sonoma or Napa grapes, so some vintners in those other counties will buy some fruit from Mendocino.
More than a quarter of the acreage is organic, and they have more biodynamic vineyards than anywhere. Dan says Paul Dolan gets credit for this. He was wine master at Fetzer who gave lectures on biodynamic farming. He and the late Dennis Martin were leaders in this. Barry says it's expensive to get certified so many farmers apply the techniques without being registered. Full biodynamic farming means zero pesticides and herbicides. There are a lot of wineries that could not afford to make the change because there is risk in awkward and bad vintages that they risk losing their entire crop. Yet, sustainable farming is a step toward that and many more farmers are farming that way.
Bernadette Byrne describes the land is very diverse in the county, with unique microclimates. The inland corridor along Hwy 101 is a warmer place so they grow more Rhone varietals and traditional reds. Mendocino is also known for Zinfandel. They have some fabulous 100-year-old vineyards in rugged land that is still managed by the same Italian farmers who settled the area and planted the vines a century ago. They grow Caranant, Petit Syrah, Barbera and lots of old vine Zinfandel. Coro Mendocino is their project dedicated to their heritage variety of Zinfandel. Coro means "chorus" in Italian and the wines must have 40-60% Zinfandel then blend with a list of allowed varietals. They do a blind tasting to choose the wines. Dan says sometimes, people would reject their own wine.
Dan Berger mentions that if you blend Zinfandel with Barbera the result is in one direction and if blended with Grenache, the result is quite different.
First they taste a Seebass Grenache Rosé. She worked for McDowell Valley Vineyards where they made a similar wine. They also tasted the Seebass Chardonnay, a Burgundian style, malolactic fermentation, barrel aged, "unctuous" as Bernadette Byrne says and Steve agrees. This is a grand style special occasion fine-dining type of Chardonnay.
They also taste a 2016 Pinot Noir. The winery is called Murder Ridge. There are crows on the label and it is a play on words on the collective term "a murder of crows."
The Murder Ridge winery is located in the Mendocino Ridge AVA. It's the only non-contiguous appellation in the US. It's only the ridge tops over 1400 feet, above the fog line, overlooking both the Anderson Valley and the coast. It's a pretty extreme farming situation, says Bernadette Byrne. It's like farming in the wilderness. Dan says you drive up those mountain roads and you don't know where you are. You don't go out at night because it is too remote and there are bears and cougars. Dan says the Zini property makes some of the best Zinfandel in California.
Dan says the 2016 Pinot is from above the fog line so you get more ripeness, with some minty qualities. The structure is good and it may need 3-4 years.
The county has a lot of different climates with a 30 degree temperature swing from the peaks to the valleys.
Next they taste a Cole Ranch Riesling, a 2016. This is the smallest AVA in the country, only 2 acres planted and all by the Esterlina Winery. It has great acidity so it will last if you keep it in the cellar. Dan says the flavors are concentrated making a gorgeous wine. Bernadette says it has a viscosity that is characteristic of great Rieslings.
This Pinot Noir is from Masút, a vineyard north of the Ukiah valley that is the new Eagle Peak AVA. Masút is a local Native American word for rich dark earth. Dan is amazed that this is a 2009 and still has a fresh fruity taste. Bernadette Byrne tells that Masút is dedicated to Pinot Noir run by two grandsons of the founder of Marty Fetzer, Jake and Ben. Their father the late Bobby Fetzer was a pioneer in organic grape growing. Their sons wanted to carry on their father's rebel cause of planting Pinot Noir in the inland corridor. People said it was too hot but Bobby Fetzer knew about the coastal influence in the northern region. He planted exclusively Pinot Noir and his sons are making fabulous wine.
Barry brought an Idlewild Rosé from Mendocino County, in a Piedmontese (north west Italy) style made from some Italian grape varieties not often used for Rosé, like Barbera, Dolcetto and over half being Nebbiolo. The grapes come from Fox Hill and the vineyards are very well respected. It's totally dry, not your typically fruity rosé. Dan says it's red wine with no color. Bernadette Byrne mentions the finish with its spice notes and rose petals.
The Bottle Barn Rosé tasting in August sold out in 48 hours. They will have other tastings and the way to get in is to be on the Bottle Barn mailing list at bottlebarn.com.
Dan Berger suggests visiting Mendocino County and Bernadette Byrne mentions her hometown of Hopland that has many great restaurants, 14 different tasting rooms and the Solar Living Institute. There is even a winery called Jaxon, and Steve still has a bottle from there on top of his fridge.
Finally Dan and Bernadette mention that Fetzer is celebrating their 50th anniversary. Visit their website for more info.