Podcast: Play in new window | Download (Duration: 26:08 — 12.0MB) | Embed
Subscribe: Apple Podcasts | Google Podcasts | Stitcher | RSS | More
Rosé Season is here at Bottle Barn and Barry Herbst is here to tell all about it on California Wine Country with Steve Jaxon and Dan Berger. First, Dan Berger's Cellar Dweller wine this week is a 2010 Chardonnay from New Zealand, from Peregrine, located in central Otago. Michelle Richardson was the winemaker there for that vintage. "Very much alive, still," says Barry Herbst at the first taste.
The season of Rosé wine is here and Barry Herbst describes the Rosé situation at Bottle Barn. A lot of producers did not make Rosé last year. Some other Rosés that they have had in stock actually improve with age. So they may not have quite as many choices as in recent years but the selection is still vast. About 65-70% of their Rosés are from local producers.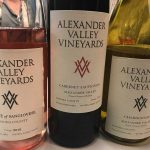 They taste a Rosé from Fred Scherrer that is delicious, "up there with the very best of them," says Dan Berger. A Quiviera winery Rosé is the next tasting. It is a blend of Grenache, Syrah and Mourvedre, classic Rhone varietals. It is a little lighter in color, and also a little bit coppery in color. It is also a 2021. It has a little more Grenache aromatics and fruit components. Dan thinks it would go well with a sausage pizza. It sells for $17.99 and won Double Gold for Rosé at the Press Democrat competition.
Rosé used to be more limited to summer time but Bottle Barn keeps a good selection of Rosé year-round now.
Their third tasting is a Grenache Rosé by Leo Steen, in the Healdsburg area. The grapes come from Sonoma Valley, a little more inland. This one is dry, made of 100% Grenache. It's unusual because Grenache is hard to get. Dan Berger notes that Grenache grapes are much in demand. This is because of its aromatic component. Barry Herbst notes that a lot of the winning Rosés are from Sangiovese or Grenache. It has cranberry-like notes. The Grenache Rosé comes across more structured and astringent than a Rosé made with Grenache without the other varietals in the blend.
Bottle Barn has resumed in-store tastings, in the afternoons and evenings. Check Bottle Barn dot com for up-to-the-minute details.
Alexander Valley Vineyards Rosé of Sangiovese: Wow!
Now they have the Alexander Valley Vineyards Rosé of Sangiovese. The nose on this one is amazing. Sangiovese produces aromatically interesting reds, but in a real Mediterranean climate as they have in Alexander Valley it is ideal. This sells for $13.99, which is incredible for a wine this good. It is darker pink, but richer in body and not sweet. It has structural balance and would go with a wide variety of food flavors.
This week, Bottle Barn has won Best Wine Retailer in the Press Democrat Readers' Choice Awards, for the umpteenth time in a row.
The final tasting is a 2020 100% Carignane Rosé from Mendocino County, Bartolome Vineyard. It's gorgeous, says Dan Berger. Barry Herbst says Delve Wine Company is a co-op next to bottle barn, called Punchdown Cellars. Some small producers making 50-80 cases can do their production work there. It's earthy and "kind of barnyardy" says Barry.