Podcast: Play in new window | Download (Duration: 29:17 — 13.5MB) | Embed
Subscribe: Apple Podcasts | Google Podcasts | Stitcher | RSS | More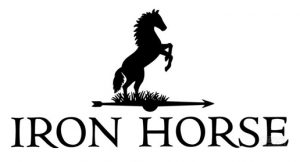 Laurence Sterling from Iron Horse Vineyards is here today with Steve Jaxon and Dan Berger on California Wine Country. Barry Herbst, the wine buyer at Bottle Barn, is also here.
The Iron Horse Vineyards property was one of the original post-gold-rush farm estates. The owners sold it to Rodney Strong, who had a vision in the late '60s and early '70s that it would be an ideal place to grow Chardonnay and Pinot Noir. Then Laurence Sterling's father who was an international attorney living in Paris, brought back a large wine collection when he bought the vineyard and moved to California. He realized that he liked Pinot Noir because his cellar had less of it because he liked to drink it.
They are tasting the 2015 Estate Chardonnay. Barry Herbst says they have it at Bottle Barn. They started a significant replanting of their vineyard in 2005, to focus on clones. 80% or so of California Chardonnay is Clone 4, the Wente clone. He wanted to get away from that by planting other clones. He had planted some Dijon clone Chardonnays, which were good for sparkling. He found two that he liked, one a version of the Wente called Heidl, and another, called Rued, after the California viticulturalist who developed it. That combination allowed them to develop a Chardonnay wine of unique character.
Dan Berger describes opening a bottle of 2005 Rued Iron Horse Chardonnay recently and letting it set in a decanter for about an hour. He says, "This stuff is just totally phenomenal. It's why I bought as much as I did at the beginning."
Steve asks Dan to tell him why he likes this Chard so much and the answer is, it is transitional. In another three or four or ten years this 2015 will be even better. Dan says that most California Chardonnays are not made with the carefully selected grapes and the highest level of skill in winemaking, but the Iron Horse ones are, and it shows. They can last 15-20 years.
Their winemaker looks for a perfect oak balance and one of his techniques is to use water-bent or steam-bent barrels. Most barrel staves are bent over flame, which toasts the wood and imparts a kind of raw openness. They do toast them, but only after they have steamed them. The other trait is that they will use some malolactic fermentation, as needed.
Laurence and his wife and two children moved to Sonoma County from Los Angeles in 1990, after working there as a corporate attorney. He eventually took over vineyard operations.
They also taste a 2017 unoaked Chardonnay, which Dan Berger calls the most transparent wine you can make in California, because there is no barrel and nothing else between you and the wine. Decanting it for an hour or a day allow it to open up a lot. It's like Chablis, with no oak, in that way.
The unoaked Chard came about "totally by accident" at first. Since their bladder press broke they had to extract the juice differently, in the de-stemmer, which had the effect of moderating the acidity. Also, barrels were scarce. So their motto is "adapt, improvise, improve." The unoaked slightly outsells the estate Chardonnay at Bottle Barn, says Barry Herbst.
All the Wente clones date back to the Wente vineyard planted in 1913 from Chardonnay rootstock delivered from the University of Montpellier, France. From there, they distributed cuttings which ended up all over the state and nobody really kept track of where or when.