Podcast: Play in new window | Download (Duration: 25:35 — 11.7MB) | Embed
Subscribe: Apple Podcasts | Google Podcasts | Stitcher | RSS | More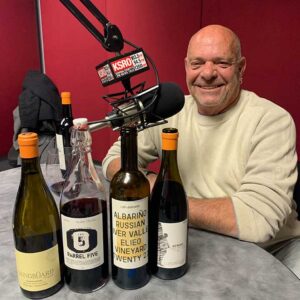 Oded Shakked, owner and winemaker at Longboard Vineyards, is back on California Wine Country with Steve Jaxon and Dan Berger. He was last on the show in 2020 on this episode during the pandemic, when all the guests were calling in on the phone. Previously he was also on the show in 2018 on this episode.  Oded is a surfer so that explains the name Longboard Vineyards.  He has lived, worked and surfed on four continents, says his website.
Longboard Vineyards was founded in 1998, while Oded was a winemaker for J Vineyards. He started Longboard Vineyards as a hobby and he has been doing it solo since 2005. He speaks Hebrew, French, Spanish and English. Dan Berger likes Longboard's Pinot Noir and Oded credits his growers, including Rochioli.
Dan Berger brought another of his cellar wines today, a Silvaner, which is in a bottle shaped like the old Mateus bottles. It is very dry.
Albariño
Oded has brought an Albariño. There is also a Portuguese cousin that in that language is written Alvarinho. This is the wine he would drink while on surf trips to northern Spain and Portugal. The grapes are grown in Russian River Valley. Dan says that this wine has strong acidity. Oded wanted it to be strong like that but not too strong. It was fermented in neutral barrels. Chicken apple sausage is Dan's food pairing idea.
Longboard Vineyards still makes sparkling wines, Brut, Brut Rosé and Brut Z with no sugar. Sauvignon Blanc is the one most found in distribution. He also makes a Rochioli Chardonnay and this Albarinño. The Albarinño is a semi-floral variety but it is a lot more serious than a Pinot Grigio. It also has some white peach flavors. Oded sums it up with one term: yummy!
Carignane and Syrah
He has also brought a Carignane. At one time this was one of the most popular varietals. It is from Vincenzo Vineyard in Mendocino County. He only sells it from the barrel into a growler. "Exotic, rustic, tasty,… pizza wine," declares Dan. It is a single vineyard. Oded descsribes cherry flavors in the bouquet.
The next wine to taste is a Longboard Syrah. Dan says to give it five or six more years. Oded suggests it would go with fish.
The winery is located in Healdsburg at 5 Fitch Street, open 11 am to 6 pm daily. They welcome walk-ins, but groups of 6 or 8 or more can make reservations.