Podcast: Play in new window | Download (Duration: 34:54 — 16.0MB) | Embed
Subscribe: Apple Podcasts | Google Podcasts | RSS | More
Greg Graziano joins Steve Jaxon and Dan Berger on this encore presentation. The CWC folks are gone fishin' this week and there is no new show for today, Sept. 7, 2022. So this podcast episode is a repeat of a show that originally aired on KSRO on Dec. 30, 2020, featuring Greg Graziano, the winemaker for the Graziano Family of Wines. 
---
Greg Graziano, winemaker for The Graziano Family of Wines the joins Steve Jaxon and Dan Berger on California Wine Country today. His grandfather, Vincenzo Graziano, landed on Ellis Island in 1907 and worked his way across the country to Mendocino where he bought 100 acres with his future brother-in-law and began planting grapes, two years before Prohibition. During Prohibition they did whatever they could to survive, selling what wine was legal to sell. Then they sold grapes to Gallo and Italian Swiss Colony, and also Sebastiani and Parducci. Then the family started Mendocino Vineyards in the early 1950s. Gallo and Italian Swiss Colony bought most of the bulk wines then. Later, it was purchased and renamed Cresta Blanca. Then Constellation bought it and changed it to Dunwood, which never took off.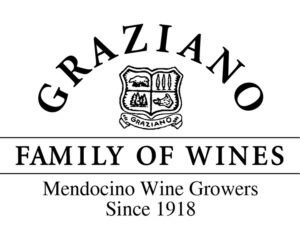 Greg started making wine in 1977 and started Milano winery with his friend Jim Maloney. In 1985 he went to work for La Crema and took over in 1986 and was winemaker until 1990. They made 50,000 cases per year then, and now it's maybe 2 million, so it's a different thing now. The Jackson Family owns it now.
They grow around 30 different grape varieties. He studied at UC Davis and did not graduate, but he explains how he knows what he needs to know. He learned by working for some really great winemakers. Dan Berger appreciates that they make wine from so many varietals from Italy and elsewhere that nobody else is working with.
They have a 2019 Monte Volpe called Vesuvius from Potter Valley. The wine is a blend of grapes that grow around Vesuvius, including Coda di Volpe, Fiano, Greco di Tufo, Trebbiano and others. The vineyard is at a higher elevation so it is cooler so the grapes have higher acidity. The different varieties in this wine are usually never all together. It is very complex and rich, but not oaky.
"The fruit is barking at me in this, it's wonderful." – Steve Jaxon
Greg mentions that they are using screw caps now. They found that there are too few people able to work a corkscrew. The year has been difficult due to all the pandemic closures, but that will improve.
The Graziano Family of Wines includes all the different brands, four at the present time with one more on the way. Monte Volpe is all Italian grape varieties. St. Gregory is all Pinots.
They take a break to taste Dan Berger's Cellar Dweller of the week. It is a 2014 J Lohr Cuvée POM, a Merlot-based Bordeaux style wine. It was fresh and young in 2018 and now (2020) it still has yet to develop its characteristics.
Next they taste the 2017 St. Gregory Pinot Meunier. Dan mentions that there is more Pinot Meunier planted in France in Champagne than actual Champagne grapes. Dan calls it a white wine with color. Greg explains how to identify it against ordinary Pinot Noir by looking at the growing tips of the vine and underneath the leaf, they are covered with tiny white hairs. (The Munier in French is a miller, who gets covered with white dust by milling grain.) It's very floral. They're probably the oldest producer of this in the state. Chandon used to make it but stopped, there was another too. They also make sparkling wine from it.
The winery is in Redwood Valley but the tasting room is in Hopland, so that is the place to visit. There are outdoor chairs and umbrellas, for now, but they are open (late 2020).
A 2016 Barbera is next. Greg opines that in America, we have a tendency to over-do everything, but he makes wine in the old world style. This Barbera got some oak aging, but it's very rare to do that in its native Piemonte. This is the Enotria brand. It was the Greek name for Italy and means Land of Wine. (Eno means wine in Greek.) This variety can get too ripe when its grown here because we have so much sun. It seduces winemakers to think they can leave it on for 3 or 4 extra days. You have to pick it faster so you get a wine with fruit but not over-ripe fruit.
Greg says, he has friends who grow Italian grapes but the wine doesn't taste like it should. You have to drink a lot of Italian wine to understand how that varietal should taste. Don't make it overripe and inky and low in acid.  Or it will just seem like any old California wine.
Next, they taste a Carignane. Dan says it never got any respect because it was the workhorse, blending variety. But as a single varietal wine it has real character. Dan says its delicious
They also taste a 2011 Tocai Friulano. They picked it at 65 brix, which is super high sugar content. It's a late harvest wine. They gave it away to his wine club members