Podcast: Play in new window | Download (Duration: 41:11 — 19.0MB) | Embed
Subscribe: Apple Podcasts | Google Podcasts | Stitcher | RSS | More
Kunde Family Winery and Martin Ray Winery have both sent guests to today's show. Jeff Kunde of Kunde Family Winery and Kate Noble of Martin Ray Winery join Steve Jaxon, Dan Berger and Barry Herbst on California Wine Country today.
Dan introduces Jeff Kunde as one of the great Sonoma County growers, with a large property between Santa Rosa and Sonoma. They grow many different grape varieties. Jeff says they have 19 varietals. Dan also notes how they produce different types and styles of wine. Jeff says they will offer 15 different varietals in their tasting room. Some of it is exclusive for the tasting room or the wine club. They also give tours that are highly rated on Yelp.They have 1,850 acres that range from valley floor to 1,500 feet above sea level. Their moutain-top tasting room is located at 1,350 feet. The view is spectacular. (The pronunciation depends on which language's conventions you will follow, in America it is generally pronuounced "kun-dee" but the German "KOON-da" is OK too.)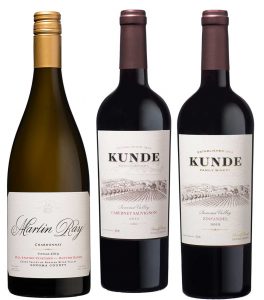 Jeff's great grandfather came to California in the 1880s and bought a piece of property in Windsor. Later he bought the original 1000 acres of the Kunde estate in 1904. It was a family farm originally, in addition to a few vineyards. Over the years, they stopped making wine but in 1990 they decided to start making their own wines again. It is all estate produced and grown, certified sustainably farmed and a family owned operation.
Barry Herbst joins the conversation and Jeff tells how he met Barry last year on his very first day at Bottle Barn.
Kate Noble is here from Martin Ray Winery. They are tasting a Martin Ray Chardonnay that Dan says has beautiful cool climate fruit. Citrus flavors, a teeny bit of oak, not too much, works really well with food.
This is the 2015 Mill Station Chardonnay, they make only a little of it. The wines she brought today are tasting room-only sellers, and will be served at their upcoming James Beard dinners. They have celebrity chef hosts and others cooking for the dinner. It is barbeque focused.
Kate tells the history of Martin Ray. He started in Santa Cruz, was a protégé of Paul Masson. He was a crotchety old guy. He passed away in 1973. Dan says his winery went defunct in 1970, he didn't like to sell wine, only to make it. Some of his best wines were sold at his lower prices. Dan says that early on, not all of his wine was good, some were fantastic though.
Courtney Bentham found 1500 cases of Martin Ray wine in a San José warehouse. He sold Blackstone Wines to Constellation and then wanted to purchase the barrels and also the brand. He bought the property in 2003,
They have an 1881 building at 2191 Laguna Road in Santa Rosa, CA, between Guernville Rd and River Rd. There's a bit water tower there. Dan says that today, they make consistently high quality wines. So Courtney hired winemakers Bill Bachelor and Lindsey Houghton, who then hired Kate.
Before the break they talk about pronunciation of Kunde, Mondavi, Vicario, Berger, Herbst and foreign names generally.
After the break they remember Saralee McClelland Kunde, who died a few years ago and was an irresistible promoter of Sonoma County. She was Jeff's aunt, having married his uncle Rich. She is now the namesake of a barn at the Sonoma County fairgrounds. Jeff actually knew her before his uncle did. She worked with 4H, FFA, etc, administered the Country Fair, was running these events, everyone knew her. (Read her obituary in the Press Democrat, here.)
Steve asks Dan to comment on the Martin Ray Chardonnay they are tasting and Dan says it is another example of how Sonoma valley can make a wine that makes a beautiful broad statement without being heavy or clumsy. It is light and delicate but still has lots of guts to it, lots of substance and richness to it.
They are also producing a barrel, which will be sold through Bottle Barn at auction. It is a unique production that Dan says makes this local auction special.
Next they taste the Kunde 2013 Cabernet Sauvignon. Dan points out that the label says Sonoma Valley, then it says Drummond. Jeff says it's one of the little special things they do. John Drummond was an Engish Army Captain. He brought vines from Chateau Lafitte Rothchild and Chateau Margaux in the 1880s. John Drummond introduced this wine to a San Francisco gathering and put Cabernet Sauvignon on the label, making him the first one to put that name on a bottle. Dan says it's true and was written up in 1881 book. The remnants of the old Drummond building are still there. Dan B says it has tar black cherry spice and sandalwood, says it needs 5-10 more years in the bottle. Winemaker Zach Long says it's in French style with California twist. 2012 was a heavier vintage, 2013 is lighter and delicate.
Then they taste the 2013 Kunde Zinfandel.
Jeff tells that when his grandfather, Louis Kunde, purchased the original property in 1904, there were 30 acres planted already in 1879, in Zinfandel. One day he and his cousin were taking out the vines. The winemaker came, screaming, and made them stop. They call them their century vines, 130-140 years old, today.
They pick 6 or 7 times to get the perfect ripeness and make 1900 cases only. Dan says it's Claret style Zin, not in your face, which Dan explains means made more or less in Bordeau style, structure, aromatics, wild spice, rasberry, from Zin, but also earth notes, sandalwood. Jeff says that this wine "has taken wisdom" and Dan says it has gracefulness and richness. It has 14.8% alcohol, the low end of Zin nowadays. No burn, no heat, not the slap in the face Zin. Jeff tells that this wine has a lot of history and the emblem on the label is on a diploma that his grandfather earned at "Santa Rosa Business College" a hundred years ago.
Kate Noble from Martin Ray, tells a little more about their James Beard Celebrity Dinner on June 10. It's the first time the James Beard Foundation does a dinner in a winery.
Jeff tells about how his great grandfather was buddy of Jack London, they would have dinner together and drink. In early AM, going home, he would simply get into his buggy, tell his horse, "Home, Ginger," and would find himself at home before dawn.