Podcast: Play in new window | Download (Duration: 40:06 — 18.5MB) | Embed
Subscribe: Apple Podcasts | Google Podcasts | Stitcher | RSS | More
Bill Nachbaur from Acorn Winery is back on California Wine Country with Steve Jaxon and Dan Berger today.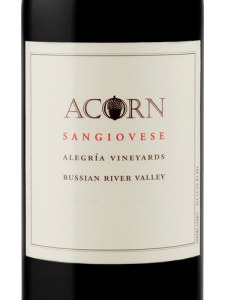 Their first tasting is a 2014 Sangiovese, whose label suggests several Italian food pairings. Dan Berger explains that Sangiovese is a variety that very few Californians want to make, because we get so much sun that we can't avoid having a plump wine. Californians like that the acids will drop out of the wines, but "…this one is a beautiful example of splitting the difference between California ripeness and Chianti's acid-based" flavors. Dan suggests pairing it with wild boar stew or anything with strong flavors.  Bill says that the Russian River Valley climate is ideal for this. It's a cooler climate than other Sangiovese growing regions in the US so they can control the acidity to get it super ripe before picking it. Bill says it's the most widely planted grape in Italy.
Bill and his wife bought the vineyard in 1990 after working in law, and took viticulture classes at Santa Rosa JC under Rich Thomas. He was first focussed on growing grapes and his first wine was a 1994 Sangiovese. He makes a wine called "Alégria" (happiness in Spanish, close to the Italian Allegria). They have about 26 acres of grapes and they just finished their 29th harvest.
Then they taste a 2014 Zinfandel that Steve says is delicious. Bill credits the Russian River Valley cool climate and extra complexity from the "field blend." It is from the oldest part of the vineyard 78% Zinfandel, 10% Petit Syrah and 10% Alicante Bouchet, with the remaining 2% from a mix of other grapes.
All their wines are "field blends" which means they grow the grapes together then they pick them together and press and ferment them together. Dan says some Zinfandels get "over-ripe and plummy" but that he likes the black raspberry component in this wine, which works with the other peppery aromatics in the blend. Bill thinks the pepper flavor comes from the Petit Syrah.
Next they taste a Dolcetto, another Italian grape that is quite rare in California. It is grown in Piedmont (Piemonte) in north-west Italy.  Despite the name of the grape, it makes a dry wine. Dan says to decant it to give it lots of air. Bill says that most Dolcetto in Italy is not oaked or aged, as he does to it. He gives it 18 months in oak.
Bill Nachbaur tells about visiting Piedmont and asking winemakers there if they used oak and they replied, "well, our grandfathers didn't do it," so they don't. (That is a prevailing attitude in Italy about a lot of food and wine practices. -cd). 
Dan Berger tells that very little Dolcetto is grown in California because growers make so much from the familiar varieties that planting a less-well-known grape is too much of a risk. Dan says that Dolcetto has good acid and it works well in blends. It responds well to decanting, to highlight its dry character.
Then they taste Medley, which is a combination of 60 varieties that they grow. There is a chart that lists all the varieties. It is a vineyard blend of 20% Zinfandel, 18% Cinsaut, 18% Syrah, 18% Muscats, 10% Dolcetto, 2% Petite Sirah, 2% Alicante Bouschet, 1% Cabernet Franc, 1% Sangiovese, and 10% other varieties. This is the 15th year of Medley, which they started making in 2000.
Dan Berger believes that it should not rest for more than 3 or 4 years because its great complex fruit flavors will still be evident. Dan says that Medley could not be made this way in many other regions. For example, in Alexander Valley, the wine would be different. Trying to mix these varieties in the Alexander Valley do not yield such subtle flavors as do the Russian River Valley's cold temperatures, fog and marine influence. They are about a mile from the river and will have fog all morning for many days in the Summer, so they might pick a month later than they would in nearby Dry Creek. It's an example of how great reds can grow in Russian River Valley as well as the white varieties grow there.