Podcast: Play in new window | Download (Duration: 28:31 — 13.2MB) | Embed
Subscribe: Apple Podcasts | Google Podcasts | RSS | More
Bob Cabral is back on California Wine Country with Steve Jaxon and Dan Berger. He was last on CWC in June of 2017 and that episode was repeated in March of this year.
Three Sticks Wines is a project that Bob Cabral does with Bill Price. Bill also works with Kistler and Gary Farrell. But Bill Price owns the Dorell vineyard and Gap's Crown vineyard overlooking Sonoma State. Bob Cabral wanted the opportunity to work with the best vineyards in Sonoma County.
Three Sticks Dorell Pinot Noir is on the cover of the current issue of Wine Spectator. Three Sticks the name, comes from Bill Price. He grew up in California and Hawaii. He is William Price III, and his friends started calling him "Three Sticks" because of the name.
Great wine always starts in the vineyard, Dan Berger says, and winemakers need to start their business out there. Bill Price's vineyards are some of the best terroir vineyards in America. The Dorell vineyard has some of the best Chardonnay available.
Bob says that Bill wanted to acquire sites in California and especially Sonoma County, that are world class, and to preserve them as such for the world. They have several long term projects.
Dan says it is great that these wines are locally available. If you find them, they are not very expensive but they demonstrate terroir in the consistency from vintage to vintage.
Bob Cabral also does some distilling and has brought some Rye Whiskey.
It is a project of the Splinter Spirits Group. They have been distilling for 3 years not, Rye, Whiskey and Bourbons. They did a 300 barrel batch of bourbon, it took all week but his impression is the process goes by fast.
He then puts the whiskey into his used French Oak wine barrels. They give another dimension to their spirits. Bartenders say that it works great in cocktail mixing.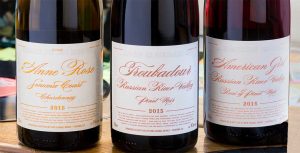 Bob Cabral Wines makes Pinot, Chardonnay and a little Riesling, about 500 cases total. They have a new tasting salon at Flight Deck in Healdsburg. He and his wife run Bob Cabral wines as his muse, as he makes the wine, and after expenses all the money he makes goes back into the community.
Dan asks Bob about a Wilamette Valley project, called Fire Steed, where he is the consulting winemaker. Bob Cabral appreciates the amazing diversity of agriculture in Oregon. Dan says that Oregon has always had good quality low cost fruit. Someone has to make it right to develop the reputation.
They are tasting a Pinot Noir from Bob Cabral wines. Bob describes the big profile, and fruit, and spicy.
They made about 100 cases of their 2016 Chardonnay, which they are tasting. It comes from two cold Sonoma Coast vineyards. Bob does not add yeast, he uses native natural yeast.
His whiskey is called Whipsaw Rye. He uses 77% rye grain which is a spicy grain . Bourbon must have at least 51% corn. Bob has realized that half of the flavor of the spirits is in the barrels. He gets even better flavors by putting spirits into his old wine barrels.