Podcast: Play in new window | Download (Duration: 39:16 — 18.1MB) | Embed
Subscribe: Apple Podcasts | Google Podcasts | Stitcher | RSS | More
Stu Smith, co-founder of Smith-Madrone winery, joins Steve Jaxon and Dan Berger this week. Steve Jaxon opens the show quoting the old Joe E. Lewis joke, which was also used by Frank Sinatra and Dean Martin, "I feel sorry for people who don't drink, because when they wake up in the morning, that's the best they're going to feel all day." Stu tells all about starting the winery forty years ago before wine took off and when land was pretty cheap. Then we taste three of his wines plus a Calaveras Beaujolais. At one point Stu just sums it all up in such a way that left Steve in awe. You should hear it, about halfway through. You can read the quote below, too.
Steve Jaxon introduces Stu Smith from Smith Madrone Winery over in St. Helena, located in the hills on the west side of Napa Valley.
Stu Smith describes founding the winery in 1971 with his brother. He says, 45 years ago it was a different world. Wine was not the beverage of choice yet. There were barely 35 wineries in Napa Valley. 80% of the wine back then was in half gallon jugs.
Stu tells about growing up in Santa Monica, California, then going to Berkeley. He took a viticulture and enology class at UC Davis and applied to grad school there. He syndicated a partnership of family and friends and started the winery. He says back then it was a different world and you didn't have to be a gazillionaire. They paid, literally hundreds of dollars per acre.
He tells the story of building the underground cellar, which was very easy to get permitted back then compared to today. Stu says that today, the saying is that in Napa Valley, the billionaires are driving the millionaires out.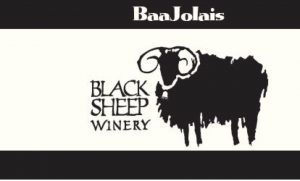 Dan brought a 2016 Black Sheep Winery bottle from Calaveras. They have a block of Cinsault grapes. It was made like a beaujolais, called "Baa-jolais" after Black Sheep Vineyards. It's simple and not pretentious. Chris DiMatteo is fluent in Italian (and French too) and Steve asks him to give his short description of this wine, in Italian, and everyone could understand at least some of it.
Stu describes how he and his brother built the winery themselves, planting the vineyard and driving all the stakes. He says they are trying to make the best wine humanly possible. He believes two things are true about wine as today as 2000 years ago, first that it takes great grapes to make great wine, and second, that all things being equal, he prefers mountain grown grapes.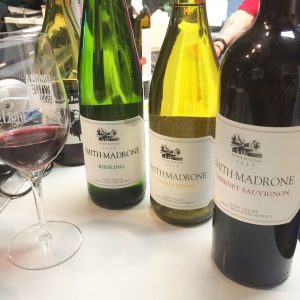 They are located at 1900 feet elevation on top of Spring Mountain. They pour their Chardonnay, which Dan calls a 1970s style Chardonnay. They all taste the citrus notes. Dan explains that in the 1970s, they didn't expand the fermentation as they do today. Stu says he is striving for good acidity and uses 100% new French oak every year. Dan thinks this wine will be even better in 4 or 5 years.
Stu Smith: "Chardonnay is really a good example of the various styles that are out there. And we believe that after five, six, seven thousand years, Europe kind of got it right, with the terms balance…, where they use the terms balance, complexity, elegance and refinement. And I think those terms used in total give an idea of what wine is. Now there's what I call OTT, or my son brought back, taught me, OTT, Over The Top wines. For some people, that's great; that's not us. We're trying to make classically structured, beautiful wines that go with food. And the other way of looking at it is that there's this term, terroir, (Dan and I were talking about it in the green room) and in California we use the term for many years "a sense of place." And I now think of it as an ephemeral sense of art, which is that wine should be unique. And that we vintage date to celebrate the diversity of the vintages, not the commonality. You know, we hate the concept of pounding the square peg through the round hole. And wine should be fun and if every date, every vintage is exactly like the other vintage, why the heck would you want to vintage date it, you know? And one vintage is maybe better, or lighter, you know, we all have different palettes. And so, somebody likes the '14 better than the '15, somebody's going to like the '15 more than the '16, but if they're all the same, who cares? I mean, that's just not the way to do, to deal with wine. To enjoy wine you really have to trust your palette."
Smith Madrone doesn't have a wine club, they are out in front or way behind, depending on what. People come to the winery to buy and they have a lot at Bottle Barn and fine restaurants. Stu Smith says that at Smith Madrone, they believe in minimal intervention. Winemaking is an art, a seven thousand year old process. As a vintner, he gets to play in dirt, then process it. He says harvest time is magical, like reaching back millennia. You end up with a glass of wine on the table with friends and the day just washes away from you.
Dan says the Reisling is good either young or as old as you want it to be. Dan says you just don't see enough Reislings for there to be many old ones around But he has some and promises to bring one to Steve. Dan says that old Reisling is worth the wait, at least 10 years.
Steve gives the news that Sonoma County based Vineyard and Winery Management Magazine is going out of business after 43 years. Dan says that it was founded on the east coast and then moved to Sonoma County. The publishing industry is in difficulty and he's sorry to see it go. Wines and Vines and Wine Business Monthly are still publishing.
They finish by tasting the 2013 Smith Madrone Cabernet. Stu explains that it has about 10 percent Cabernet Franc and eight percent Merlot, a complex layered wine, a bit more tannic than some people expect and a wine that will give pleasure now as well as later, if cellared. When Stu Smith taught Viticulture and Enology at Santa Rosa Junior College for about ten years, he would say, 'taste with your mouth, not your eyes.' Enjoy wine, have fun with it and don't be caught up in the pretentiousness of it. Dan thinks it would benefit from about six to eight years. Dan thinks that the vineyard is ideally laid out to get Napa and mountain characteristics, with great structure. Stu agrees, as he agrees with any critic who likes his wine.