Podcast: Play in new window | Download (Duration: 24:03 — 11.1MB) | Embed
Subscribe: Apple Podcasts | Google Podcasts | Stitcher | RSS | More
Thanksgiving wines are today's subject, with Barry Herbst and Kate Noble, the events director at Martin Ray Winery.  Julie Combs from the Santa Rosa City Council, also stayed for California Wine Country after discussing local affairs in the previous segment.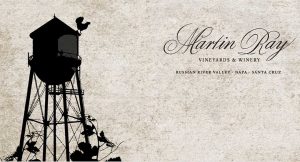 The first question was about possible fire damage to Bottle Barn and Barry says that they were threatened by the fires but in the end did not suffer any damage. Martin Ray winery suffered a little, and one of their growers was picking their fruit even as a fire department was overhead in a helicopter ordering him to get out.
When the late Ben Pearson, the former wine buyer at Bottle Barn, was on the show, they did their Thanksgiving ideas the day before the holiday, this year we are a week ahead. Steve likes Chardonnay but not turkey. Kate agrees that Chardonnay, as well as Viogner and Gewurtstraminer are good pairings for turkey.
Kate brought a Russian River Valley Chardonnay, which is not overly oaky and buttery, but has some apricot and other fruit flavors. Martin Ray Winery only own about 12 planted acres in Russian River Valley, which goes into their estate wines. From Santa Cruz they get Cabernet, Pinot Noir and Chardonnay.
For comparison, Barry has brought a Chardonnay from Liquid Farm in Santa Barbara. Steve tastes a nutty flavor. Barry says he is going more for a French style. Barry says that when you have rich foods, you need a rich wine to stand up to it. All kinds of flavors like cranberries or a rich sauce, wants a rich wine. Kate says it's OK to bring different wines too, to allow guests to pick their favorite. For this wine, the price point is about $35 in the tasting room. All of these tastings are only available at the winery. To find the winery, you can see their water tower from a distance.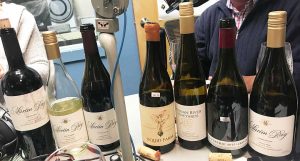 They are holding "Wine Country Family Therapy" from 12noon to 4pm on the Friday and Saturday after Thanksgiving, they're doing $10 pizzas and wine, to give people a nice place to come to get away from it all.
After the break and a plug for the podcast, Barry Herbst then introduces the category of aromatic whites. They taste a Gewurtztraminer 100% and a blend of Chenin Blanc, Reisling and Gewurtztraminer. Barry says this category is taking off. These wines are aromatic and they are big and powerful but they are not oaky and rich so they are versatile. These wines are "pretty" says Kate.
The Tower white is a different blend every year. Lindsey, their winemaker, gets great floral and acidic characters. Gewurtztraminer is floral and light, very nice with food. People have been inundated with the cloying buttery flavors of some Chards. These match the cuisine much more.
Barry also brought a Beaujolis and Kate brought a Pinot Noir.
Steve says the tyranny of having to have white wine with chicken is out the window now. Kate suggests a Rosé of Pinot Noir is a good Thanksgiving wine.
They taste a 2015 Sonoma Coast Pinot Noir, it's "a big bad boy," says Kate. She says it's a little bit more aggressive. It's from one vineyard on the Sonoma Coast that she can't name for contractual reasons. Steve says it is bolder than many Sonoma County Pinot Noirs.
The next tasting is a Beaujolais from France. This year's Beaujolais Nouveau comes out tomorrow (November 16). Apart from the Nouveau style, there are some serious Beaujolais wines that can be cellared. This one is made to drink now but can also take 5-7 years of aging. It's a relative of Pinot Noir, spicy, a little drier, lighter, a little more acid. It's not overpowering with tannins, so that makes it a good match for a Thanksgiving meal.
Kate says Beaujolais always tastes fresh, she mentions bright red fruit flavors in this wine.