Podcast: Play in new window | Download (Duration: 29:24 — 13.6MB) | Embed
Subscribe: Apple Podcasts | Google Podcasts | Stitcher | RSS | More
Dan Barwick, Paradise Ridge Winery's winemaker is our guest this week, with Daedalus Howell sitting in for Steve Jaxon who is on vacation. Co-host Dan Berger is also in the studio. They taste a rosé, a Sauvignon Blanc, a Pinot Noir and a Zinfandel fro Paradise Ridge, and also a Frappato from Sicily.
They start with a rosé tasting from Paradise Ridge Winery. Dan suggests Barry tell about how fast rosé wines are selling. Barry says they have created a "rosé garden" in the front of the store and it is making inroads against Sauvignon Blanc as the summer wine of choice.
Dan says he is getting more calls and emails from his readers (of his weekly article in the Press Democrat and of his subscription newsletter) about rosé than ever before. He says there has been some reluctance to take rosé seriously, since it used to be always sweet and light, but today's rosés can be dry and have a lot more character than before. This rosé which they are tasting is a good example of that. Barry notes that rosé runs the gamut from $6 bottles meant to be consumed quickly to $30 that will age well.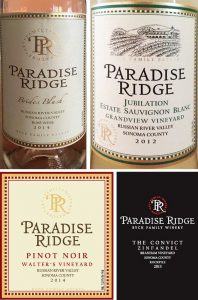 Next they open their 2016 Sauvignon Blanc, which is the bestseller among all their wines. Dan Barwick explains that it comes from their estate vineyard and that he spends over half his time overseeing their estate vineyard and also the other estates where they get fruit for the wines they make. He find that 2017 will be interesting with all the rain we got. Dan Berger says that if he had to identify the style, it's got a little Sancerre and a little northern New Zealand with its fruit notes. It has the varietal character of passion fruit and dried herbs.
Barry says that Sauvignon Blanc wines have won several of sweepstakes and best-of-class whites at competitions he has participated in this year. He says that at the moment, there is more of a range of style and expressions in Sauvignon Blanc rather than Chards.
Dan Barwick points out the importance of canopy management with Sauvignon Blanc to getting different flavors; the more sunlight it sees, the more tropical fruit flavors it will have, while the more shade it gets, the more grassy flavored that wine will be. Managing that canopy so that some of the fruit is in shade and only gets the last month of sun, will give great acidity without making it harsh.
Dan Berger compares making Sauvignon Blanc "in the vineyard" this way, to making a painting using both oils and watercolors. It won't work with paint, but in the vineyard it does work. Dan Berger says "you're out-thinking the vine," and Dan Barvick says, "you're guiding it" and gives credit to his vineyard managers. They discuss the balance between acidity and sweetness.
Dan Berger also points out that if this wine is too chilled, that will mute the flavors. As they have had it in their glasses for about 15 minutes, the aroma gets better and better. Dan Barvick says he keeps his in his cellar at 54 degrees and servers it like that.
Next they taste a 2014 Pinot Noir, 777 Clone, Walter's vineyard. Dan Berger notes that it is lighter in color and lower in alcohol and that it takes a lot of courage for a winemaker to pick these grapes as early as he did. "22 and a half Brix" says Dan Barvick. (Brix [°Bx] is a measurement of the sugar level in grapes, to make an estimate of the alcohol content of a wine before the wine is made.) He says you have to know your vineyard very well. He says they picked those grapes in late July. Dan Berger points out that 777 is a cold weather clone which wants to make a lot of sugar early, so if you don't pick it early enough, you will get with too much sugar and will end up with Port. 2-5 more years, says Dan.
They discuss how to decide how long to cellar a wine, and one way to tell is to see how the wine holds up in an open bottle, if it is still good after a week they you can age it more.
Next they taste Zinfandel from Gary Branham Vineyard, Rockpile AVA.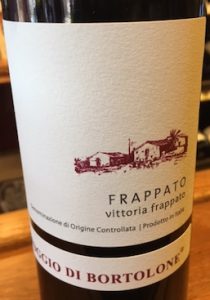 Barry Herbst brought something from the Sicilian section at Bottle Barn, a Frappato, which is a grape that is grown in Sicily. Barry describes it as the Beaujolais of southern Italy. It's light and fun, for the summer.
Dan Berger says that he is hearing more about restaurants that are not Italian restaurants that are putting Italian wines on their wine lists. They are reliable and have good acidity. Barry says it has soft tannins and would age for 2 to 5 years.
Daedalus says he has noticed Chianti more and more in restaurants and asks Dan Berger about that. He replies that Chianti went through a period where the law had changed and it permitted too much Cabernet Sauvignon in the blend, starting about 1990. The Chianti producers now are back to making Chianti that tastes like Chianti. He says it shouldn't cost more than $30 unless it's really good. Now Barry sees 2012, 2013 vintages were great, and good ones cost about $12 to $20.
Finally Dan Berger mentions that there are more vineyards growing Tempranillo grapes, looking for alternative grapes, especially in the Sierra foothills.