Podcast: Play in new window | Download (Duration: 37:55 — 17.4MB) | Embed
Subscribe: Apple Podcasts | Google Podcasts | Stitcher | RSS | More
Bob Lindquist, Qupé Winery's winemaker, is today's main guest. First, Steve Jaxon welcomes Tim McDonald to the studio with Barry Herbst and co-host Dan Berger. At the start of the hour they are waiting for the arrival of Bob Lindquist of Qupé Winery, who is, "…one of the great winemakers in America," says Dan Berger, right off the bat. (Bob is driving up to Santa Rosa from Santa Barbara, and will arrive during the show.)
Dan explains that Bob is an expert in cool climate red wine making. He explains that, "…in warmer climates you get sugar faster which means you make fruitier wines and they tend to be slightly simpler. They're more complicated when they come from cooler climates and Bob has been growing this stuff for over thirty years trying to delve into the question of how is it possible to ripen red grapes in a cool climate. And he's done a brilliant job and some of his wines are some of the best in America. They go under the radar because they're not as explosive as some other wines but boy, they sure have flavor and they are long lasting. You talk about me cellaring them, people that are in the know put his wines away for 15 years without even a blink."
He makes whites and reds as well. A couple of weeks ago they tasted his 2013 Chardonnay.
Steve asks Tim McDonald to talk about his business and website "Wine Spoken Here dot com" www.winespokenhere.com which is a public relations and reputation management firm that he established in 2006 after a long career in marketing for various important wine companies. He represents a broad range of wineries including Qupé. He also runs some important wine competitions.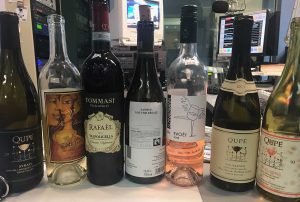 Dan tells about Qupé. Bob Lindquist was partners with Jim Glendennon who was known in the Central Coast area for his fabulous Pinot Noirs and Chardonnays. Then Bob started growing Rhone Valley grapes in Santa Barbara County. He pioneered the cool climate wines coming from that region. Qupé is very successful already in Southern California and is just getting known up north now. Bottle Barn does carry some Qupé wines.
There is a group that promotes these Rhone Valley grapes in California. The Rhone Rangers used to be called The Viognier Guild. It was a statewide group and the guy who popularized it was the colorful Randall Graham of Bonny Doon. "It helps to have a personality as a front man for your association and Randall was perfect," says Tim.
Steve tastes a Semillon, which is often blended with Sauvignon Blanc, to add acidity. Steve likes it and thought it was a Chard at first. It comes from Hart's Desire, in Dry Creek Valley, Sonoma County. It has 14.2% alcohol. It's heavy, says Steve. Dan agrees, saying if this were from Australia, it would never be more than 11.2, 11.5%. Dan says this is from a warmer climate, so it has more alcohol.
Cold climate does not necessarily mean it's always cold but it does mean you get cold nights. With warm nights, the acidity starts to fade out of your grapes.
Dan says this wine is beautifully balanced. It has good acidity but he thinks that was adjusted by the winemaker. With 14% alcohol it would be soft without adjustment.
Steve again asks Dan to explain why acidity is important. He says that without the acidity you get soft wine and that doesn't go with food. The acidity helps balance out the flavors of the food.
Steve asks Barry about Rosé explosion currently going on in the wine retail business. Barry says everyone's making it now and he actually has to hold suppliers at bay because everyone's making Rosé now. He tastes every one that gets into Bottle Barn. They have put a "Rosé Garden" in the front of the store with Rosé from Spain, Italy, France, Germany, Portugal, South Africa and of course, the US.
Barry says that they expect Rosé sales to remain steady all year, rather than being concentrated in the summer months, as people realize that you can hold some for a year or more and as people see how it combines so well with different kinds of food. Dan says the sweeter Rosés go as cocktail wines and the drier ones work with apetizers.
The Rosé they are tasting is made from Lemberger grapes, a 2016.
Bob Lindquist arrives just before the break. Bob begins by telling about being a college student at UC Irvine in the 1970s and getting a part time job in a wine shop. Before that he didn't know how good wine could be and he's been in the wine business ever since that moment.
Qupé is the Chumash word for the orange poppy, which is the state flower of California. One of his partners found a design of a poppy in a catalog of old graphic designs, which was in the public domain, so they used it as their label.
Thirty years ago Bob published papers on cool climate wine growing. As for today, Bob explains the climate of his growing area in Santa Barbara County. What sets that part of California apart is the set of four east-west running valleys that extend between Santa Barbara and San Luis Obispo, which start with San Luis Obispo to the north, then Arroyo Grande, then the Santa Maria Valley and finally the Santa Ynez / Santa Rita valley, right below that. The mountains and valleys all run east-west and draw the coolness off the Pacific Ocean and it makes the valleys a lot less hot than the rest of the state.
Dan explains that this temperature gradient does slow down the ripening of the fruit and it makes for a little bit of a risky situation year after year. As a winemaker, you worry about getting enough ripeness. The Pinot Noir and Chardonnay are favored in the cooler temperatures since they ripen earlier. Later ripening varieties can stay on the vine, in particular Grenache and Syrah and Roussanne. They also grow Marsanne, one of which they are tasting. Dan says it emulates what the Rhone Valley does best with white wine grapes. They are tasting a 1993, which is a lot older than most whites.
Dan says the Grenache is interesting, a later ripening variety, and this one they are tasting is not very dark, but it has pomegranite and cranberry flavors. This is a 2013, just starting to show itself. Dan says it has such vibrancy and fruit that there is no need to cellar it too long.
Bob says that a lot of the famous Grenaches are from warm climates, such as Chateuneuf du Pape. He likes to pick it at the early side of ripeness, with loads of flavor with fairly low alcohol, about 13%. The 2012 Grenache was a best-of winner in the Dan Berger International Wine Competition.
Dan says it was a real risk to plant these varieties where they did, in 1973. For the Rousanne he likes to use one year old oak barrels for one year, then to neutral barrels for 6 months. It's an expensive wine to make but Dan says it's maybe the best Roussanne he's ever tasted. Also the 2014 Sawyer Lindquist Syrah is fabulous, says Dan.