Podcast: Play in new window | Download (Duration: 33:13 — 15.3MB) | Embed
Subscribe: Apple Podcasts | Google Podcasts | Stitcher | RSS | More
Rick Tigner and Randy Ullom from Jackson Family Wines are back with Steve Jaxon and Tom Simoneau. Dan Berger is away this week. Rick is the CEO and Randy is the Wine Master for Jackson Family Wines.
Randy grew up back east and lived and worked in Ohio and upstate New York. He came to California 38 years ago and worked for Cecil De Loach for 12 years. He met Jess Jackson 26 years ago and worked on their international startups and in Mendocino, then he became winemaker for the Kendall-Jackson brand. Rick mentions that in 1991 when he arrived, the best selling Chardonnay was theirs, and it still is. They make 2.5 million cases annually, all barrel fermented. They stir the lees all the time. They have more than 300,000 barrels in their system.
Randy Ullom explains that for this Chardonnay, they use fruit from their vineyards located all up and down the coast. The wine is about one third from Santa Barbara which gives the tropical tones, the aromatics in the mouth and viscosity, then 50% from Monterrey which gives the lemon-lime tones, then the remaining 15+% is from Mendocino and Sonoma County, which gives crisp green apple, green apple and pear. The flavors come from all the different areas. They pick with the flavors are at maximum. They never take it out of the barrels until it is time to blend.
They are drinking the KJ 2016 Vintner's Reserve Chardonnay. They stir the lees every two weeks. This one is all from Santa Barbara, which is famous for that rich, unctuous feel. They source the oak in France for their barrels. They are in charge of their own destiny with their own vineyards, they can control all aspects from the vines to the glass. Rick also mentions about their commitment to fair labor practices and living wages and how they believe this is part of best practices that support the consistently high quality of their production.
Jess Jackson believed in the artisan concept and had a vision ahead of his time for the business. He also founded Regal Wines, a distribution company, which Rick ran from 1992 to '96. Jess offered Rick the presidency of Jackson Family Wines in 2010 (at the Kentucky Derby). Jess would be proud that the company is still not only family owned but family run. Tom Simoneau says that selling wine is the hard part and sales is another strength. Rick also notes that they can make long term plans unlike some other companies that have ownership with shorter term demands. Tom remembers that the company always provided generous samples to Tom's wine classes, which he taught at the Santa Rosa's community college.
As they taste a 2016 La Crema Russian River Valley Chardonnay, they mention their new tasting room in a restored home that used to belong to Sarah Lee and Rich Kunde. Tom tells how they helped bail out Sonoma County when Phylloxera hit in the late 80s. It was Rich's idea to use the term "American Viticultural Area" or AVA instead of "appellation" which was too close to the French and Italian name. In about 1983 Rick went to Washington with others to set that up. Sarah Lee was very influential, much beloved and very missed in the community. Tom was happy that the Jacksons purchased the Kunde property because it is wonderful to have it open now for the public.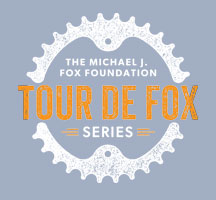 Rick Tigner describes the Tour de Fox bike ride, August 24 this year (2019). This is its 6th year, with 1000 riders; they raised $750,000 last year. Rick says this is a good number of participants. It's a good ride, then food and music at the Kendall-Jackson wine center. Unlike most bike rides, there is a nice event afterwards.
Sign up at the Tour de Fox Wine Country web page, here.
Finally they taste a Siduri 2016 Russian River Pinot Noir. Siduri has Pinot Noir vineyards all over California and some in Oregon too. Their tasting room is a "terroir" tour of American Pinot Noir regions. Kendall Jackson acquired Siduri a few years ago. Adam Lee could have sold to a corporate owner but he felt comfortable seeing the winery go to another family based operation. Adam Lee still makes the wine. He is also their Pinot Noir ambassador, helping their other winemakers who make Pinot Noir. They detect cherry flavors, dark cherry and black cherry. They are on the west side of Sonoma County, an ideal place for Pinot Noir.
Rick says that they work with a love for the family, quality, sense of place and the source. Their wine center is a garden where people can taste wine and the way of life. This time of year, they have the Farm to Table Dinner Series, one Saturday per month. They set tables right in the garden and most of what you eat comes from the garden around you. "It's an organoleptic delight!"  (See the photo above, by Alexander Rubin, from the KJ website.)