Podcast: Play in new window | Download (Duration: 36:51 — 17.0MB) | Embed
Subscribe: Apple Podcasts | Google Podcasts | Stitcher | RSS | More
Steve Jaxon welcomes Cathy Vicini from Trecini Winery, Robert Smith, master somellier at Foley Family Wines and Carina Sterzenbach, special events coordinator for Foley Sonoma. Along the way we hear what Steve and Dan thought of the movie Sideways.
Steve asks Cathy about the Trecini name. The name comes from The three Vicini, which is their name, and there are three of them, so in Italian the name comes from "i tre Vicini." Dan explains that they are concentrating on making Russian River Valley wines. Dan Barwick is their winemaker. Cathy Vicini says that at first, they sold grapes to Mondavi and decided to produce wine in case Mondavi didn't buy the grapes, that way they would have a back up production.
Dan mentions that Sauvignon Blanc grows in both ideal and cold nasty conditions and ripens differently in each place.
This 2016 Sauvignon Blanc is in some ways fine now, but imagine years later, he says, serve young at room temp, get faint tropical notes; chill it, get different aromatics; hold for a year, get something yet different; then chill it and get still another quality.
Only a year in the bottle will benefit it tremendously. Cathy says it comes from 3 different vineyards Theirs has high water table, the other has different soils and waters. John Vicini was born and raised in Tuscany. But has been here more than 30 years. He goes back each year to visit.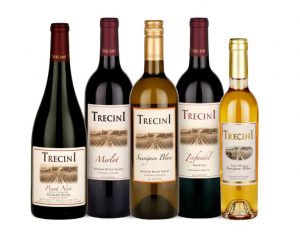 Steve then introduces Robert Smith and Carina Sterzenbach from Foley Wine. Bill Foley is also the owner of the NHL expansion Las Vegas Golden Knights. Robert describes how he conducts educational classes for his staff of all the brands in the Foley family portfolio.
They taste a 2016 Rosé from Courtney Foley. Mainly macerated with a little saigner for added color.
Then Dan introduces a Merlot. Dan says that "Merlot went through the bends" in the early '90s. He says "that movie didn't help" which was the movie Sideways. Dan says the movie did affect the Merlot market, horribly, says Dan. Says it's a great grape, can work in lousy soils.
They taste the 2014 Merlot. Dan asks Cathy to describe the vineyard they get it from. She says the grapes like the rocky soil it's planted in. She says the movie created a wine industry but Steve says it goosed just the Merlot market. But Cathy says now the millennials are buying Merlot and they haven't even seen the movie. 13.7% alcohol, but with that good Merlot texture, can go with anything. Dan says it's good for people who like Cabernet but without the tannins. 2014, says Dan, was a fabulous vintage.
The next wine is a Cabernet with a label painted by a local artist. It is Cabernet with a little Petit Verdot. Dan says it's very structured. Cabernet is best when it's 4-6 years old, on release. Sauvignon means savage and you have to cellar it to tame it down. Robert Smith recommends decanting, broadens and also softens. Dan says to leave it 4 hours in decanter, which approximates a year of aging. Robert says it's all Alexander Valley estate fruit.
Next, they taste the 2014 Pinot Noir, the signature wine of Trecini Vineyard and what Dan says is THE signature western Sonoma County wine. If Pinot Noir from the western Russian River Valley is in an amazing situation that is yet to be written about outside of this region. This is the stuff that Sonoma County is known for and Trecini, among all of the top producers, this is one of the best. Its secret weapon is moderate alcohol, which makes it easier to taste. It is in the $20 range, which Dan and Steve say is a bargain. Dan says you could think it's a $45-48 bottle.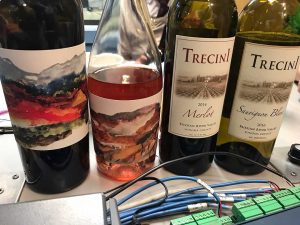 Cathy says it is nothing but 100% Pinot Noir. Nothing else is added to it. She says people ask her what to pair it with and she thinks Pinot Noir goes with almost anything and makes the food memorable.  Dan says the structure of this wine is based more on acidity than tannin. The tannins aren't aggressive and the acidity works more with food. Dan says give it one year.
Steve asks Dan about acidity in wine. Dan says, simply, to serve with food, you want acidity.
Carina Sterzenbach, special events coordinator for Foley, tells about what's coming up. They have their second annual Summer Celebration on Saturday the 8th of July, with live music, roasted pig, grilled chicken, etc.
Dan asks history and future of Foley Sonoma. Their direction is to go sustainable and minimal, that's Foley's credo. From organic to biodynamic, they want to go all-natural. What other varietals uner that label? Other than Zinfandel, they have some old Zinfandel vines, Petit Verdot, Sangiovese, Cabernet Franc.
Summer Celebration is located at 5110 Hwy 128 in Geyserville
Robert is doing a guided blind taste on Bordeaux