Podcast: Play in new window | Download (Duration: 19:53 — 9.1MB) | Embed
Subscribe: Apple Podcasts | Google Podcasts | Stitcher | RSS | More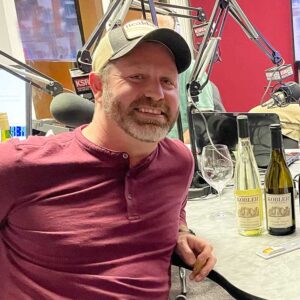 Mike Kobler, winemaker from Kobler Estate Winery is Tom Simoneau's guest today on California Wine Country with Steve Jaxon and Dan Berger. He tells the story about how his grandparents retired in the 1980s and purchased a 4-acre property in Dry Creek. His grandfather had to travel to South America for a final year of work, while his grandmother studied viticulture at Santa Rosa JC. She also hired Rich Thomas, who was a teacher. They began with Sauvignon Blanc and sold the grapes to well-known wineries. Mike and his parents moved to California from Virginia to be near their grandparents. The family then got involved in the vineyard. Mike was six years old and he remembers hating having to go out and prune vines in January in the rain.
They are tasting his 2021 Gewürztraminer which is completely dry, but not austere, because it has acidity in a range where it is soft and gentle on the tongue, says Dan Berger.
Mike describes his path to winemaking as unusual. He knew he did not want to go into engineering, and was attracted to economics. Consumer preferences are at the heart of that. While his fellow college students were drinking beer, he drank wine. He father had made wine as an amateur for 30 years. He has known the Bacigalupi family since his school days. He started with 500 cases of Syrah in 2010. Now he makes many others. He explains how they have kept costs down as they taste the Chardonnay. Their properties are actually in three AVAs, Sonoma Coast, Green Valley and Russian River Valley.