Podcast: Play in new window | Download (Duration: 37:58 — 17.5MB) | Embed
Subscribe: Apple Podcasts | Google Podcasts | Stitcher | RSS | More
Tom Simoneau joins Steve Jaxon this week with his 2019 Wines of the Year and to interview Nicole Hitchcock, winemaker at J Vineyards and Tom's 2019 Winery of the Year. Today's show notes are by Tom Simoneau.
Winery of the Year: J Vineyards & Winery
With the J Cuvée 20 being my sparkling wine of the year, I'm here to tell you that's just a small part of what is happening at J. Since it was purchased by E & J Gallo Winery in 2015, the brand continues to flourish under the new ownership. Winemaker Nicole Hitchcock oversees a portfolio that includes 1 Pinot Gris, 1 Vin Gris, 6 Chardonnays, 10 Pinot Noirs, and 8 Sparklers. I was the lucky guy who got to taste most of them last month. The tasting room is a must stop as they have an in-house chef to pair these stunning wines with some very creative small plates. Congratulations to J Vineyards & Winery as my 2019 Winery of the Year. jwine.com
Best Whites
Sparkling Wine:
J Vineyard & Winery Cuvée 20, Nonvintage, Russian River Valley, $38. Initially introduced to commemorate their 20th Anniversary. Cuvée 20 today represents the workhorse of the J Sparkling wine portfolio. jwine.com
Chardonnay:
Sonoma Cutrer Vineyards 2017 Sonoma Coast Les Pierres, Estate Grown, $42. Long known for producing some of Sonoma County's finest Chardonnay. Winemaker Mick Schroeter continues that tradition. sonomacutrer.com
Sauvignon Blanc:
Dry Creek Vineyard 2018 Dry Creek Valley, $20. With classic Dry Creek Sauvignon Blanc flavors this 100% Sauvignon Blanc was fermented in 84% stainless steel with 16% barrel fermented in neutral Acacia, French, and Chestnut barrels. Congrats to winemaker Tim Bell. drycreekvineyard.com
Off Dry White:
Mill Creek Vineyard & Winery 2018 Gewurztraminer, Dry Creek Valley, Estate, $27. To say Mill Creek is a family affair is an understatement. Bill and Yvonne Kreck are the hands on owners and grape growers while son Jeremy handles the winemaking. millcreekwinery.com
Alternative White:
Gordian Knot Winery 2018 Albarino, Russian River Valley, Elieo Vineyard, $28. Unfortunately this will be the last vintage from Gordian Knot, due to the untimely death of co-owner and winemaker Tim Meinken. If you've never tried Albarino, think of it this way… if a Sauvignon Blanc wanted to be a Riesling it would be an Albarino. gordianknotwinery.com
Best Value White:
Kim Crawford 2018 Sauvignon Blanc, Marlborough, New Zealand, $18. Often discounted, this is a can't miss dry white that falls right in the middle of grapefruit, grass, and gooseberry. Crisp, clean, and I've seen this wine as low as $10. kimcrawfordwines.com
Most Fun Wine:
Sterling Vineyards has released a trio of wines in recyclable aluminum bottles. The 375ml Cabernet Sauvignon, Chardonnay, and Rosé are real wines full of varietal character. They are perfect when glass bottles, cork pullers, and glasses are not appropriate. $7.99 for 375ml. sterlingvineyards.com
Sweet Wine:
Simi Winery 2018 Late Harvest Riesling, Alexander Valley, 375ml, $35. When you talk to winemakers this is probably the most difficult and expensive wine to make. This Simi is the best I've had in years. Dessert in a glass. simiwinery.com
Luxury Wine:
Maritana 2017 Chardonnay, Dutton Hanson Hill, Russian River Valley, $90. This is the new project from Donald Patz of Patz and Hall fame. This 1.8 acre parcel farmed by the Dutton family is vinified using only 27% new French Oak to focus on the fruit and minerality of the site. That's what Donald Patz has been doing since he sold his winery. donaldpatzwinegroup.com
Rosé:
Alexander Valley Vineyards 2018 Dry Rosé of Sangiovese, Alexander Valley, $16. This wine was born to be a Rosé. Picked at a lower sugar to finish dry at 13% alcohol. Fruit forward and as versatile for a food pairing as there is. avvwine.com
Best Reds:
Cabernet Sauvignon:
Duckhorn Vineyards 2016 Rutherford, Napa Valley, $100. Duckhorn may have made its reputation with Merlot, but those of us in the know have always had our eyes on their Cabernet releases. So now the secret is out. With several Appellation designated Cabs you can have a tasting tour of Napa Valley. This Rutherford Cab is a classic. Andre Tchelistcheff coined the phrase Rutherford dust, but I've never completely agreed. You can't taste dirt. But with this wine, I see his point and you will too with one taste. Limited production. duckhorn.com
Zinfandel:
Soda Rock Winery 2017 Postmaster Reserve, Sonoma County, $42. Unfortunately the big story here is the Kincade Fire which burned Soda Rock Winery to the ground. But you can't keep owners Ken and Diane Wilson down. The winery will be rebuilt and they are opening a Soda Rock Tasting Room in downtown Healdsburg. In the meantime open up a bottle of this Postmaster Zin and toast Sonoma Strong. sodarockwinery.com
Merlot:
Paradise Ridge 2014 Russian River Valley, $38. The winery was destroyed in the 2017 Tubs Fire and has just reopened. The view from the deck is great and so are their wines. A stop at Paradise Ridge in Santa Rosa is highly recommended. prwinery.com
Syrah:
Shone Farm Winery 2017 Russian River Valley, $18. The Santa Rosa Junior College Shone Farm Winery was established in 2008 by visionary educators and Sonoma County wine industry luminaries. It is still one of only 3 bonded wineries operating in the California Community College System. shonefarm.santarosa.edu/winery
Blended Red:
Benziger Family Winery 2016 Tribute, Sonoma Valley Estate, $85.This wine is a prime example of why red blends are so popular. 60% Cabernet Sauvignon, 14% Malbec, 11% Cabernet Franc, 10% Merlot and 5% Petit Verdot. Made with Demeter Certified Biodynamic Grapes. benziger.com
Best Buy Red:
Lohr Winery 2017 Merlot Los Osos, Paso Robles, $15. Year in and year out the J. Lohr wines deliver some of the best values at all price points. This Merlot, which is blended with 16% Malbec, drinks like a wine at $25 a bottle. Congratulations to Steve Peck and his winemaking team. jlohr.com
Alternative Red:
Kelley & Young 2016 Malbec, Alexander Valley, Robert Young Vineyards, $45. People have said you'll find the best Malbecs from Argentina, but I say go taste this Kelley & Young. Husband and wife team, Kathleen Kelley and Jim Young have created quite a business with their wine brand and Tasting Lounge, as well as The Wine Garden Inn in Cloverdale. kelleyyoungwines.com
Pinot Noir:
Siduri 2016 Saralee's Vineyard, Russian River Valley, $50. From long time Pinot Noir super star winemaker, Adam Lee, this Pinot comes from the Expansion Block at Saralee's where every other row is planted to a different clone. Do not miss this Pinot Noir. siduri.com
Book of the Year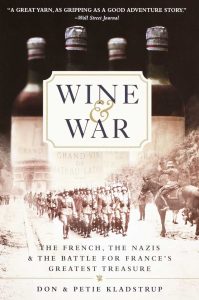 Wine and War: The French, the Nazis and the Battle for France's Greatest Treasure, by Don & Petie Kladstrup. If you enjoy wine and history, this book is for you. It's not about the battles; it's about the wineries and vineyards and what went on in France during the war years. It's an eye opener.