Podcast: Play in new window | Download (Duration: 19:21 — 17.7MB) | Embed
Subscribe: Apple Podcasts | Google Podcasts | RSS | More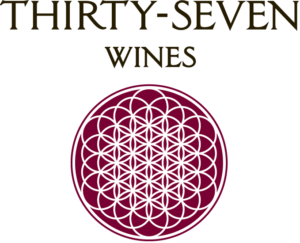 Al and Lisa Brayton of Thirty-Seven Wines join Steve Jaxon and Dan Berger on California Wine Country. Their winery is located in the Petaluma Gap, the new AVA in southern Sonoma County that is characterized by its windy conditions.
When they chose their winery's name, they wanted to give it a sense of place and since they were located on Highway 37, they chose that number. They also chose a logo, an ancient symbol called the Flower of Life, which is composed of many circles placed close together. Later, they discovered that there are thirty-seven circles in the design. They took this coincidence as a sign that they had chosen the right name.
We usually begin tasting with a wine from Dan Berger's extensive personal cellar. Instead of that, Dan has brought a winning wine from a competition where he was a judge earlier today, the Mendocino County Wine Competition. This is the 47th consecutive year of that competition. This wine was served in the sweepstakes round. It is the Navarro 2021 Premiere Reserve Chardonnay. This later was announced as a Double Gold Medal winner, the top wine in its category. It's very good but definitely also very young.
All About Albariño
Lisa tells about their 2019 Albariño, which they have brought in. Albariño is a Spanish and Portuguese variety that Dan Berger describes as semi-aromatic. Dan describes how it starts out young with floral flavors then changes slightly with a few years of bottle aging, picking up fruit flavors.
Steve had a Thirty-Seven Malbec last night and enjoyed it. They didn't bring one but they did bring a Blau Frankisch for later. But Dan says their Malbec is more delicate than other Malbecs especially the Argentinian. The credit goes to their winemaker, Shane Finley, who has been there since 2013.
They grow Albariño for their own production but there is very little demand for it in California and hardly anybody grows it.
Next they open their 2019 Riesling, Dan's favorite. It starts sweet but the aftertaste is dry. The vineyard is challenging, it's on a southern facing slope and they lost about half of it to a slide. It takes a lot of work in the vineyard.
The Wind of Petaluma Gap
Al and Dan both talk about the wind in Petaluma Gap and how it influences the grapes and wines of this new AVA. They have average wind speeds of 8 miles-per-hour, to qualify for the AVA. It cuts your yield, makes berry size smaller and makes thicker skins, but those factors increase flavors and character in the wine. Dan goes into detail here, in the 15th minute.