Podcast: Play in new window | Download (Duration: 56:17 — 25.9MB) | Embed
Subscribe: Apple Podcasts | Google Podcasts | Stitcher | RSS | More
(This week CWC is off due to a live Golden State Warriors basketball game on our home station KSRO in Santa Rosa. For the podcast, here is a reprise of our  Aug. 9, 2017 show featuring Rex Pickett, author of Sideways, and Trevor Durling, winemaker at Beaulieu Vineyard.)
Today's pre-show guest is Rex Pickett, author of Sideways. The main show guest is Trevor Durling, Winemaker at Beaulieu Vineyard.
In the live segment before CWC begins at the top of the hour, Steve and Dan visit with Rex Pickett, author of Sideways, the book, movie and now stage play. Then after the main show, we will hear more of Steve's interview with Rex Pickett.
First, Dan tells that somebody called him on the telephone way back in the '90s when he was writing at the LA Times, to ask him about Pinot Noir, Santa Barbara and Santa Ynez, the area where the book is set. Dan never got his name, and after the movie came out, Dan always assumed the call had come from Rex, but Rex says he wasn't the caller.
(The stage adaptation played at the Left Edge Theater in Santa Rosa at the Luther Burbank Center in Aug. 2017.)
The movie Sideways was not really about Merlot, it was more about Pinot Noir, or people, really. The situation of the market for Merlot changed as a consequence of the movie. The book was about Pinot Noir, not about Merlot. Dan says that Rex put his finger on the pulse of the industry at the time, what people were talking about in the industry then, which was that Pinot Noir was starting to take off in the US and particularly in cooler regions, Santa Barbara and Sonoma Counties in particular. But it was a book about personalities and people, and only incidentally about wine. In Dan's opinion, it was a great book and movie but it really tapped into something that was more wine-related than what Rex was hoping for.
Rex tells that he was starting to go to wine tastings and loved the lyricism and poetry about describing wine, (apart from some pretentiousness). Rex didn't know that the wine tasting scene would become so important in the movie.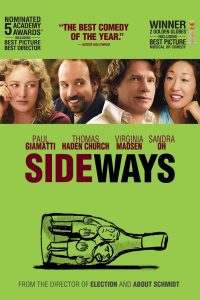 Merlot had been "overcropped" at the time and the movie thinned out the herd, as a lot of poor Merlot producers no longer make it. They agree that the movie did a lot for Pinot Noir and at that time we were starting to get away from the routine Cabernet-Chardonnay and into other wines and Pinot Noir was the one that first broke through, and that the movie picked up on that momentary market trend. Dan points out that in 1992 California had 8,000 acres of Merlot. In 1995, there were 58,000 acres of Merlot. Rex says they were mechanized-farming it and Steve says it just wasn't that good. Dan says there is good Merlot all over the place now but you have to be very careful what you buy because we're down to about 29,000 arcres now, which is way too much, and planted in the wrong places.
Steve tells that his friend Jim from BV is there and he talks about when they were in DC, in April. Jim was there, he started singing and Steve was playing piano. Later we will hear a musical excerpt.
At the intro to the main show, Steve re-introduces Rex Pickett, author of the book, screenplay and the new stage adaptation of Sideways).
Dan introduces Trevor Durling, winemaker at BV, which has been around since 1900. It was the home of the great André Tchelistcheff, starting in the 1930s up to around 1973. The BV style of the wines had been formed and it's not easy to shift. It's like turning an ocean liner. The problem always had been to use French oak versus American oak. BV started using American oak, for Cabernet. The fact is that BV didn't make certain grapes that had become popular, such as Zinfandel. Dan talked to André about that and André said he would not know how to make Zinfandel, as he didn't know it.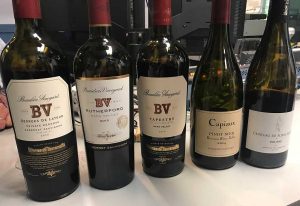 BV is a historic property and makes more varieties now. The flagship is still the BV Private Reserve.
Trevor tells that was born and raised in Santa Rosa and had wine at the dinner table from a young age. But it wasn't until he went to UC Davis and took a winemaking class that he got interested seriously. He realized the Davis program was special and then was hired as a harvest intern at a winery. He loves the combination of art and science in this kind of agriculture. He also loves that it's a social product that you can enjoy with friends and family and good food.
He's going into his 16th vintage. Steve says he is proof that drinking wine keeps you young and makes you look good. He just joined BV four months ago, so this year is his first vintage. He spent the last 8 years across the highway at Provence and Hewitt vineyards. which is in the same winemaking network as BV so he has worked with some of the same growers and vintners, so there is continuity in his present position.
Dan says that Trevor also worked with Tom Rinaldi at Provenance, who is his mentor. He says he will write a book about working with him. Joel Aiken is carrying André Tchelistcheff's legacy forward. Dan visited the property with André 6 months before he passed away and he spoke highly of Joel. During the interview Joel joined the conversation and talked about converting from French Oak to American Oak. Joel kept the traditions going that have kept BV at the top of the game, ever since 1900 with George de la Tour himself founded the winery.
Steve asks Rex to talk about his experience with wine and how he came to write Sideways. He says that at a certain time in his life he was living in LA and playing golf to take his mind of heavy issues of family life, and the golf courses in LA were expensive but the ones up near Santa Barbara were not, so he went up there to play and got to know the wineries in the area. At the same time, he was living in LA and going to wine tastings at a local store.
Dan tells that at the time wine was the snob beverage and beer was the popular beverage. But the movie Sideways showed that wine was something for everyone.
Dan points out that Sideways changed the way that wine was perceived.
They taste a BV 2014 Carneros Chardonnay. Dan says it's an elegant style, not overblown, as the oak is in check. It has mid-palette richness and cripness, together.
Trevor tells that it was made 100% from BV ranch grapes in the Carneros district, 100% barrel fermented, with about 60% new oak and half of that is put through malolactic fermentation, "…to add a little bit of the mouth feel." Everything is aged sur lies. Steve calls a Geek Alert. Trevor explains that that means that after fermentation is finished, there is some yeast and solid content in there, and they stir the barrels which adds mouth feel and viscosity in the wine.
Steve pronounces his judgement: "This is a fine, lovely Chardonnay, let me say that."
Barry talks about the August 30 Pinot Noir tasting that Bottle Barn is organizing at the Hyatt Vineyard Creek. California Wine Country will be live from the tasting.
There is a recording of Steve and Jim performing a song in Washington CD last April. In real time Steve asks Jim to send the recording to Mike, and they will play it on the show.
After the break, Steve re-introduces today's crew and asks everyone to talk about Sideways. Dan says that it was pure entertainment, but that if you think of all the implications that it had on the wine business and on society in general, it's really far more monumental. Steve again points out that rather than being a movie about wine, it's about two guys and their live lives and Rex mentions that the Paul Giamatti character Miles is based on his life at the time.
Barry Herbst mentinos that Rosé sales have never been stronger at Bottle Barn and Dan says it's great because good Rosé is coming from everywhere from different grape varieties.
Next they taste some BV reds. First, the 2013 Rutherford Cabernet Sauvignon. Among the different Cabernets that they make, Dan says the standard bearer is the Rutherford. He says it shows what André Tchelistcheff called Rutherford dust, not the actual soil dust but the faint dried herbal components that come from there and not from other Napa Valley districts.
Trevor thinks of it as a chocolatey cocoa powder texture which is typical of the Rutherford appellation.
Dan has had examples of Rutherford wines that last 30 years in the cellar.
Next they open a 2014 Tapestry Cabernet, with more guts and power to it. Dan says this wine carries more of the modern style and the older generation would prefer the Rutherford.
Trevor notes that the Tapestry is a fun wine to make because it is a red blend and is not held to having a specific varietal dominate it. Typically it is Cabernet Sauvignon based but will use some Merlot, Malbec, Petit Verdot and Cabernet Franc, in different proportions each year, to make the best red wine they can make each year.
The Tapestry and the Rutherford are both 100% barrel aged, the Rutherford Cabernet is around 30% new oak and the Tapestry is about 60% new oak.
Finally they open what Dan calls "The Monster" which is the George de la Tour Private Reserve, which has been made since the 1930s. It has gone through some changes thanks to some conditions in the 1940s and 1950s. Trevor talks about how they had to change to American oak back then because French oak was too hard to get, thanks to the war and economic conditions. Trevor tells how that remained a style of the private reserve, up until the 90s, when they started re-introducing French oak.
Dan notes that the 2013 has a hint of mint in it. Trevor says that 2013 was one of the best vintages he has ever seen. It can age for 30 years or be enjoyed now. Dan says that the style of these wines is really set now. Dan says it is silky and age-worthy. Trevor says that is what he is going for, wine that can be enjoyed now or that can age.
Steve then plays the recording from last April, with Steve on piano and Jim Morris were playing a song in Washington DC. A star is born?
After the close of the California Wine Country show, we hear the rest of Steve's interview with Rex Pickett, which was recorded before the CWC hour.
Author Rex Pickett, author of the book Sideways, which became the movie and is now a play. Rex says the adaptation is based on the novel and has been performed before, in Santa Monica. He agreed to do the production under the condition that they could pour high end Pinot Noir at the theater. Rex talks about how the book and movie were made, despite many rejections at first. Rex describes how the play was first produced. They discuss how the author adapted the book and movie into the play. He wanted the play to maintain as much as possible of the movie's style, which meant a lot of scenes and set changes. The production of Sideways will be running from September 8 to October 1 (2017) at the Left Edge Theater in the Luther Burbank Center in Santa Rosa.