Podcast: Play in new window | Download (Duration: 27:19 — 12.5MB) | Embed
Subscribe: Apple Podcasts | Google Podcasts | Stitcher | RSS | More
World Winery winemaker Darek Trowbridge is our guest on California Wine Country with Harry Duke sitting in for Steve Jaxon and Dan Berger. Darek founded Old World Winery to practice natural winemaking. He is also featured in a documentary on natural wine called Living Wine, being released this month.
Dan Berger has brought another cellar dweller this week, from Dan's deep, dark and dangerous cellar. He thought the 2019 Jim Barry Watervale Riesling would be good on a hot day like today. Bottle Barn has this wine for under $17. Darek says it is hard to get this wine right when it is this dry but they did a good job.
The Old World Winery is a small family owned and operated winery in the Russian River Valley. Darek started Old World Winery after getting a Master's degree in winemaking in 1998. He set out to make natural wine and has been doing that for 24 years. Recently it has taken off. Dan Berger says a new restaurant that opens in Los Angeles today has to have some natural wine on the wine list. People want nothing added that does not come from grapes.
Wines that are "Interesting"
Dan remembers being a judge at a wine competition once, and every single wine was exactly the same color, without any variation. Darek says that he sets out to make what he can call flawed wine. He makes "interesting" wines that are decidedly not uniform.
He has a wine called Bloom, which is a chillable red. It is not a deep rich red, but rather a light red. It is an unusual wine, compared to what we usually see. Many larger wineries are locked into a type, that includes sterile filtration. But these wines, unfiltered, keep more flavor and aroma in the wine. Other wine may look better but doesn't smell as nice. It's a manufacturing tool that produces uniformity. Darek quit doing filtration about 10 years ago. They and their consumers like their product to be kind of unpolished. Dan Berger says this is a serious category that is removing us from the tyranny of "the numbers" meaning how many points it has. They are located on River Road, open Fridays and Saturdays. It's close to the freeway.
The second wine tasted is a bit deeper red. Tannin doesn't really go well in the natural wine category. This is still a light red, even if darker than the Bloom. It's chillable, but also nice not chilled. Its name is Impulse. The label says "whole cluster, foot stomped." People come to stomp, including interns and volunteers. It's a blend of Merlot and Petit Syrah.
Living Wine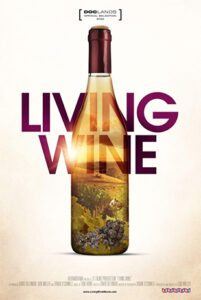 Darek describes Laurie Miller, the producer-director who with her brother Ben Miller were interested in natural wine. She called to inquire about filming some segments, in 2020. A few other natural wine producers are also in the movie. Living Wine is a story about the people who make wine. It follows some natural winemakers in northern California. The movie's website says, "Equal parts farmer, winemaker, and artist, they stay true to their ideals of creating exceptional wines made through innovative sustainable and regenerative farming and without chemical additives."
This film will be showing at the Rialto Cinemas in Sebastopol, California, from Friday August 19 through Thursday August 25. It was released at the DocLands festival in Marin where it was a hit.
They are tasting the 2009 Merlot, the third wine tasted today, which curiously, is still available at Old World Winery. Dan says it doesn't smell or taste like most Merlot today. It reminds him of the 1970s, with dried herbs, fresh herbs and black cherries that Merlot should have, and without the high tannins which it should not have. Darek describes how this wine was made and what he is looking for in the process. It is very unusual to release a 2009 right now. At only 12.4% ABV, the alcohol does not overpower the fruit flavors.