Podcast: Play in new window | Download (Duration: 23:14 — 21.3MB) | Embed
Subscribe: Apple Podcasts | Google Podcasts | Stitcher | RSS | More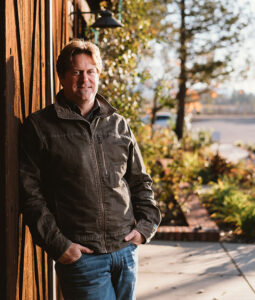 Eric Johannsen, winemaker at La Crema, is our guest on California Wine Country with Steve Jaxon and Dan Berger today. La Crema has specialized in cool climate wines, Chardonnay and Pinot Noir, for 40 years. After a couple of ownership changes, Jackson Family Wines purchased the winery in 1996 and has expanded its footprint from Sonoma County to Monterey County and into Oregon.
Eric's twenty-fifth vintage is coming up, most of them with La Crema. Before that he "jumped around" with different internships, saying that he grew up with the brand. Eric has brought a Chardonnay for Steve "Chardonnay" Jaxon, together with a Sauvignon Blanc and a Pinot Noir. La Crema is an iconic name, which came from Spanish "La Crema Viñera" the best or 'cream' of the vine.
Dan has brought a cellar dweller wine, a 2006 Sauvignon Blanc made by John Emerich at Silverado Vineyards in the Stag's Leap area of Napa Valley. Then they taste a 2021 Sauvignon Blanc. This is their third vintage of Sonoma County Sauvignon Blanc. La Crema as a brand is famous for Chardonnay and Pinot Noir, though. Dan says this has Russian River characteristics. The fruit is mostly from Dry Creek, Alexander Valley and Knight's Valley, with a little bit of Russian River and a bit of Bennett Valley. This is quite different than Chardonnay. It's primarily done in stainless steel, but they use a little bit of used oak, to round out some of the edges.
By Russian River characteristics, Dan means a little spice component that you don't get in many other places. It has hints of peach and tangerine flavors. Eric describes 'a spectrum of different ripenesses' with Sauvignon Blanc, that have different flavor tendencies. Dan Berger says it's nice to have a contrast between this SB and the ones from New Zealand, which are different, but this one of Sonoma County has both rich fruit and a dry finish. It retails for about $25. If you pick it early or late, you get different results.
La Crema was one of the first wineries to make Pinot Noir with a single vineyard focus. When they started, it was not yet as dominant as it is now. They were still looking or the right places to plant Pinot Noir. Tom Simoneau says that the silver lining of philoxera was that when they had to replant, everyone replanted with new clones and rootstocks, studying soil types, trellising, orientation toward the sun etc.
La Crema has been one of Steve Jaxon's favorite Chardonnays, he and several million other fans. They taste the 2020 Chardonnay, from cool areas that give the juicy acidity and a litle bit of spice. Tom Simoneau says it has a judicious use of oak, just enough. La Crema Chardonnay is the most popular Chardonnay over $15 in the US.
The last tasting is the La Crema 2019 Sonoma Coast Pinot Noir. They are using synthetic corks, so those will never spoil and they provide a better more consistent seal. Tom Simoneau tastes dark cherry, Dan Berger says "big, rich but not clumsy…" Dan would prefer it with end cut prime rib.