Podcast: Play in new window | Download (Duration: 42:36 — 19.6MB) | Embed
Subscribe: Apple Podcasts | Google Podcasts | Stitcher | RSS | More
Tom Simoneau is on California Wine Country this week to present his 2018 Wines of the Year, with Steve Jaxon and Dan Berger. There are a lot of wines to describe and a few to taste, so we get started right away. After each wine, you will find links to the wineries' websites. Tom Simoneau's website is http://winecountrylive.com/.
Winery of the Year
Ferrari-Carano Vineyards and Winery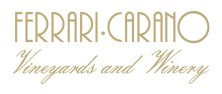 This stunning property in the deep end of Dry Creek Valley has been producing world class wine for nearly forty years. Recently widowed Rhonda Carano continues on the vision she and Don Carano planned way back in 1981. The grounds at the winery are worth a visit alone. The wine making team headed by Sarah Quider and Rebecka Deike have made so many good wines you'll have some fun trying to figure out which wine is your favorite. Congratulations to my Winery of the Year… Ferrari-Carano. Sarah Quider calls in to the station for a live chat with Tom, Steve and Dan (beginning at about 32:18 in the audio file). ferrari-carano.com
Best Whites
Sparkling Wine: Gosset Champagne, Non Vintage Grand Reserve Brut, $45
With just the right amount of bubbles, just the right amount of yeast, just the right amount of acid, this wine is just right. How long have they been making sparkling wine in Champagne? Only 350 years to get it right. Once you taste this Gosset Sparkler you'll have a new best friend.  champagne-gosset.com
Chardonnay: Hyde de Villaine (HdV), 2015 Hyde Vineyard, Napa Valley, $70
HdV is a family venture between the Hyde family of Napa Valley and the de Villaine family of Burgundy, France. Aubert de Villaine, Co-Director of Domain de la Romanee-Conti, married Larry Hyde's cousin Pamela, and a star… winery was born. This Chardonnay is lean in a rich sort of way. It's the definition of balance, fruit, a magnificent mouth feel with a finish that leaves you with, how'd they do that? HdVwines.com
Sauvignon Blanc: Hanna Winery, 2017 Russian River Valley, $19
Long known for producing one of Sonoma County's finest Sauvignon Blancs, winemaker Jeff Hinchliffe did not disappoint with his 2017. Crisp grapefruit, hints of herbs and mineral, nice and dry. From a classy Sonoma County family owned winery. hannawinery.com
Off Dry White: Imagery Estate Winery, 2017 Riesling, Upper Ridge Pine Mountain Cloverdale Peak, $26
From the winery long known for producing alternative wines with colorful art labels on their wine bottles, this Riesling is a real winner. Fruity and flavorful, the perfect aperitif. A stop by their tasting room in the Sonoma Valley is an education in itself. imagerywinery.com
Alternative White:   Sonoma-Loeb, 2016 Viognier, Cold Creek Vineyard, Carneros, $32
You may not have heard of Sonoma-Loeb before, but if Napa Valley's Chappellet is familiar, they are the owners. This is a wine brand you need to check out. This Rhone white is as good a Viognier as I have ever tasted. With its floral aroma, crisp acidity, and rich mouth feel I guarantee you'll thank me for turning you on to this wine. Sonoma-Loeb.com
Best Value White: Korbel Champagne Cellars, 2015 Natural, Russian River Valley Champagne, $16
How's the old saying go… A chicken in every pot and a bottle of sparkling wine in every fridge. Not sure if that was said by Dom Perignon or Gary Heck, the owner of Korbel. But either way, Korbel makes it easy for all of us to celebrate with a glass of bubbles and not break the bank. The Natural is my favorite but the entire portfolio of sparklers is highly recommended. And yes, it says Champagne on the label. It was grandfathered in back in 2006. korbel.com
Rosé:   Bucher Vineyards, 2017 Rosé of Pinot Noir, Russian River Valley, $25
Rosés are on fire. It is the hottest category for wine sales over the last few years. This Bucher Vineyard Rosé of Pinot Noir is crisp with bright strawberry fruit, from the long time dairy farm family off West Side Road in Healdsburg. Visit their website for an appointment at their new group tasting lounge in Windsor. bucher.wine
Sweet Wine: Merry Edwards Wines, 2014 Late Harvest Sauvignon Blanc, $48 for 375ml
When the history of Sonoma county is written, Merry Edwards will be in chapter one. She began her career in 1973 when the business of wine was a good ole boys network. It is Merry Edwards who helped inspire many women to enter the wine business and help break the proverbial glass ceiling. This Late Harvest beauty shows brilliant gold in color, all honey and tropical fruit. One word to describe this wine …SWEET! merryedwards.com
Book of the Year
Passion for Wine, The French Ideal and The American Dream
By Jean-Charles Boisset and Marnie Old, $28.95
This self-published primer by the proprietor of Boisset Collection and wine educator Marnie Old is easy to read and very informative. Packed full of charts and pictures, it's perfect for the wine novice and wine geek as well. A little something for all of us. Available at all the Boisset Collection Tasting rooms or click on shop.jcbcollection.com/shop.ams, then click on "boutique" above and scroll to the book, or go to Amazon or Barnes and Noble.
Best Reds
Cabernet Sauvignon: Geyser Peak Winery, 2015 Walking Tree, Alexander Valley, $30
Have you ever seen a tree walking? …yes, if the tree is on a hillside with a propensity toward landslides. And yes, the tree after years of sliding down the hill finally toppled over and met its match, a chainsaw. This Cab shows classic Alexander Valley black cherry fruit, rich, and delicious. geyserpeakwinery.com
Zinfandel: Bella Vineyards and Wine Caves, 2015 Florence, Dry Creek Valley, $40
From one of Dry Creek Valley's premier Zinfandel producers. At Bella it's all Zin all the time. The stunning caves alone are worth the drive to the end of the Dry Creek Valley. The Florence is all red fruit, screams Zinfandel, and is perfectly balanced. A visit to Bella is highly recommended. bellawinery.com
Syrah: Dutcher Crossing Winery, 2015 Proprietor's Reserve, Dry Creek Valley, $33
With the distinctive high-wheel bicycle on the label, family owned Dutcher Crossing is a relative newcomer to Dry Creek Valley founded in 2001 with all star winemaker Kerry Damskey at the helm. This 2015 Syrah shows loads of forward fruit. This wine is as complex as they get, mocha, spiced berry flavors with hints of citrus and black currants. A wow wine! dutchercrossingwinery.com
Blended Red: J. Lohr Winery, 2014 Cuvee Pau, Paso Robles Red Wine, $50
Founded by Jerry Lohr who some say is the Robert Mondavi of the Central Coast. He was among the first to see the potential of Monterey and Paso Robles as a premium grape growing region. This Cuvee Pau was inspired by the blended reds from France's Pauillac District of Bordeaux. A blend of 68% Cabernet Sauvignon, 14% Malbec, 11% Petit Verdot, and 7% Merlot. Red blends are a hot category right now and this J. Lohr is a stunner, not to be missed. jlohr.com
Best Value Red:  Murphy-Goode, 2016 Pinot Noir, California, $15
It's been said you can't make a good Pinot for under $25. Well I'm here to tell you Dave Ready Jr., Winemaker for Murphy-Goode has and the list price is $15. And the wine is often discounted. Pour this baby blind with some high priced Pinots and it will hold its own. Showing cherry berry fruit and bright acidity. murphygoode.com
Alternative Red: Deerfield Ranch Winery, 2013 Cabernet Franc Reserve, Sonoma Valley, $65
With all the bells and whistles, organic grapes, new caves and winery, and what co-owner P.J. Rex calls CleanWine, which is low in sulfites and histamines. Whatever they're doing at Deerfield, it's working. The '13 Cab Franc shows red fruit, mocha and violets in the nose, smooth as silk. Do not overlook Cabernet Franc. deerfieldranch.com
Pinot Noir: JCB No 3 by Jean-Charles Boisset, $123
This is the most interesting wine I've ever picked as a wine of the year. This JCB is 50% Russian River Pinot Noir and 50% Cote de Nuits from Northern Burgundy. The No 3 represents the old world and the new world. 1 + 1 = the blended version which JCB calls No 3. Winemaker Brian Maloney spent months Fed Exing samples back and forth until finally the right blend was agreed upon. Then shipping eight barrels here was no small task, but in the end a success. The wine has no vintage or appellation due to Tax and Trade Bureau label regulations. The wine is available at JCB's new tasting salon in Healdsburg or online at JCBwines.com.
Luxury Wine: Aperture Cellars, 2015 Cabernet Sauvignon, Del Rio Vineyard Alexander Valley, $100
Most Fun Wines:
Treasury Wine Estates has a series of wine with talking labels. You need to see and hear this to believe it. Go to livingwinelabels.com and you'll have your mind blown. There's a full line-up of brands. Beringer Bros. Bourbon Barrel Aged, The Walking Dead, Chateau St. Jean, Gentleman's Collection by Lindemans, just to name a few. Trust me, go to livingwinelabels.com then get the app at Google Play or The App store. Then point your phone at the label and it comes to life. You won't be disappointed.
Winemaker Proprietor: Jesse Katz
Jesse Katz may be a name you haven't heard before, but his father you probably have. He's world-renowned photographer Andy Katz. His photos are on countless album covers, posters, coffee table books, and now on world-class wine. Jesse supplies the grapes and Andy supplies the images. Jesse Katz is a winemaker you'll be hearing plenty more about. This AV Cab shows dark cherry fruit, mocha, and hints of lead pencil. Bordeaux comes to mind. A wine you'll have to look for and worth the effort. aperture-cellars.com
Merlot: Ferrari-Carano, 2015 Merlot, Sonoma County, $21
This is an example of why Merlot is the #2 red wine in the US behind Cabernet Sauvignon. This Ferrari-Carano shows rich and full body, all dark cherry chocolate, with soft tannins and a long finish. ferrari-carano.com
Tom can be reached at:
[email protected]
707-921-2722