Podcast: Play in new window | Download (Duration: 39:48 — 18.3MB) | Embed
Subscribe: Apple Podcasts | Google Podcasts | Stitcher | RSS | More
Today Tom Simoneau has brought the wine grower and winemaker from Albatross Ridge Winery in Carmel Valley, Garrett Bowlus. Dan Berger has just finished the Rosé competition at the Soda Rock Winery today. Barry Herbst is away, judging a wine competition.
The Albatross Ridge Chardonnay was Tom's Chardonnay of the Year last year. "When the right alchemy of soil, climate and grape clone come together, a wise winemaker gets out of the way, and the results evoke terroir, and something deeper. Something like destiny." So said The San Francisco Chronicle, September 2015.
Garrett Bowlus planted the vineyard in 2008 and needed a name for the winery a few years later. When they needed a name, he found a picture of his grandfather flying a glider from Albatross Ridge, nearby. He and his wife had moved from Oregon and were looking for a location. They are about seven miles from Carmel-by-the-Sea. He knew the soil was special, it's all uplifted ancient seabed soils and a little bit of granite and limestone. Garrett brought a piece of yellow shale from the vineyard.
Dan explains that the location is great but the ground is all rock so it's hard to plant vines. It's 85-95% rock. They broke a lot of machines putting the posts in and tilling the ground. There are seashells in about 5% of the rock, since the ground is an uplifted seabed.
Garrett Bowlus explains that the stone is very porous but the stone imparts a nice minerality to the wine. They have a long growing season and very even ripening. They taste fresh at 21.5 / 22.5 brix for Chardonnay and 22-23 brix for the Pinot. Dan says it's perfect for people trying to make Burgundian style wines.
The weather there gives a strong marine influence. The breezes are pretty cold. They get 10-15 mph winds. Sometimes, they get 45 mph winds. They have those extremes of coolness and wind, but they don't overheat nor are they too cold overall. They are in just the right zone, not too hot or cold.
Now they taste the Pétillant Naturel Rosé of Pinot Noir. He discovered this wine while traveling in France and so he decided to start making it. They make a dry Rosé. He describes the process of making "Pétillant" which is a light, slightly sparkling style.
They are available at retail by California Wine Market in San Francisco. They also have a wine club and a new tasting room in downtown Carmel-by-the-Sea.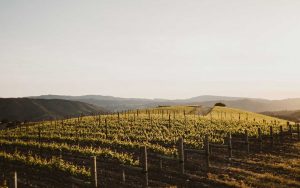 Now they taste their flagship Chardonnay. They have 7 acres of it and they sell a little of it to a producer in Sonoma County. Tom describes it as lean and crisp, it has 12.9% alcohol. It's a long growing season there and they harvest at about 21 or 21.5 brix in mid September. Dan describes it as quite different from the buttery Chard style. It has lemon and grapefruit flavors and a faint earthy character which pleases those who like Chablis or who like to age their wines. It would need to be aged or decanted and served not cold; cool is fine but not cold. They don't any lees stirring. They harvest at night and do a quick gentle press. They only press about 55 cases per ton, where you can usually get up to 75 cases per ton off a white wine press. They try to get it to be as dry as possible. They aren't filtering either.
Tom asks Garrett Bowlus to tell how they named the wine and he tells how he discovered that 80 years before, his great-grandfather, a famous aviator, flew gliders with Charles Lindbergh from the ridge called Albatross Ridge. When he and his wife made this discovery, that gave him the name of the winery.
Next they taste the two Pinot Noirs. Dan tastes baked blueberries and cinnamon. Garrett tastes some rhubarb. The site gives its terroir and they try to get as much of that without a lot of winemaker's intervention. The wines need a lot of time in the bottle.