Podcast: Play in new window | Download (Duration: 32:46 — 15.1MB) | Embed
Subscribe: Apple Podcasts | Google Podcasts | Stitcher | RSS | More
Jamie Peters is today's guest, here to talk about WineSong, which holds its 33rd annual fund raiser next August. We hear all about WineSong from Jamie and Dan, including food, wine, music all at the Mendocino botanical gardens. Then we taste a couple of Chards, a unique Zin and more.
Wine Song is an annual event in Mendocino Coast Botanical Gardens about 2 miles south of Ft. Bragg. September 8 and 9, Friday and Saturday. The local wineries will be open on the Sunday. To learn everything about WineSong, visit their website, http://winesong.org/.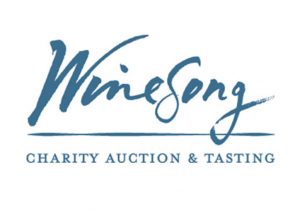 Jamie describes WineSong: as you wander through a garden path, there are different musicians who play for you while you enjoy the food and wine. She tells how they raise money for the Mendocino Coast District Hospital Foundation. It serves a 600 square mile area. Dan is also involved and has been going for 25 years with his wife Julie. They haven't missed it in years. There are a lot of regulars, you make friends, you look forward to seeing them, it's like a family reunion. The second half of the event is a live auction. Jamie says they come from 25+ states, year after year after year. Dan donates a lot of his well-cellared wine to the auction. WineSong will feature wines from all over the world, although a lot of it comes from Mendocino and Sonoma Counties.
There will be a Pinot Noir Celebration, which is already fully booked, there are 30 or 32 wineries. This is a Friday afternoon, 1-4pm event. Dan says this is a good place to taste previews of the upcoming vintage.
Dan brought wines today, starting with a Chardonnay, a 2009 Marimar Estate from near Green Valley. Most peolple don't age Chard, but this has plenty of acidity and captures fruit component. Cellared, it's great after five years. Steve might not have called it Chard on a blind taste. Dan says age has helped, but 2009 is not really old for a Chard yet, just getting to its peak. Dan said its acid needed to be tamed a bit. He said he thought Steve would like it and he was right.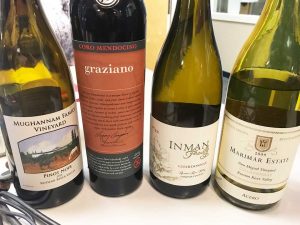 WineSong is a good place to see new releases. The Pinot Noir tasting on Friday does that. We are starting to see lots of 2016 Rosés. There will be 50 different restaurants, exec chefs, chocolatiers, (nice for cab or port). Dan says a problem is getting lodging up there, it's very hard to get so you need to book your lodging ASAP. That's why they booked Jamie early enough to make a decision to go and be able to find lodging. She says there is something for all price ranges. There is even Glamping, which means glamorous camping.
After the break, Steve invites Dan to open the next tasting, a 2012 Inman Family Chardonnay. They were in on the show before. Dan says Kathleen Inman knows how to keep the acid down, so 3 years tamed it a bit. Dan says it should be decanted and it calls for some seafood, sturgeon, poached or lightly sautéed. Steve says clams, yes, steamed, but not tuna or salmon, which is richer, this wine is not heavy enough for that.
Coro is a group of wineries that are making Zinfandel blends from Mendocino County fruit, can't be less than 40% or more than 70% Zin. Graziano's 2013 vintage is 64% Zinfandel, 11% Barbera, 10% Petite Syrah, 5% Dolcetto and 5% Montepulciano. Aged in oak, it has beautiful aromatics that smell like Zinfandel but then it has all these other flavors, like black pepper, forest floor, violets.
Steve asks Dan to explain forest floor. Dan says it's like dried leaves, rustic. It's a fun wine to drink that could go with a pepperoni pizza.
The Coro consortium has agreed that the labels all look alike for all the different Coro participants. (The word "Coro" means "chorus" or "choir" in Italian.)