Podcast: Play in new window | Download (Duration: 27:45 — 12.7MB) | Embed
Subscribe: Apple Podcasts | Google Podcasts | Stitcher | RSS | More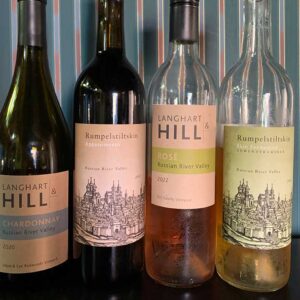 Dennis Hill, co-founder of Langhart and Hill wines, joins Steve Jaxon on California Wine Country. Larry Van Aalst is in for Dan Berger, who is travelling this weekend. Larry has had a long career in wine, he was an educator and a Sommelier and worked in the university and junior college and with PBS, all related to wine. He even worked in the prune harvest back when that was the dominant fruit in Sonoma County.
This 2023 vintage is Dennis' 51st as a professional winemaker. His first job in winemaking was working for the late Ed Seghesio. He grew up on his family's property just south of Healdsburg, on the border between Dry Creek Valley and Russian River Valley AVAs. It was a prune and apple farm but in the 1970s they replaced most of the prunes and apples with wine grapes.
Rosés made of Bordeaux Grapes are Great
They are tasting a Rosé made of Merlot, which Larry really likes. Dennis calls is "racy" and it has a deeper color than most Rosés these days. He wanted his to have a little more depth of flavor, so he leaves it on the skins and uses Merlot.  Rosé is not just seasonal anymore,
They are also tasting a Chardonnay is about the flavors of the fruit, not the oak. It's all older and neutral wood. It is complex and without any of that annoying buttery oaky flavors.
These wines are available at Bottle Barn. They don't have a tasting room and are just building their sales in the marketplace. They only make about 350-400 cases per year, mostly to restaurants and selected local retail, including Bottle Barn.
They also make another line of wines called Rumplestiltskin, which is dedicated to unusual varieties not usually encountered. They make an orange wine and an Appassimento, and a Croatian variety called Dobricic.
The Appassimento is very interesting. It is a northern Italian style where they dry the grapes before pressing them, which makes a unique flavor. Amarone is the name of one kind of wine made this way.