Podcast: Play in new window | Download (Duration: 23:50 — 10.9MB) | Embed
Subscribe: Apple Podcasts | Google Podcasts | RSS | More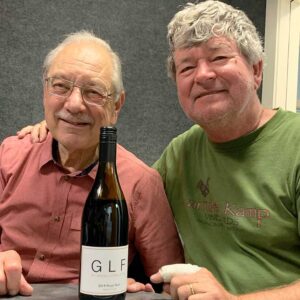 GLF Wines owner Greg La Follette ("la-FOLL-et") is back on California Wine Country with Steve Jaxon and Dan Berger, to talk about his label GLF Wines, and more. The Drive co-host Harry Duke is also in the studio. Greg has been on CWC a few times before. The first was this episode on April 12, 2017. We heard about his previous label Alquimista Cellars in his next episode on November 21, 2018, then again on June 17, 2020.
Dan Berger's Cellar Dweller of the Week
This is a six-year-old French Rosé from Côtes-du-Rhone that Dan kept as an experiment. Usually he would not keep a Rosé this long, but it was so good when it was young he kept one just to see what would happen. It is mainly Grenache and it is still flavorful although a bit past its prime. Dan calls it "toasty" and remembers it had more peach and dried peach flavors before. Another unusual aspect is its copper color, another product of aging.
Riesling is Dan Berger's favorite variety and this year he is actually making some, and Greg La Follette is his winemaking consultant in the project. He is getting three tons of Riesling grapes from a grower in Mendocino. He also made some Cabernet Sauvignon, called Berger, which was not for sale.
---
Bottle Barn has a vast selection of great wines, from everywhere, some of which you have never heard of, at bargain prices. Dan spent some time at Bottle Barn today and gives an extensive report on their vast selection.
---
Greg La Follette arrives
Greg La Follette has arrived, with a bandaged finger. His new brand is GLF, Greg La Follette wines and he also has Marchelle Wines to specialize in small scale production from old vines. He begins his story, "Well, I'm a farmer." (That's true, but he is also a scientist.) He has grown grapes on five continents and consulted to many winemakers around the world. Greg was first a student and then a teacher at UC Davis. Retired from that career, he is now devoted to his own projects and to being a grandfather. He worked for Zelma Long at Simi and worked with Mary Ann Graf there, back when they were all laying the foundations for the present day stature of wine country.
Alquimista Cellars did not make it through the pandemic. (That was his previous label, which he talked about in his previous CWC episodes.) The wines went mostly to Michelin-ranked restaurants, with Chardonnays starting at $60 and Pinots from $75 to $120. Their bottled wines went to his partner and he kept the barrel wines, which he has labeled under GLF now. The GLF wines sell for $36 on the website, sometimes less in a couple of Florida-based discount retailers.
Greg tells about having been André Tchelistcheff's last pupil. His present GLF brand is dedicated to making premium wine accessible. Ever since he was a wine student he wanted to make wines that people could afford. His GLF and Marchelle brands both accomplish that. Marchelle is devoted to ancient vines. They are available at the website marchellewines.com.