Podcast: Play in new window | Download (Duration: 37:27 — 17.3MB) | Embed
Subscribe: Apple Podcasts | Google Podcasts | Stitcher | RSS | More
From Trombetta Family Wines, today's guests are Rickey Trombetta, proprietor and CEO and her daughter Erica Stancliff, their winemaker.
Erica grew up in Forrestville while her parents were home wine makers. Her father was a full time engineer. In the 1990s her mother got a call from a friend. They did a lot of charity events for Pace Memorial Hospital and others. There was a new winemaker in town, who turned out to be Paul Hobbs who became a very close friend of the family. He suggested she look at Fresno State and discovered the winery and their wine program run by John Giannini, at the time. Paul Hobbs has become a "rock star" Chardonnay and Pinot Noir producer in Sonoma County but they knew him before he was famous. They still make wine next door to each other on Hwy 116.
Erica took over as winemaker in 2014 after working harvests in Argentina and Napa, and with Paul. Carmine Indindoli lived down the street from them. When he planted Cabernet Sauvignon and Pinot Noir, they learned all about the vines from him. They started up with one wine, now they have five.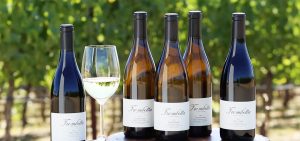 He was an engineer at HP as was her husband Roger. When he planted vines, they asked him about it. He invited them over and guided them through the process. They took all the classes they could at Santa Rosa JC and UC Davis.
They started Trombetta as a winery in 2010 with the Gaps Crown Pinot Noir.
Paul had all the wines by clone and by vineyard. They tasted it all and narrowed it down to three different clones in the Gaps Crown Vineyard.
Rickey was instrumental in the local growers association getting the new Petaluma AVA. Their local congressmen Mike Thompson and Jarred Huffman helped a lot as did the Treasury Dept.
Next they taste the 2017 Four Brothers Chardonnay. Steve loves this Chard. Four Brothers is a vineyard named by the Sullivan family after their four sons. She started their Chardonnay program with this and the Indindoli. She likes the sense of place that this wine has, of Sonoma Mountain. It's not typical of Chardonnay.
They are either buttery big tropical fruit bomb and oaky or steely and astringent with green apple and lemon peel. This is different. It has white peach skin and stone fruit flavors. The fresh juice smelled like guava juice to her. Tom says that each little vineyard on Sonoma Mountain has unique terroir. Erica's Chardonnays are all barrel fermented, about 25% new French oak, sur lies 8 months, stirred once a week. Tom thinks it will bear some aging too.
They make about 1000 cases per year. They even have two barrels of Trombetta Estate Rosé. Tom Simoneau is impressed that small family wineries like Trombetta can survive and thrive. They taste another Chardonnay, 2017 from Indindoli Vineyard. It's a Russian River Chardonnay without being too overbearing or soft-spoken. The Indindoli retails for $45 and the Four Brothers is $50. Bottle Barn will have some Trombetta wines after today.
The Petaluma Gap winds make the skins thicker on the grapes that you get more phenolics and tannins. They have higher tannins than some Cabs in Napa due to this. Then they were starting to make Chardonnay they wanted something that had good acidity. Paul Hobbs had 3 tons of Chardonnay for them. He gave the harvest to Erica and said, "ok, go make the wine."
Now they taste the Pinot Noirs. They got the fruit from a vineyard near Sebastopol. First there is a 2013 then a series of 2014s. The last Pinot is the 2014 Trombetta Gaps Crown Pinot Noir. On this one you smell the fruit first. Barry says it should be a 95, 96 or 97, instead of the score it got.
If you join their wine club you get a free tasting and they also put on a wine camp, where people gather in their home vineyard and learn how to handle the grapes in the vineyard before sharing a big lunch together.