Podcast: Play in new window | Download (Duration: 35:46 — 16.5MB) | Embed
Subscribe: Apple Podcasts | Google Podcasts | RSS | More
Bruce Cohn visits with Steve Jaxon and Dan Berger today on California Wine Country. He used to own the B.R. Cohn label, which he sold in 2015. Now he owns Trestle Glen Vineyards, which is a relatively small operation, having one acre of Zinfandel and seven acres of Cabernet Sauvignon on the 21 acre property.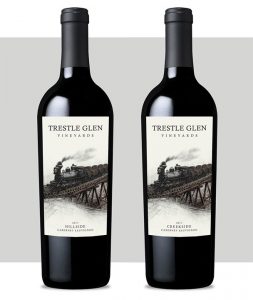 Bruce Cohn was a business manager for several popular bands in the music business. In 1974, he bought a vineyard in southern Sonoma County and had success growing grapes. Later he founded B.R. Cohn to make wine and had great success with that brand. Since he was in the music industry, B.R. Cohn used to have concerts at the winery but the new owners are affiliated with the Bottlerock people so they will continue to produce concerts there. Meanwhile, Bruce still has many friends in music so he will be organizing some music at his own winery, in the future. Dan Berger has brought a Viogner today, which a lot of people are talking about these days. It is floral and rich in the mid-palette but not sweet. It is a 2018 Rustle Viogner from Prayer Rock Vineyards, which is not far from Roseburg, Oregon. Dan thinks this is one of the best Viogners in the US.
Trestle Glen is located in a hot region, they ripen about 2 weeks before other local cooler regions. He does not make white wine, but he can't grow white on his property because it is too hot. He had to pull his Pinot Noir vines out too, because it's too hot. As they taste the Trestle Glen Creekside Cabernet, Dan describes it as very drinkable and fruit forward with soft tannins.
Tom Montgomery was his winemaker for B.R. Cohn and now also for Trestle Glen. Tom was a Fresno State graduate and he's teaching there now. He was there when he planted Trestle Glen and he's the only one who has ever made wine from this vineyard.
When he bought the property, it had 7 acres of Pinot and 7 acres of Cab planted. He read viticulture books and he saw that he needed help. Charlie Wagner of Caymus became his mentor. He grew grapes and sold to many local wineries. When he sold B.R. Cohn it was producing 85,000 cases a year, selling in 46 states.
As they taste this Cabernet, Dan Berger tells about how there are two kinds of Cabernet now, which are Napa Valley and everywhere else. In Napa the Cabernet is made like nowhere else, because of their unique climate and land. Sonoma County has always made good Cab but without such recognition as Napa. Today Sonoma County gets all the Pinot Noir. Alexander Valley is the largest Cab producer in Sonoma Co. Dry Creek is also great but also without recognition. Chalk Hill is also great, as is Sonoma Valley. Sonoma Coast is too cool. It comes down to which style makes the most impact in the market place and that is Alexander Valley. It is a broader, richer, more supple style. Sonoma Valley is more structured. Dan says it is unfortunate that the Sonoma County subregions are not as well known as they deserve to be. Bruce's vines get heat from the warm aquifer.
As for now, he makes these two Cabs, Creekside and Hillside, but with 2019 he will start bottling a Zinfandel as well.
Dan Berger restates that the subregions in Sonoma Valley deserve more individual recognition for their subtle differences with various varieties. For example, up on Sonoma Mountain, there are some properties that still grow Pinot Noir there because the cool winds coming in from the Petaluma Gap cool it just enough for Pinot Noir to thrive.