Podcast: Play in new window | Download (Duration: 37:52 — 17.5MB) | Embed
Subscribe: Apple Podcasts | Google Podcasts | Stitcher | RSS | More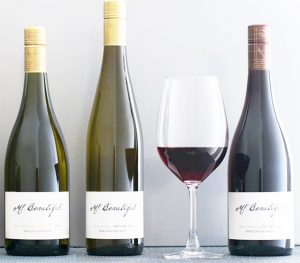 Today's guests are from Mt. Beautiful Winery in New Zealand, CEO Robert Watkins and Marketing Manager Suzanna Mannion join Steve Jaxon, Dan Berger and Berry Herbst in the studio.
Dan Berger believes this is an exciting time in California when we will start to have more distribution of New Zealand wines here, because they are excellent. Robert says they have distribution now in 38 US states and about 10 export countries. With the US dollar currently stronger than the NZ dollar, US buyers have a price advantage.
The winery was founded by a New Zealander who is a professor at UC Berkeley. He did careful research to find his site, then he planted in 2004 and his first vintage was 2007. They are in Canterbury on the South island. Their SB is different than the one from Marlborough on the north island. They want creamy mid-palette, a long finish and good minerality. The 2012 that they are tasting has some green herbal notes, which you get from cool climates.
Next they taste the 2018 Sauvignon Blanc, which Dan says is beautiful, even though you don't usually age Sauvignon Blanc. Dan notices some kiwi fruit in the flavor, which gets a laugh. They don't make it like this in Europe because it's not cold enough.
They typically harvest the 3rd week of March into the 3rd week of April. Usually it's a 3 week process. The next big wine, for New Zealand, after Sauvignon Blanc, is Pinot Noir. That is where they want to go next, as an industry and at their winery.
They get 8 tons per hectare, while Marlborough has 16 tons per hectare, double of their yield. They use screw caps on 97% of the New Zealand wines. Robert tells how they found that there were no cork suppliers and only two lines that could bottle with corks. So it was a virtue of necessity.
The place is "heaven on earth" and there's no one there. The whole country has as many people as the Bay Area. Accounting and banking are quite different, but Robert says there is so much to do and see. It's only 12 hours to Aukland so it's not much more than going to Europe (from the US west coast).
Dan says that there are some Californians who have invested in properties in New Zealand. He says that they are doing a great job with their red wines. Barry says they used to sell 80-20 whites to reds from NZ, now it's more like 60-40.
Next they taste the 2017 Chardonnay.  They import about 60 French oak barrels per year and they have 400 barrels in stock, that they use. They had a small block of Chardonnay It's rich without being over the top, the fruit is citrusy, with a tiny taste of honey. It's about 40% ML, done in barrel. This will be their house style, with the integration of the oak being part of the whole but not dominant. Dan says that sometimes NZ wines have such high acidity that they are awkward and unbalanced. This one does not suffer from that, it is rich without being flabby.