Podcast: Play in new window | Download (Duration: 26:36 — 12.2MB) | Embed
Subscribe: Apple Podcasts | Google Podcasts | RSS | More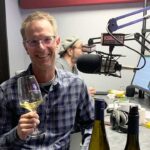 Alan Baker, co-founder of Cartograph Wines, joins Steve Jaxon, Dan Berger and Harry Duke on California Wine Country. He has been a guest on this show a few times, most recently on February 17, 2021.
From Radio to Wine (and Back Again)
He used to have a career in public broadcasting, 15 years at Minnesota Public Radio in Minneapolis / St. Paul, doing classical music programming. Wine got his interest during that time after one good bottle of Alsatian Riesling. That got him interested in moving to Healdsburg in 2005. Today he and his wife make wine together in Healdsburg, focused on Pinot Noir and Riesling. His background came from on the job and also he took some technical classes at UC Davis.
Dan Berger's cellar wine this week is a 2016 Iron Horse Chardonnay from Green Valley, within Russian River Valley, and it is a great example of cool climate Chardonnay that "does not pull any punches." It is at its peak now, 6 years later.
In 2008 Alan Baker made his first commercial wine, a batch of Pinot Noir, at the Crush Pad in San Francisco. It was a place designed by Michael Brill to allow people to experience every step of making wine, in a small batch. He was making wine commercially and other people made it just to keep at home. 2009 was his first North Bay production. Alan is the hands-on farmer and winemaker and his wife manages the business and tasting room, and they study the blends together.
They taste a 2020 Cartograph Riesling of Sonoma Valley, east of Santa Rosa. It is not too warm a place to grow Riesling with good citrus flavors. The Gould Vineyard is up at the top of the hill. He describes it as a pile of boulders with vines. Bennet Valley and Sonoma Valley are close to each other and this wine shows the personality of this region.
Pumpkin Pie and Riesling
To demonstrate how well Riesling goes with Thanksgiving flavors, Alan has brought pumpkin pie, to taste with the Cartograph Riesling. Cartograph isn't in Bottle Barn because their production is so small, but it's on a lot of local restaurant menus and at the tasting room.
They end up with a 2015 Pinot Noir from the hilltop between Anderson Valley and the Pacific Ocean. To qualify for Mendocino Ridge AVA you have to be 1200 feet above sea level, above the fog line, but 6 miles from the ocean so the cooling influence is still present. There is a lot of sunshine but the air is cool.