Podcast: Play in new window | Download (Duration: 34:30 — 15.8MB) | Embed
Subscribe: Apple Podcasts | Google Podcasts | Stitcher | RSS | More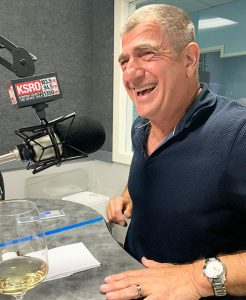 Paul Kalumkarian is today's guest on California Wine Country with Steve Jaxon and Dan Berger. His father founded his company, the Wine of the Month Club, in 1972. His dad grew up in Cairo and was a Pharmacist who operated a pharmacy but he also liked wine and so he opened a wine shop adjacent to his pharmacy. It was one of the first shops in the LA area that stocked fine wine. Finally he left his pharmacy profession and dedicated himself to wine which he simply found to be a more pleasant line of work. When his father was ready to retire, Paul took over the family business.
As a promotion for his wine sales company, Paul Kalumkarian does a podcast called Wine Talks with Paul K. Since he buys a lot of wine, a lot of people will agree to be on his show, including some big names. Dan Berger was a guest on Paul's podcast and now Paul returns the favor.
Dan Berger explains that Paul's success depends on the qualaity of the wines that he choses for his club members. Every one of them has to be great, and that is what keeps the business going. Paul tastes every single one, and each one has to pass his own personal quality test. That's why many people keep their subscriptions for many decades. Paul recently met some customers who joined in 1988. "Nothing goes through this club without me tasting it and approving it…"
They taste a 2016 North Coast Buena Vista Chardonnay. It's available at Bottle Barn for $12.99. This is a good example of the great values in Paul's club selection.
He has done his tasting ritual every Tuesday from 9am to 2pm, for 32 years and he estimates he has tasted over 100,000 wines. He says that he rejects 85% of the wines he tastes, which Dan Berger says matches his own experience. He has a 12,000 square foot warehouse in Monrovia, where there is also a tasting room. There are also 2 brewpubs nearby.