Podcast: Play in new window | Download (Duration: 34:21 — 15.9MB) | Embed
Subscribe: Apple Podcasts | Google Podcasts | Stitcher | RSS | More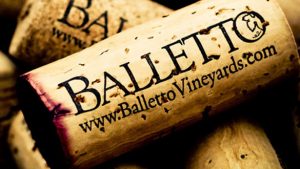 Anthony Beckman, winemaker at Balletto Vineyards, is back on California Wine Country with Steve Jaxon and Dan Berger.
Anthony Beckman tells how his first passion in life was as a newspaper reporter and so he took a BA in Journalism and worked in Washington DC and Philadelphia. Then, the Internet wore down the newspaper business so he worked in Internet startups but spent all his money on wine. He visited some wineries and went back to school, and now he is on his thirteenth harvest. In 1979 John Balletto's father was diagnosed with cancer, and instead of taking a college athletic scholarship, he stayed home with his mother, taking care of his father. They always said they would buy land with whatever money they had. Their first plantings of vegetables were washed out so they tried vines and the rest his history. John Balletto is still there running the winery as he has for 35 years. There is great continuity and a family environment there.
Dan Berger says that when he moved to Sonoma County in 1986, Balletto wines were one of the most interesting projects. It's the heart of the Russian River Valley, and is the most beautiful property, not hilly, wonderful drainage, cooling influences, and the wines get better and better.
In 1994 the family had the largest vegetable farm in northern California, with 700 acres. But now they have almost all grapes. They sell 90% of their production and they keep the top 5% for Anthony Beckman's production.
Their first vintage was 2011, he was nervous about making sparkling wine. He wanted to do a second fermentation and bottle it for 4 years. He found that it was awesome so they doubled production each of the next two years. This Brut Rosé has a strong fruit component and is rich and creamy, with terrific acidity, says Dan Berger. Anthony says that this is the wine that he drinks regularly.
Each year they bottle 22 different wines. Dan likes his Pinot Gris but he didn't bring one. It comes from a high elevation cool site. It would have made twice the money per ton if he had planted Pinot Noir, but John Balletto likes Pinot Gris, so he planted these 8 acres. John Balletto's daughters also work in the business. They went to college, got degrees related to wine and now they are back working in the business.