Podcast: Play in new window | Download (Duration: 36:26 — 16.8MB) | Embed
Subscribe: Apple Podcasts | Google Podcasts | Stitcher | RSS | More
We have two guests today:
Miro Tcholoakov of Miro Cellars http://mirocellars.com/
Jim Morris from Flanagan Wines http://www.flanaganwines.com/
We begin by tasting a German Rosé, from Pffefingin, a Blanc de Noirs, which Dan calls basically a Pinot Noir with virtually no color. It has a copper color, or almost tan. Bone dry, lots of acidity, silky smooth, says Steve.
Steve introduces today's first guest, Miro Tcholakov, owner and winemaker of Miro Cellars who has brought some of his wines for tasting. (He is also the VP of Winemaking Operations for Trentadue.)
Back to that German rosé, it is a bit sweet and the sugar is to cut through the acid. Without that sugar, it would be undrinkable. If you chill it down it gets even drier. Dan mentions that Pinot Noir is now growing in Germany and Barry mentions that the demand for German wines is strong.
Miro tells his story in the wine business. He came 27 years ago as an intern who worked at Dry Creek Vineyards of July of 1990, left in July 1999 as an assistant winemaker, then moved to Trentadue. He started Miro cellars with the vintage of 2001 with Petite Syrah, then expanded to Zinfandel.
He is on the board of directors of ZAP, Zinfandel Advocates & Producers, https://zinfandel.org/.
He is also one of the founders of the PS I Love You organization, a Petite Syrah advocacy organization, http://www.psiloveyou.org/.
Miro believes these two varieties are the claim to fame of the California winemakers. "This is something that we ban brag about, that nobody else grows it that well or that much."
Steve asks Miro about Trentadue. They started in 1956 then started the label in 1969 with a Petite Syrah. It won a Gold Medal at a wine competition in England. He started there in 1999 and modernized the operation. They hav beautiful grounds and host many weddings.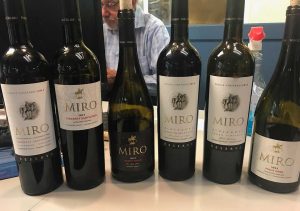 Dan says that things at Trentadue settled down when Miro got there and made the red wines really fabulous. Dan says that Alexander Valley got famous by focussing on the reds. This Petite Syrah is the best example of that. Dan explains that it comes from the "deep end" is the northwestern edge of the Alexander Valley but doesn't get the mid-afternoon heat waves. Dan tastes black cherries, rasberry and chocolate, great acidity.
Barry says Trentadue old vine red is maybe the best selling red under $20, and the other wines are hard to keep on the shelves because they sell so well.
Dan says that these grapes can't grow any farther west from there. Any further west and the grapes won't ripen. It's 3 miles from the redwoods. There is a minty quality in it and Miro says one of the clones are still getting established. It's a rugged area and the vines can be minty from stress, such as obstructed photosynthesis.
Miro talks about when he started Miro Cellars, on a small scale, and he and his wife decided to remain small and independent. He does about 2500 cases at the most, total of all the varieties, which are none more than about 400 cases. Miro says he is thinking of starting to make Rosé.
Trentadue does Sauvignon Blanc and Chardonnay.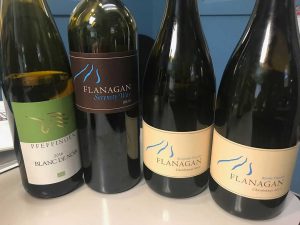 After the mid-show break, Steve talks to Jim Morris, who is also there from Flannagan Wineries. It's his fifth winery tasting room startup.
Jim Morris talks about how they purchased the land where the old Everett Ridge Winery was on and rebuilt everything. They have replanted their vineyards and they aren't producing yet.
For the tasting room, they have a different approach, they are by appointment only, high end individual one-on-one tastings. He only uses word of mouth advertising. There are 460+ wineries in Sonoma County and he doesn't need to compete with all of them for traffic. He has a "killer" winemaking team and says, "you've got to come see us."
Steve asks about Eric Flanagan. "The Irish are known for great winemaking," says Jim. "It takes a lot of Jameson to make good wine," says Steve. Jim tells that he came from back east and wanted to purchase vineyards that had great potential.
Earlier, they poured two Chardonnays, the 2015 Baciagalupi. It is a heritage vineyard of old Wente clone Chardonnay grapes. They also opened a wine from Ritchie Vineyard, which is also planted with the same Wente clone. Jim tells that they made less than 200 cases of each.
Next they pour the Miro Cellars 2015 Dry Creek Valley Petite Syrah. Dan says the secret to Miro's wines is they have good acidity. He likes Petite Syrah for its many qualities but it is difficult to grow. He talks about being a member of PS I Love You.
Dan says that 11 Petite Syrahs were entered at the Mendocino County Fair last week, and 9 of them got Double Gold! Dan says if you're going to have a charred steak, you want a Petite Syrah for it. The fattier the steak, the better the wine tastes.
Before the end of the show, Dan has a shout out for people who remember Dennis Martin, who passed away a week ago. Dan remembers him as the nicest man he ever knew. He was the winemaker for Fetzer Vineyards for 30 years and the heart and soul of what was happening in Mendocino County. He judged at the Mendocino Fair and Dan saw him there just last weekend. He was a wonderful person and they miss him so much. Everyone called him Denny. Here is the Press Democrat obituary: http://www.pressdemocrat.com/news/obits/7311260-181/fetzer-winemaker-and-master-wine?artslide=0
At the end, the musical fanfare is played to induct Dan Berger and Barry Herbst into The Drive Hall of Fame.