Podcast: Play in new window | Download (Duration: 32:49 — 15.0MB) | Embed
Subscribe: Apple Podcasts | Google Podcasts | RSS | More
Tom Liden is our guest on California Wine Country with Steve Jaxon and Dan Berger. He is one of the organizers of the Mendocino County Fair Wine Competition. The 42nd annual edition was held two weeks ago at the Fairgrounds in Booneville and Dan Berger was one of the judges.
Before they taste and describe the winning wines from the 2021 Mendocino County Fair Wine Competition, they have a bottle to taste from Dan Berger's extensive cellar. It's a 2016 Vintner's Reserve Kendall Jackson Chardonnay. It was not supposed to be for aging but it has held up very well and it is a lot more complex and tasty than it was a few years ago. Dan likes to put wine away to see what happens and about 20% of the time, the wine falls apart, but the well made ones get better and better.
The Mendocino Winegrowers Inc, led by Executive Director Bernadette Byrne, produces the annual wine competition. Bernadette Byrne last appeared on California Wine Country in this episode, first heard on July 11, 2018. This is their 42nd year. There were 233 entries, and 43 double golds were awarded, also 36 golds and 103 silvers.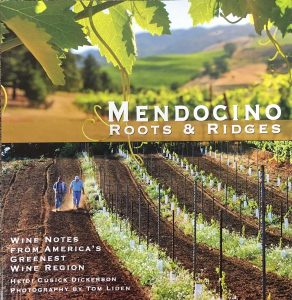 Tom Liden is also a photographer and he has brought a book of his photos to the studio. He worked for a commercial photographer in New York and then moved "back to the land" in Ukiah in the mid '70s and opened a commercial photography studio. His business grew along with the wine industry. The book is called Mendocino Roots and Ridges. The text was written by Heidi Cusick Dickerson and Dan Berger remembers writing a good review of this book when it came out in 2012. Heidi had been doing weekly stories for the local press then the Mendocino County Museum published the book as a good promotional piece for the county and the wines. The Mendocino County Museum in Willits has copies available for purchase.
He brought the Syrah, a Booneville Road 2018 Syrah from a small producer named Ed Donovan, which won the best of show red. It's called Broken Leg Vineyards because it's steep and the guy who planted the vineyard broke his leg in the process.
The second bottle is a 2019 Jaxon Keyes Estate Grenache from the final flight.
He has also brought a Gruner Veltliner 2020 Anderson Valley Navarro Vineyards. Dan Berger says that the minerality in the aftertaste is what makes this wine great. This varietal can be tricky to make and he says it is almost unheard of for a winemaker's first effort to be this good.
Tom Liden tells about being a volunteer in the early days of the competition. It was the first wine competition that featured only wine from Mendocino County grapes. Last year was the first Michigan wine competition. There is also one in Idaho and the Sonoma County Harvest Festival is also locals only.
Mendocino County is one of the areas at the forefront of organic farming, biodynamic farming and sustainability. Fetzer has been a leader in this area, for a long time.
Dan Berger is an internationally known wine judge. After this most recent competition in Mendocino, he said, "This is the best flight of reds in the 30 years I've been coming to this competition." Dan says 25 years ago, the wines may have tasted great but didn't represent anything. Now, an Anderson Valley Pinot Noir tastes like one and a Grenache tastes like a Grenache, etc.
At the Mendocino County Fair in Booneville on Sept 17, 18 and 19, the double gold medal winners will be pouring their wines. They will be there one at a time, taking turns.
The 2012 Best of Show awards are:
Best of Show Sparkling: McFadden Farm Cuvée Brut, Potter Valley
Charlie Barra Award, Best of Show White: Navarro Vineyards 2020 Edelzwicker, Anderson Valley
Best of Show Rosé: Lula Cellars 2020 Rosé of Pinot Noir, Anderson Valley
John Parducci Award, Best of Show Red: Thomas T. Thomas Vineyards 2018 Reserve Pinot Noir, Anderson Valley
Best of Show Dessert: Navarro Vineyards 2019 Cluster Select Late Harvest Riesling, Anderson Valley
As they taste the Jaxon Keyes Grenache, Dan Berger explains about this varietal. No grape variety more than Grenache, can be controlled in the vineyard. They grow massive quantities of leaves in the early growing season, so you have to cut the plants back to get the beautiful aromatics. Dan suggests putting two teaspoons of water into the wine in order to expose the fruit. A bit of water helps remove some of the alcohol and makes the fruit easier to taste.
Last they taste the Booneville Road 2018 Syrah, which is exceptional. Dan says it is the equivalent of a $100 of Australian Shiraz. It retails at $25 a bottle.