Podcast: Play in new window | Download (Duration: 14:10 — 6.5MB) | Embed
Subscribe: Apple Podcasts | Google Podcasts | Stitcher | RSS | More
Ross Halleck of Halleck Vineyard joins Steve Jaxon and Dan Berger on California Wine Country today.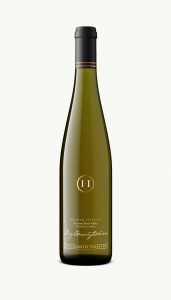 They begin tasting a 2019 Gewurtz from Halleck Vineyard which just won best of class in the North Coast wine competition. It won a gold medal and Dan Berger was on the judging panel. Ross Halleck likes Alsatian white wines, which he got to know while living in Kenya as a young man. The merchant class at that time was primarily Indian. He grew up on Italian food in Illinois but in Kenya, the restaurants were Indian and he discovered those flavors. They liked to serve Gewurtztraminer.  Ross calls it a dry Gewurtztraminer, as it has no sugar. Amber fell in love with Gewurtztraminer when she found that it had floral fruit-forward flavors that the likes about red wine.
Dan Berger says this is a style of wine that is very hard to make. He says it is partially red, pink in the late season. As time goes by on the vine, the red skin color comes out, signifying tannins. That can make the wine bitter. Rick Davis make sure the grapes are not pressed heavily, so the juice is not bitter and keeping the alcohol as low as possible. "It's a very tricky process."
They also taste a 2017 Pinot Noir from Halleck Vineyard. This is the variety that Halleck is best known for. "It's always a fabulous experience…" Rick Davis, the winemaker, gets flavor and aromatics before color, and the wine is pale, that's the Russian River Valley style. Ross calls it garnet or ruby color, Dan Berger says it's perfect Burgundy color. It's not a "fruit bomb" wine. Dan Berger says it is really elegant, and that's what good quality Burgundy is about.
Next they have a 2017 Three Suns, which Ross calls their "handshake wine" which is priced such that it can be sold by the glass at restaurants. It brings people to their door. They sell exclusively to their wine club, and 10 or 15% of their product goes to selected restaurants in Sonoma County, San Francisco, New York and Chicago.
Ross Halleck talks about how difficult 2017 was, with the fires. They did not have smoke issues because the fires happened after harvest, and the vintage was ideal, like clockwork, with bud break in early March and 6 months on the vines, no issues with mold or mitigation. We now know that you've got to harvest these Russian River Valley Pinot Noir grapes early. Their crew did not show up on the morning they needed to harvest and so they had to do it themselves, which was very hard work.
This Pinot Noir comes to the pinnacle of quality, in Dan Berger's estimation.