Podcast: Play in new window | Download (Duration: 41:17 — 19.0MB) | Embed
Subscribe: Apple Podcasts | Google Podcasts | Stitcher | RSS | More
Tom Simoneau is in this week, with co-host Dan Berger. Tom introduces the guests from Jordan Winery, Ed Jordan, Rob Davis who for 40 years has been the only winemaker Jordan has ever had. Lisa Madsen is also there and John Jordan joins the group later.
Rob started in 1976, just after graduating from UC Davis. He tells the story of how Tom and Sally Jordan founded the winery in 1972, and signed the deed for the winery the same day their son John was born. They became known as pioneers in Sonoma County wine. They made Cabernet Sauvignon alone, at first. There were many white varietals being made there and now the production is predominately reds. It was also unique to make only one kind of wine at the time. Tom said that accessibility is more important than age-ability, because it is closer to consumption. When a wine poll revealed that 80% of purchased wine was opened within 2 hours of being bought.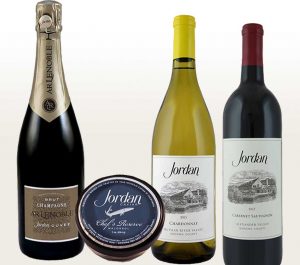 Dan says that despite that, there are 20 and 30 year old Jordan Cabs that are great. But approachability is crucial to the product, you can drink is as soon as you buy it, because of the care it gets in the winery, being properly aged in the cellars. Dan also says it is very nice if decanted, which makes a big positive difference. Tom agrees that's true of any big red.
André Tchelicheff said the wine has been holding its breath all this time. He met André in 1976 and he recognizes that he got a lot from him. He always talked about balance between tannin and fruit.
Rob gives a short history of André Tchelicheff's influence in California. He came here five years after the repeal of Prohibition. So much of the technology and tools we use today were not available then. He worked at Beaulieu Vineyard from 1938 to 1972, then he went into consulting. He mentored many winemakers who are making great wine in California today.
Rob started as a pre-med major but when he learned that UC Davis was building a strong wine program he decided to follow that because it promised a more attractive lifestyle. His best friends were in the enology department.
John Jordan tells how he has known Rob since he was a child at his family's winery and gives credit to Rob for how much he has defined the company.
Our first taste is a Brut Champagne. Dan mentions that there are about 5 wines that are grandfathered in to use the name. In the 1930s, the treaty (called the Methune Treaty) to ban the use of the name Champagne outside of that region in France, was never signed by the US because it was during Prohibition and we were not making any wine. As it turned out, that has given a free pass to a handful of wineries that technically can use the name.
But that one they are tasting comes from Champagne. John Jordan explains how his Dad and sister Judy created the J label to do sparkling wines. When she sold it, it was sad for him. They do champagne, cabernet and hospitality and they didn't want to let champagne fall into history. So they found a partner in France that which was like them, small and quality driven. They make a Jordan Cuvée for them, they sell some at the winery and they use it for their winery events.
Steve asks Lisa to explain the caviar. Culinary hospitality is a big part of what they do and they serve Tsar Nicoulai, the top sustainable caviar based in the Bay Area. They start with the best California White Sturgeon roe. Todd Knoll, their executive chef, worked with Tsar Nicoulai to make a custom cure for Jordan Winery. So Todd collected Pacific Ocean water from Sonoma coast to make salt, then collected seaweed and made a cure out of that. They blended it with their reserve level caviar, so it has a touch of Sonoma County flavor. They serve it at parties to celebrate the release of new vintages. For more information about their caviar, visit this page on the Jordan Winery website.
Some American Champagne producers are grandfathered in with rights to use the term. The Champagne they are tasting is from Champagne, France, and they created a Jordan Cuvée for them.
Dan says it's great caviar because it's not too salty so the flavor of the roe comes through more clearly. Lisa explains that with Tsar Nicoulai the emphasis is on the quality of the roe.
Dan says that the champagne is subtle, with beautiful breath and depth of flavor, but it's subtle so it's not ostentations, it rather gives you the richness of the mid-palette because all of the time it spent on the lees.
Next is one of Steve's favorite wines, the Jordan Chardonnay. Dan says it will be the 32nd harvest that Don makes this wine from exclusive Russian River fruit. The Russian River is a very diverse appellation, with different soils and microclimates. His soil allows for freshness and fuji apple characteristics. He prefers to let the appellation and its fruit dictate the style, rather than making adjustments later. He gets not a lot of buttery characteristics and doesn't want the oak to overpower the flavor. This style upsets some fans of the other Chardonnay who can't identify it blind.
Steve, a major Chardonnay guy, said the last Jordan Chardonnay was the greatest he had ever tasted, until he tasted this one. Tom says it exhibits not only Russian River Fruit, but André's idea was so the wine is "seamless" from first taste of fruit to aftertaste.
Dan suggests to imagine the fruit is the painting and the complexities around it are the frame of minerality and a little bit of oak and a little bit of fuji apple. A mid-palette of richness and acid combined. Rob notes that it tastes a few years older than it is. It sells for $32 at the winery, more at retail, mid-60s in restaurants.
Rob suggests joining the Jordan Wine Club on line and attending Jordan events. They do a big annual event in May. They are located in Alexander Valley.
Next tasting is their 2013 Cabernet. He was ecstatic with the 2012 vintage but then the 2013 has even more promise. Black fruit, cassis, which he thinks is the essence of Cabernet.
They started 50% American and 50% French oak. As they got more defined by depth of fruit, they found the French oak worked better. It costs three times more but John Jordan agreed it was better for the product and to bring out the style they have always been after.
With time waning, Tom sums up, "bullseye" on the cabernet and Dan offers one word, "perfect."