Podcast: Play in new window | Download (Duration: 37:40 — 17.4MB) | Embed
Subscribe: Apple Podcasts | Google Podcasts | Stitcher | RSS | More
Tom Simoneau this week has brought two guests from Silver Oak Cellars, David Duncan, proprietor, chairman and CEO and Nate Weiss, vice president of wine growing. Barry Herbst is also in.
Tom says Silver Oak is maybe the original cult Cabernet Sauvignon producer in the Napa Valley. 1972 was the first vintage. They made the 1972 through 1976 before they started selling the 1972. (They still wait 4 years to release so they just released their 2014.) Their 1974 vintage won a Gold Medal at the California State Fair in 1979. This news came out before wine critics were so influential and it is what put them on the map.
They use American oak for all of their Cabernet. As their founding winemaker Justin Meyer thought American oak tasted good. Justin Meyer was much under the influence of André Tchelistcheff and Buena Vista. Their wines get 2 years in barrels, then 2 in bottle and are "deliciously drinkable upon release."
They own their own cooperage now, in Missouri. It's called the Oak Cooperage. Some wineries in Europe also have cooperages but they believe they are the only American winery that does.
David Duncan tells the story of his father's friendship with Jack Novak. They bought a vineyard in Alexander Valley called Los Amigos vineyard in 1970. In 1972 Justin Meyer was a brother at Christian Brothers winery working under a winemaker named Brother Timothy. Then he met a woman named Bonnie, left the order, married Bonnie and met his dad all in about five months time. Justin wanted to make Cabernet and age it in American oak with a long aging program. David Duncan offered hi 50-50 partnership and they founded the winery over a handshake. They had a wonderful friendship and collaboration for many years. Justin sold to the Duncan family in 2001 when and they are still very close friends.
David majored in English then went to business school and wrote a project about a business model for Silver Oak. He moved from Denver to California when his dad asked him to come run the winery. His brother Tim has been the Silver Oak sales guy since 1986 and David manages finance and growing.
Nate Weiss grew up in Napa and Sonoma Counties. His dad has been a winemaker at Mondavi since the late 1960s and followed his father's vocation.
Twomey began in 1999 with Soda Canyon Ranch vineyard, making a Pomerol style red wine like the one he learned when he interned in France. The next year they acquired a Pinot Noir vineyard then Sauvignon Blanc in 4 vineyards, two in Napa and two in Sonoma. Tom says there is a lot of SB in that area. It's the perfect wine to go with oysters. Tom says it's a little grassy and has some grapefruit.
The 2016 Bien Nacido Pinot Noir is next. They also make several single vineyard Pinot Noir wines. The Bien Nacido vineyard is in northern Sonoma County. It is one of the only vineyards that is "own rooted" and they have to take careful precautions to prevent philoxera from spreading, as Tom explains. Vineyards that are not replanted with philoxera resistant rootstocks are succeptable to it. Very few people escaped having to replant. They have to wash their shoes and not use outside vehicles. (Philoxera is an aphid-like pest that eats the young root hairs thus killing the vine.) Nate takes care to specify that the vineyard does not have philoxera.
Then it's time for a Russian River single vineyard Pinot Noir called Last Stop, after a railroad terminal in Forestville. It will be released in 3 weeks. Barry thinks it could handle up to 15 years in the bottle.
They finish with a Twomey. Nate Weiss mentions the winemaker, Erin Miller. They have many single vineyard releases in their wine club. David tells how Twomey was his grandmother's maiden name, his dad's middle name and his son's middle name. Barry Herbst has lots of Silver Oak wines at Bottle Barn.
The Twomey tasting rooms are on Westside Road outside Healdburg and in Calistoga. Their winery was founded in Oakville. They are halfway between Oakville and the Silverado Trail, hence the name Silver Oak.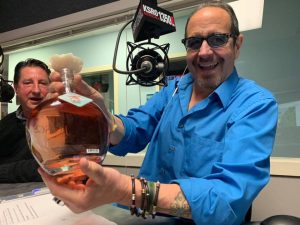 They also have a property in Alexander Valley that was once owned by Cyrus Alexander. Their new tasting room and winemaking facility are beautiful and first rate. They proudly practice sustainable winemaking and have won recognition for their sustainability of their water, energy and materials use. They are just outside of Healdsburg on Hwy 128.
Nate wants to share the vineyard experience and invites visitors to the tasting room to also visit the winery and vineyards which are right there.
Last they taste the 2014 Silver Oak Alexander Valley Cabernet Sauvignon. Tom says you can smell the American oak. They tasted some that were very well aged yet Barry says this is drinkable now too. It has juicy blackberry and black pepper flavors and a drying finish.
Other wineries are showing the 15s and 16s now. They are only tasting the 2014 now. This is their commitment to holding the wine until it's ready by their standards.
Lastly Barry Herbst brought a Rosé for Valentine's Day. Bottle Barn's online store is growing. Visit bottlebarn.com
Lastly they taste the 2014 Napa Valley Cabernet Sauvignon. Nate tells how 2012 was a big year, plush and inviting, 2013 was concentrated and tight and this 2014 is right in the middle. Barry says it has more of everything, layers and layers of flavors.