Podcast: Play in new window | Download (Duration: 31:38 — 43.4MB) | Embed
Subscribe: Apple Podcasts | Google Podcasts | RSS | More
Canned Wine is the subject today, as Allan Green is here to talk about the International Canned Wine Competition on California Wine Country with Steve Jaxon and Dan Berger. Allan Green is the founder and former owner of Greenwood Ridge Vineyards.
Allan Green sold Greenwood Ridge Winery to the Wilson family, it is one of two wineries that they have in Mendocino Co. He started it in 1980 and sold in 2017. He made wine for 37 years. He was one of the pioneers of Pinot Noir and he also made Riesling. His background is in graphic design, but he has been running the Mendocino Co. Fair Wine Competition for 40 years so when the idea came to do the International Canned Wine Competition, he knew how to do it. Now they just completed their third annual competition.
They had 335 entries from 16 countries, including India, places where you don't expect to find wine at retail. Getting the international entries through customs was hard. 85 Gold medals out of 335 were awarded. He has collected wine cans since 1980.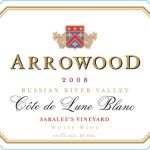 Dan Berger explains that the French were putting wine in cans since the late 1940s. About 1975 or 1980, the plastics industry came up with a plastic liner for these cans. Today's can liners are quite perfect, they put a good seal on the can.
Dan Berger has brought a cellar dweller today, which he says is a little bit past its prime. He thought he would open it about 2015 and the extra years haven't really helped. But they all say the second taste is better. It is a 2006 Arrowood Côte de Lune Blanc, made of Rousson, Marsane, Viognier and Grenache Blanc. It is a little bit oxidized but the flavors are still intact. "About 6 to 10 years in, these wines are really gorgeous."
They have the best of show white wine, which was a surprise, from Allied Wine Works on the central coast, a Grüner Veltliner. They agree that you should pour this into a glass, not drink from the can. Allan explains that they let the wines breathe for a few minutes after opening, before tasting at the competition. This has the steely minerality of the varietal. Harry Duke says that he could never have told that it comes from a can. And Dan points out that it is so well protected from oxygen, that the wine needs a few moments to breathe. You have a fresher and younger wine than from a bottle.
Wine in cans is very convenient. The portions are small enough that you don't have to put it away with a cork. It's easy to fit the cans into a loaded fridge or ice cooler.
The results of the International Canned Wine Competition are online, from 2019, 2020 and this year. Dan found that the Tin Pony can from Iron Horse was excellent. Iron Horse is a major prestige label. Joy Sterling of Iron Horse, who was on the show not long ago, has launched the Tin Pony label for canned wine.
The early Chardonnay grapes are already coming in, in Sonoma County. Wineries that are picking for sparkling wine production are almost finished.
Allan describes the competition, which was set up like any other. One day they did 127 spritzers and coolers, in about 3 hours. The whites and reds had about 80 a day to taste. Allan also brought the best of show red, a Pinot Noir from Oregon. The size of the can is 375 ml, half a bottle. Dan says you can tell this wine was aged in barrels before it was put in the can. Dan tasted about 130 wines in a day at the Mendocino County Fair competition.
Dan Berger remembers a great line from Donine Dyer, a former winemaker of Domaine Chandon, who said, "Viewing a wine competition is like going to someone else's high school reunion." The public is never allowed into a competition. Dan was judging once when the public was invited and it was not easy at all and not to be repeated.