Podcast: Play in new window | Download (Duration: 33:46 — 15.6MB) | Embed
Subscribe: Apple Podcasts | Google Podcasts | RSS | More
Cool climate wines are the theme of today's show, as Steve Jaxon and Dan Berger welcome Tim McDonald and Rusty Eddy of Wine Spoken Here PR, a public relations firm located in Napa, California specialized in the wine business. Today we will taste wines from two cool climate wineries that are represented by Rusty and Tim.
The first is Qupé Winery, located in the Central Coast of California near Santa Barbara. Bob Lindquist of QUPÉ Winery was on California Wine Country last August 2, that show can be heard on this page.
The other winery is Trinity Hill from the Gimbelett Gravels region of the North Island of New Zealand.
They talk about the word Qupé which is a Chumash word for the poppy, spelled with an accute acent over the é (The acute accent is an upward mark "é" 0over the letter; not actually an umlaut, which is two dots over the letter and would be ë). Dan talks about how Bob Lindquist has done a brilliant job cultivating these cool climate varieties, especially Syrah and Grenache, in well-situated cool valleys in the Central Coast region and has been getting excellent results for many years. They call him a master of cool climate viticulture.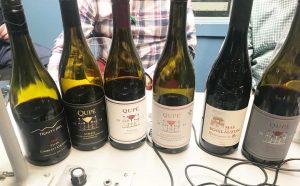 Qupé specializes in Rhône-style wines from the Bien Nacido Vineyard in Santa Maria, the Sawyer Lindquist Vineyard in the Edna Valley, and the Ibarra-Young Vineyard in Los Olivos. Dan remembers attending a Rhone Valley festival where Bob presented a technical paper, in 1987, which talked about growing Syrah in a cool climate. That is tricky and unusual, because these grapes usually need a warmer climate. But he gets excellent flavors in his wines as Dan notes the black pepper notes in the Syrah they are tasting.
Now they pour the Qupé Chardonnay Bien Nacido block 11. This is one of the oldest vineyards in the central coast, probably planted in the 1970s. Bob likes to make barrell aged Burgundian style wines. It has a minty quality that Dan like more than Steve does. It has wonderful citrusy components and a little back pepper.
Dan says Bob Lindquist wanted to change the reputation of the central coast with cool climate wines. His wines and the Au Bon Climat project from Jim Clendennon are the most well known cool climate wines in California. Barry also metions Adam Tomack from Ojai and Dan says they all got their start at Zaca Mesa in the 1970s.
Steve asks Tim and Rusty about the wineries that they represent. Some are in Napa and Sonoma and there are others from Italy and South Africa. Tim says he likes the South African wines Chenin Blancs, Rosés and red blends. The South Africans call their Chenin Blanc "Steen." Dan says that the South African wines that are starting to come into this country now are very good. Dan says their Chenin Blancs have great melony flavors. Chenin Blanc is a huge berried grape and grows essentially in the Loire Valley in France and has its own characteristics.
After the break, Steve asks Dan to explain about cool climate wines. Dan explains that most of Europe is cool, having a continental climate with cloud cover, rain and cool evenings. The European style of wine has been practiced in some places in California where the climate is cooler, Monterey County, southern San Luis Obispo County and Santa Barbara County. There is also some in the Russian River Valley but generally there is more sunlight in Sonoma County. So what Bob Lindquist and his past partner Jim Clendennon has done is make traditional European-styled wines with the traditional grapes, such as Chardonnay and Syrah.
They taste the QUPÉ 2015 Saywer Valley Syrah. Dan says that one of the characteristics of these wines is their lower alcohol content. These vines are located off Lake Lopez in Edna Valley.
After the break they taste some wines from Trinity Hill in New Zealand. The Trinity Hill 2015 Syrah is first. Dan has visited New Zealand many times and knows that their red wines are great, even if most wine writers are covering the whites. Since many good New Zealand wines are not available at retail in the US, they do not get much press. But Dan says that the ones that do arrive are excellent and also great value since they are not expensive. Dan says it has good acidity and would go well with any kind of roasted meat or barbequed salmon, with some fat in it, which would go well with the acidity.
Dan wants to emphasize that both these wineries, Trinity Hill, and Qupé, make lots of other wines that they did not taste today. Dan says that cool climate is where red wine is at right now, and to match it up with some robust food and enjoy it.