Podcast: Play in new window | Download (Duration: 39:50 — 36.6MB) | Embed
Subscribe: Apple Podcasts | Google Podcasts | Stitcher | RSS | More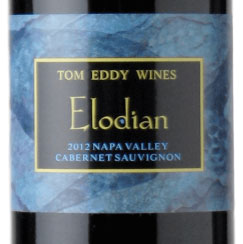 Tom and Rusty Eddy from Tom Eddy Winery are our in-studio guests today on California Wine Country with Steve Jaxon and Dan Berger. Michelle Marquez is sitting in for the vacationing Steve Jaxon today.
Tom Eddy Winery is the most northern parcel in Napa county and their property straddles the line between Sonoma and Napa counties. His parents moved to Davis when he was young so he went to high school there and was attracted to the wine program at UC Davis. He started making home made wine and beer in high school and he couldn't wait to get into the winemaking program. He remembers that his fellow students were several who came from some of the most famous families already in the wine business. So he had to work his way up.
He asked for recommendations as a winemaker and he got a job working for a big company (that no longer exists). Dan Berger and Tom Eddy have known each other for a long time, since Tom was at Souverain before it became Chateau Souverain. They had a jazz festival. It was on a small scale but they had a lot of fun. Robert Mondavi also used to do a jazz program. Now, many wineries have music of one kind or another. Tom Eddy has a lot to say about the talent pool in the wine business. Part of the fun of being a winemaker is the teaching aspect, teaching younger winemakers and learning from them too. His assistant winemaker Jason Gerard has been with him 13 years. He wanted to learn, so much, that he took an internship in Chile even if he didn't speak Spanish. Tom saw that he understood and wanted to learn the cellar part and he took the opportunity to be his mentor.

They open a Chardonnay of his. They wanted to make a Russian River Chardonnay that was not too over the top, with good balance and acid, and that still shows good fruit. Dan Berger says it gets a little smoky component from the barrels but it is not very oaky. There is a subtle spice note that Dan noticed and Tom appreciated that. It is their reserve and sells for $75. It will always be a small production.
Tom Eddy did some consulting work in Venezuela for a couple of years but now he is consulting in New Zealand, called TENZ, Tom Eddy New Zealand. His wife designed the label. They started the project 14 years ago. They've always loved New Zealand Sauvignon Blanc and they were there for the cold climate SV conference. The began with 400 cases. He goes there during harvest and makes a selection and a plan to coordinate putting their blends together, by shipping the tasters to California, then he decides on the blends, which are done there and shipped here.
Dan Berger says that New Zealand wines have come into their maturity. 95% of the SV made in New Zealand today is being made in a more modern style than was used 20 years ago. Tom Eddy saw that things were changing, at the right time. They are tasting a 2017 that Dan Berger says is a stylistic treasure. 20 years ago they were making wines like this, and Dan says it's perfect. It has the perfect varietal component of, not chili pepper, but like a serrano chili, without the heat.
He also describes his approach to Cabernet and Cab blends in the flagship wine. If a single vineyard produces a year that can stand alone, he'll make it. So he does some of both, if warranted. He wants to produce a wine that has solid varietal characteristics, from the mountains, but not overly tannic. He picks grapes based on balance and looking for good acid that will become elegant wines that will last a long time. He always uses new French oak, always for 3 years. Tannins rise in the first two years, then they drop back and smooth the wine out, by additional time in barrel, so you get a little less astringency in the taste, with more time. It will make the wine more expensive but you won't have to age it as long in the cellar to have the effect of a mature wine. "When you buy an Eddy, it's ready" says his website.