Podcast: Play in new window | Download (Duration: 35:01 — 16.2MB) | Embed
Subscribe: Apple Podcasts | Google Podcasts | RSS | More
Carol Shelton joins Steve Jaxon and Dan Berger on California Wine Country today. For more information visit her website  https://www.carolshelton.com/
Dan Berger met Carol Shelton when she was making wines for Windsor Vineyards. They were winning gold medals in a lot of competitions but they were not widely known because they were not readily available at retail. So Dan wrote about how she was taking good fruit and making great wine. She explains how she spent 20 great years at Windsor after graduating with her degree in enology, until 2000 when she founded her own winery. Her Wild Thing wine is one of Steve Jaxon's favorite wines.
She and her husband lost their house in Larkfield in the October 2017 fires but they are rebuilding. Their homeowner's association has been proactive to bring in four of five contractors to allow them to get better prices. $220 a square foot instead of $350-500. So the group of builders will do it for a lot closer to the lower figure.
Carol Shelton was one of the first dozen women to go through the wine program at UC Davis, graduating in 1978. They taught winemaking but they didn't teach viticulture so she learned that at Santa Rosa Junior College under Rich Thomas, who has been on the show many times.
Steve asks Carol Shelton what made her want to get into the wine business. Her mother taught her to cook from a very young age, and to identify herbs by the smell even before she could read. Her parents offered to pay for her education if she took something scientific that could lead to a good job, but they would not pay for her to study poetry. So she visited a winery and smelled oak saturated with red wine and she decided she wanted to smell that every day at work.
Dan says that Carol Shelton joins Steve Jaxon and Dan Berger on California Wine Country today is a great discoverer and he gives the example that she was making Carignane in the early 80s when nobody else was.
They taste her Wild Thing 2016 Chardonnay from a vineyard that they own. It's all barell fermented, no malolactic fermentation. Steve says it is adorable, Dan says it is a very succulent wine and is ready to drink now. It has a little tropical fruit flavor and has a rich mid-palette without any oak character. Carol says they stir the barrels every Wednesday for eight months. Dan says it's so delicious and is ready to drink now, which is suggested by its screw cap.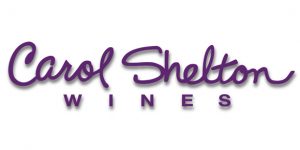 The next wine tasted is called Coquille Blanc and is a blend of four varieties, mostly Grenache Blanc, and also Roussane, Viognier and Marsanne. Dan admires the complexity and subtlety of this wine and the different characteristics that come from the different grape varietirs. Viognier gives you floral components. Grenache Blanc gives some chalky minerality, the Roussanne gives you peach and pear components, but Dan can't figure out what is Marsanne's best quality so he asks Carol. It has more peach flavors where the Roussanne has more almond. As this wine ages, they both will give a sweet honey flavor. Steve is surprised that he was thinking almonds just as she mentioned it. The Coquille is Carol's favorite out of all the wines she makes. Dan says she is lucky because it is hard to get a good vineyard to grow all these grapes and she agrees that even if it is far away, it is worth it.
She bottles about 15 or 16 wines right now. She is no longer going to make Pinot Noir but her Zinfandel is so famous that she is concentrating on that now.
She tells about how during the fires they fled to their winery which has a fire retardant roof and concrete walls; the firemen were able to stop the fire two blocks from there. In their neighborhood there are several other winemakers who share things and help each other.
Dan Berger writes a weekly column in the Press Democrat (the local newspaper) and Steve asks him about this week's column, which is about fads which come and go quickly versus trends which develop slowly. He mentinos that Moscato was a fad for about a year. Today's article is about trends that are on the upswing, trends that he noticed in 2017 and which will continue. First is the comeback of Merlot, but the biggest trend is that Rosé is coming on strong. Carol started making dry Rosé in 2002 and Dan says it is fabulous. She makes it from Carignane, which has vivid strawberry raspberry flavors. It is darker and not too thin, sugary or acidic, like some. This is crisp and soft and sweet.
She uses the name Wild Thing because she uses wild yeast, which means she adds no yeast to it, and it is farmed organically.
Now they taste the Carignanee, which has the weight. Carol Shelton says that you can tell Carignane from Zinfandel grapes when they are ripe in the vineyard because Zin crunches and Carignane disintegrates in your mouth, it is pulpy like watermelon. She treats it like a Zin and keeps it in American oak, which loves big fruity wines.
Dan says he admires Carol Shelton's wines for their structure and balance, and Carols adds, restraint. Ever since her wines for Windsor, there is never anything very ostentatious. It impresses you with subtlety. They have the explosive character of fruit but it's their structure that carries the wine. Carol agrees and compares it to a chef who needs not to put too much sauce on things, not to over-do it. Steve says that certain restaurants overdo things.
Dan notes that she makes mostly red wines and asks why she doesn't make so much white wine. She loves Zinfandel and she loves to set her own standards rather than to strive to copy styles from the regions in Europe where the grapes are native.
Dan notes that plenty of people are making vineyard-designated wines and that is better than blending wine from all over because the characteristics of that vineyard or "terroir" are what make it interesting. She is conciously trying to preserve the terroir of the vineyards. She does not want high alcohol or high sugar or too much oak. Dan says that high alcohol will cover the fruit flavors. Carol tells how she got some Chardonnay grapes that produced a wine that was 14.7% alcohol. After she removed some of the alcohol it got down to 13.3% and that allowed the fruit flavors to come through.
While Carol Shelton is rebuilding, she is also bottling the 2016 wines and finishing the fermentation of the 2017s.
She describes the Rockpile vineyard, which is above the fog level above Dry Creek Valley. The temperature range is narrower, between 70-90 degrees F instead of 50-105 degrees F in. She explains that in order to avoid higher alcohol content, they sometimes have to pick their grapes before all of the tannins are mature so they can be more rustic. This wine is more even because its fruit and tannins are both well developed.