Podcast: Play in new window | Download (Duration: 39:56 — 18.3MB) | Embed
Subscribe: Apple Podcasts | Google Podcasts | RSS | More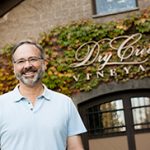 Today Tom Simoneau has brought Tim Bell, winemaker at Dry Creek Vineyard, to be our guest on California Wine Country with Steve Jaxon. Harry Duke is also in the studio and Dan Berger is away judging the Mendocino wine competition.
Tim Bell was a guest on California Wine Country in an episode that first aired on March 22, 2017. He was here again along with Dry Creek Vineyard founder David Stare in this episode from May 29, 2019.
Tim Bell begins by telling his personal history in the wine business. He worked for a wine retailer in Southern California called Liquor Barn, where he became acquainted with wine. He later attended UC Davis and he has been working in the business for 30 years now. Dry Creek Vineyard was founded by David Stare in 1972, part of a wave of new wineries that brought modern winemaking to California, including Chateau Montelena, Stag's Leap and Burgess Cellars. They are known as the Class of '72. They are planning some big parties for their 50th anniversary next year, along with several other North Coast wineries.  "Sauvignon Blanc and Chenin Blanc continue to be staples for us today," says Tim Bell. Dry Creek is best known for Sauvignon Blanc and Zinfandel.
They are taste the Dry Creek Vineyard 2020 Sauvignon Blanc. This sells for $20, which is a bargain for a good one. Next they taste a Dry Creek Vineyard 2019 Chardonnay, which is sold out. Steve, whose middle name is Chardonnay, loves it. They only make about 700 cases of this wine. They only pick from their favorite spots. In another month the 2020 will be out and it will be at least this good. Their best well known wine is Fumé Blanc which is a mix of Dry Creek and Russian River Valley grapes.
This wine is a second take on that, but with only Dry Creek fruit, and they also use some Sauvignon Musque and Sauvignon Gris. It has taken a few years for the vineyard to reach maturity but it's there now. Tom Simoneau says it's not too green, new mown hay. Tim Bell tastes ripe Meyer lemon, lime and a hint of peach or apricot. They do a limited amount of barrel fermentation but they don't use new oak. They use older barrels, which may have held Chardonnay for a few years. They also use Acacia wood barrels, which have floral and minty notes. They also use 2-3% chestnut wood barrels, which add a vanilla cream quality
David Stare was quite a pioneer. Tom Simoneau says that we are in the middle of the golden years of winemaking and Dave is a friend. David Stare founded the winery and his daughter Kim Stare Wallace is President now of Dry Creek Vineyard. She is on the cover of Wine Spectator this issue. Dry Creek Vineyard is open outdoors by appointment only, since Covid. They are located on Dry Creek Road at the corner of Lambert Bridge Road, right across from the Dry Creek General Store.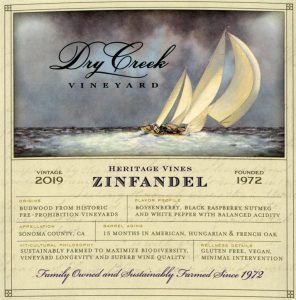 Harry Duke asks what has to happen to a used barrel, before it can be used again. Tim Bell describes the cleaning process. You would never put a white wine in a red barrel. After 3 years, the oak flavor is used up. So a neutral barrel is its own individual fermentation tank. Especially with Sauvignon Blanc, the fermentation happens in one big steel tank. But with barrel fermentation, different barrels will have different characters, which add different layers of complexity
Next they taste a 2018 Dry Creek Vineyard Estate Zinfandel from the Wallace Ranch. This single vineyard zinfandel is from a vineyard right across from the winery. They make a wine called Heritage Vine Zinfandel that sourced budwood from an old Zinfandel vineyard, the Mazzone selection. They have it in 4 different estate vineyards, and each has its own personality. It's 95% Zin and 5% Petit Syrah. It's available only through the winery or the wine club.
Then they taste the second Zin. Tom Simoneau noticed the smoothness of the first Zin, this one is the 2019 and it's a little softer. It was a cooler vintage, says Tim. This is a little lower in alcohol compared to some other big Zins.
Harry is impressed with the tons of information available on the Dry Creek Valley label. Tim Bell agrees it presents a lot of information in a clever way. They also have a patented design of their corks, and they deliver information about that on the corks themselves.