Podcast: Play in new window | Download (Duration: 21:17 — 9.9MB) | Embed
Subscribe: Apple Podcasts | Google Podcasts | Stitcher | RSS | More
Today's guest is Harry "Hank" Wetzel III, owner and general manager of Alexander Valley Vineyards. The interview contains Hank's nice summary of malolactic fermentation in winemaking.
Dan introduces Alexander Valley Vineyards as one of the iconic Sonoma County wineries. He remembers their first vintage, a 1975 Chardonnay, when Dan started writing about wine. Dan says he tasted the 1975 Chardonnay, loved it, fabulous wine. It was not made with malolactic fermentation so it had good acidity and held up in the bottle. This 2015 is a great example of that. Steve says maybe it's his favorite of all time.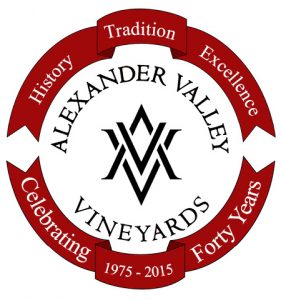 Kevin Hall is their winemaker, and produces this in a way similar to Hank's 1975 Chardonnay. He remarks that "…about 25% of it does go through malolactic then the other 75% never sees wood at all, so the fruit level is kept really high with good crisp acidity. And those proportions are blended right before the wine goes into the bottle."
Steve asks Hank to explain Malolactic acid. He replies, "It's a somewhat mysterious secondary fermentation where malic acid bacteria convert naturally occurring malic acid that's in the grape juice, to lactic acid, the same acid that's in fermented cabbage or other fermented foods. It creates a buttery component when that happens. The acid is less tart and so it adds some complexity to the aroma of the wine. All of our red wines go through a full malolactic fermentation, to reduce the acid a little bit."
Dan says it has a balance between acidity and softness.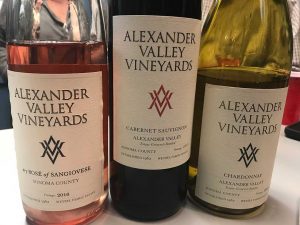 Steve asks about the history of the Wetzel family ownership of the estate. Hank tells that his parents purchased the historic Cyrus Alexander homestead from the Alexander family, for whom the valley is named, in 1962. They were running it as a cattle ranch. His father had been exposed to French wines on business trips to Europe and thought there was a future in growing grapes in the Alexander Valley. He never imagined what it was to become.
He had a lot of apprentice type jobs at lots of different wineries and attended UC Davis where he also met his wife Linda. The '80s were tough but since the '90s it has been very successful.
Dan says the property is famous for its beauty as well as for the quality of their winemaking. Hank's mother bought a schoolhouse, moved it about a quarter of a mile and restored it to turn it into a guest house for tastings with visitors. Dan says they had a big head start making high quality wine in the Alexander Valley, although they didn't know it at the time.
Hank made the wine until Kevin Hall joined in the late 90s, as Hank was traveling more, Kevin took over. Hank says Kevin makes better wine than he ever did and has helped them grow their production. Dan says that Alexander Valley Vineyards was a big winner at his annual competition about a month ago. This got a Double Gold Medal and became the best rosé in the competition. It is a Sangiovese Rosé with rich strawberry and raspberry fruit. Hank is pleased that the American public likes the dry rosés.
Next they taste their Cabernet. Hank says it's their best selling wine and they are producing more than they ever have. He thinks they have about 90 acres of Cabernet out of a total of about 230 acres. Dan says it has a classic Cabernet nose, with leafy olive component, with black cherries and ripe red cherries as well. The oak is there just to support it but is not too evident. Hank says the Alexander Valley Cabernets are softer than the ones from Napa. It is only 14.0% alcohol which is moderate for a Cab. Hank says they have been tweaking their style to bring the alcohol down by about two tenths of a percent, which makes a big difference.
Dan suggests to visit the property, because it's gorgeous.