Podcast: Play in new window | Download (Duration: 29:43 — 13.6MB) | Embed
Subscribe: Apple Podcasts | Google Podcasts | Stitcher | RSS | More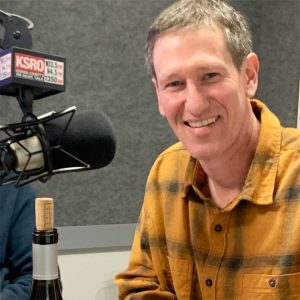 Greg Morthole is our guest again on California Wine Country with Steve Jaxon, Dan Berger and Harry Duke today. Greg has been on this show twice before, on October 10, 2018 and again in this other episode from January 15, 2020.
The Davis Bynum site says "The original Russian River Valley Pinot Noir," and Steve asks Greg about that. Back in 1973, Davis Bynum was one of the first Pinot Noir producers in Russian River Valley, as so designated on the label. He used Joe Rocchioli's grapes and his first winery was on West Side Road, built it out of an old hop kiln. There were probably others doing it too, but they were the first to label it as such. Dan Berger has a bottle of that '73 somewhere in his cellar.
After Davis retired and the Cline family acquired the brand, it really took off. Also, the wine's stability improved with investments the new owners made.
Davis Bynum
Davis was born in 1925 and made his first wine in 1951, with a friend. He must have gone to Krug because they bought grapes from Robert Mondavi. Next year they went further up the valley and met Louis Martini. For 15 years, his day job was as a reporter for the SF Chronicle. He decided to start a winery. For a while they were buying bulk wines and blending them to taste. He then bought a property in Napa and wanted to build a winery there, but he could not get local approvals, so he sold it and moved to Sonoma County. He tasted a Pinot Noir made in Sonoma County and decided that this was the place to be and the wine to be making.
Davis met Tom Cline in the 90s in London at a wine fair many years ago and Davis mentioned that he might want to sell the winery one day. In 2007, "they shook hands on it." The Cline family has a long history in California agriculture. Dan Berger says that the location is ideal for grape growing, and the Cline family has chosen good locations and developed good systems and equipment.  Greg started with Rodney Strong in 2005 and started with Davis Bynum in 2010.
Dan Berger's Cellar Dweller
Dan's cellar wine today is a 2010 Davis Bynum Pinot Noir, which means that Greg made it. The vineyard is Jane's, on Woolsey Road. It has rolling hills like big ocean waves 30 feet high. The vineyard was planted to 8 clones of Pinot Noir, including two unusual Swiss ones, and a heritage clone brought over in the 1940s or 50s. 2011 was a cold year.
Pinot Noir doesn't handle the heat well. In a cold year, "you can hang on to the acid and you get this bright berry fruit tone…" Dan says that it was fruity before, with cherry flavor, but now it has taken on a second layer of "forest floor" flavors. This is Dan's last bottle of this. It has a great finish and is rich without being alcoholic. It carries its weight because of the acidity. Greg says that is a characteristic that he strives for.
Davis Bynum is open Thursday through Monday, 10am to 5pm. Davis Bynum wine is being poured at the Rodney Strong tasting room. They have a Davis Bynum flight of five wines, there is a Rodney Strong flight too.
Dan Berger remembers Davis Bynum as a wonderful, soft-spoken man who made excellent wine but who flew under the radar.
Two Pinot Noirs and a Chardonnay
Next they taste a 2018 Russian River Pinot Noir from 2 vineyards, one is Jane's Vineyard near the middle, then the other is Dutton Ranch, up in Green Valley. Steve agrees it is velvety and smooth and very drinkable. Dan Berger says it needs at least 2 or 3 more years, or to be decanted for an hour.
After that they taste a 2019 Dutton Ranch Pinot Noir, from cool-climate Green Valley AVA. Dan says it has a great aftertaste that "goes on and on and on." Greg thinks this would be a good one to age for 10 years and Dan agrees. "This is a structurally fabulous wine," he says. Greg Morthole says you get good fruit and acidity from this vineyard, including potpourri and citrus.
Finally there is a Chardonnay, which is Steve's favorite. This is the 2018 River West Chardonnay. The vineyard has gravelly and sandy soil and gives apple and pear and flint tones. Dan remembers a River West Chardonnay that Rodney Strong had made, with far lass oak than was fashionable at that time, the 90s. It was chablis-like, with the aromatic and aftertaste of Chablis but the mid-palette like a Burgundian style.