Podcast: Play in new window | Download (Duration: 32:42 — 15.1MB) | Embed
Subscribe: Apple Podcasts | Google Podcasts | Stitcher | RSS | More
Michael Beaulac, Pine Ridge Vineyards winemaker, joins Steve Jaxon and Dan Berger on California Wine Country this week.
Dan introduces Michael and tells how he has been making wine for a long time and Dan appreciates his style, which favors acidity. Steve asks Dan to explain the value of acidity. Dan says it's so well integrated that you don't taste acidity, but balance. It encourages salivation, which lets you taste food taste even more. Michael uses the term bright. It's a native ML, malolactic fermentation. He doesn't add yeast because he uses the naturally occurring yeast that is on the grapes. So it takes 7-10 days for fermentation to start. He slows it down to allow more flavors to develop, about 2-3 weeks for primary fermentation. Keeping the room cool delays the ML, so it starts in the early Spring. Right now the 2016 vintage is about halfway through ML. Dan says he would lay this down for 2-3 more years, but the nice thing about it is, the way it's made at the winery, it has some time already in it.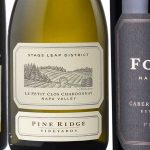 Steve asks Michael about the winery. It was established in 1978 by Gary and Nancy Andrus. Next year is their 40th anniversary. He is GM and winemaker. They make Chardonnay, Cabernet and Chenin Blank Viogner. Being in Napa Valley, with the value of the land, it is only achieved by having Cabernet on it. Dan says it's in the Stag's Leap district which allows him to make the silkiest Cabernets in the valley.
Dan says the Chardonnay has nice fruit, and citrus notes that come from the cool Carneros region. Michael says he uses about 50% French oak, which is his balance. Dan, says sometimes a Chard can be like a colorless red, but this is not. He says to pair this with some rare roast beef and see how the acidity compliments the proteins in the meat. It has wonderful fruit, just a trace of tropical, also citrus note, coming from cool region of Carneros, lemon curd. Integrated within that is a slight bit of oak that comes from these French oak barrels that you can't get from American oak.
1979 was first Pine Ridge vintage, Chardonnay and Cabernet. But their focus is on Cabernet. They have 160 acres, in 5 different AVAs. We have Howell Mountain, Rutherford, Oakville, Carneros and Stag's Leap, which is where the tasting room and winery are located. They are located on Silverado Trail, on the southern end of the Stags Leap district. It's just south of Yountville. They are tucked in a little canyon that gets nice breezes in the afternoon. It is cooler in the afternoon. It was 88 degrees at the winery and at St Helena it was 93. Merlot and Malbec also grow well there. They make 16 different wines. Only 4 are sold nationally, the rest in the tasting room.
Dan suggests it would go well with halibut. Dan also has a recipe idea, he says to cook down some grapefruit juice, reduce it to a glaze with a little butter, pound out a chicken breast, cook it in the juice and serve with this Chard.
Michael Beaulac tells how used to have a jazz dinner club in Vermont. Tim Murphy jokingly offered him a job and he moved to Sonoma in 1989. He worked at different wineries in Napa until joining Pine Ridge.
Dan brought a Pinot Noir from Alsace, with 12.25% alcohol, very neutral oak, and the secret is it's a light fruity red, about $20/bottle. You could serve it with tuna, it's flavorful in a European style. The California style would be more fruity. At that price it's a good value.
Now they taste a 2014 Napa Valley Cabernet. Dan says 2014 was a great vintage. Michael says they have had a string of good vintages from 2012-2016. 2016 was on estimates for quantity, 2015 was tough for volume, but quality was good. And Dan's fave is 2011… so go figure! Dan says it's fabulous now but 2 years later even better. Very bright acid, clean crisp, great fruit, aged in American oak for about 16 months. Steve asks what's the difference with American oak? Michael says the American oak gives structure, more in your face and French oak is more subtle. It's only 35% new oak, which makes it creamy.
Dan says the secret is that the oak is not heavily toasted, not smoky, not chocolate or mocha. It's red berry fruit, mid palette substance and weight without the oak showing through as oak. Dan thinks it needs about 3-6 more months, or just decant it. Micheal says you can even just pour off a glass and shake the bottle.
Dan says, if you visit Napa, just stay in one AVA, don't try to do it all in a day, there is too much there. For example, Stag's Leap is it's own AVA and can be recognized by taste, as Dan demonstrated in a tasting once. It's a small AVA but one of the greatest.
Michael talks about Fortis, their top blend. They started making it in 2003. It's a Stag's Leap AVA wine. It is a world class Cabernet Sauvignon.
Dan mentinos that Pine Ridge also owns a small property in Rutherford. John Daniel lived there and kept an airstip there. He was the great nephew of Gustave Niebaum, who founded Inglenook. He wanted to keep his airstrip. A later owner, the late Gary Andrus, decided to plant it, and was told by experts that it would fail, but it did not.