Podcast: Play in new window | Download (Duration: 32:48 — 15.1MB) | Embed
Subscribe: Apple Podcasts | Google Podcasts | RSS | More
We have no new show this week due to the wildfires here. For this week's podcast, here is the debut of Dan Berger on California Wine Country with Steve Jaxon, also joined by Tom Simoneau, from August, 2016.
Dan Berger joins California Wine Country for the first time today. Steve introduces Dan who has been a wine columnist since 1976 and has lived in Sonoma County since 1986. He is the author of four books about wine and has been a syndicated columnist writing about wine. He has extensive personal contacts here in wine country and all over the world.  Here is Dan's weekly column on wine for The Press Democrat in Sonoma County and here is his subscription newsletter, Vintage Experiences. He also runs his own annual wine competition,
Dan Berger started in Southern California as a sports writer. Dan tells how he started as a general assignment reporter for AP after college and covered sports, going to the Olympics and ten Super Bowls. He found that as a good writer with flair and a sense of humor, "…wine and sports are sort of the toy departments. There is no life or death here, it's all very simple stuff…" and every year there is a new process, whether a new team or a new wine. Teams and wine both change all the time. When a winemaker makes a change, it updates the story. Dan was, from 1988 to 1996, the wine columnist for the Los Angeles Times. He was also a syndicated newspaper columnist and still publishes a column "here and there."
Tom Simoneau tells how he has known Dan for a long time and he andDan Berger have judged together at wine competitions. Tom says that he reads Dan's weekly newsletter Vintage Experiences every week. He says Dan's work is thought out and correct and well researched. His weekly column for the Press Democrat is published in the PD as well as the Napa Register, and elsewhere. Dan is also a well-known wine judge. Dan also knows about the new wineries in Michigan, Ohio and New York, as well as Chianti.
Steve asked Dan Berger and Tom Simoneau to bring in some interesting wines that they like or don't like. The first tasting is one that Tom brought in, a 2015 Clarksburg Chenin Blanc from the Dry Creek Vineyards. (Dan calls these less popular varieties "orphan varieties" with a laugh.) Tom says it has sort of the body of a Chardonnay, a little fruity, kind of like a Pinot Gris. Dan tastes a melon component, soft but no sugar. It's "instant wine" ready to drink now. Tom says it's fresh and ready to drink "by the pool." The fact that Tom brought this wine in today is a coincidence because this same wine is also Dan's Wine of the Week in his Press Democrat column this week.
Dan says that this Chenin Blanc comes from a 30-year-old vineyard that was planted by Ken Wilson in the Clarksburg area. It's a fabulous example of the fruit characteristics that come from this grape in Dry Creek. Tom mentions that this wine has no oak, so it's "easy wine." Dan mentions that there are only about five Chenin Blanc producers in California at the moment.
The next wine is a Chardenet, which is the original French spelling of "Chardonnay." It comes from a producer named Carneros Hills, its name is Chardenet, from Durell Vineyards. You can taste that it was aged in French oak barrels so it has that toasty character. Tom says it's nice and creamy, a little tropical fruit, a little banana. Dan calls it a rich, oily wine with good mid-palette weight. Steve asks about the "banana" flavor that Tom noticed and remarks how he can recognize the flavors that other tasters point out, even if he would not have thought of it. Dan points out that the tropical characteristics come from the fruit, not from barrel aging.
Steve asks Dan Berger to talk about his other publications. He describes Vintage Experiences, which is converting from a PDF format to an Internet-based format, only for subscribers. He's in his 19th year, it started as a fax-only publication.
Dan also operates his own "Dan Berger International Wine Competition" which started 35 years ago. It originated in Riverside County near the Temecula wine region. Now it's based in Sonoma County. They had 2100 wines last year, with judges from all over the US. (Listen to the episode of Caifornia Wine Country about Dan's 2017 competition here, from May 10, 2017.)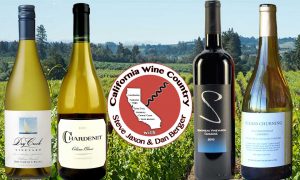 The next wine tasted is a Chablis, Ocean's Churning label, from Carneros. Dan Berger tells about Raj Iyer, who noticed that nobody was making Chardonnay the way Chablis is made and he wanted to do that. Of course, Chablis is from all Chardonnay fruit, but in the US we tend to over-do it. So Raj went to some old plantings of Chardonnay to get the vines to make a delicate style of wine that imitates Chablis. Steve points out that it is completely different from the Chardenet. Tom says they define terroir as they come from adjacent areas. Dan says the Chardenet would go with lobster and the Chablis would go with sole. He likes how the two of them show how Chardonnay grapes can make two very different tasting wines. Chablis is 100% Chardonnay make in a manner that allows the soil, slate and clay in the soil to pervade the wine. This wine needs 4-6 years in the bottle, while the Durell can be enjoyed now. It will be more like Chablis as it ages.
The final tasting is a Simoneau Vineyard 2012 Fenceline blend, with 65% Cabernet Sauvignon, 21% Merlot, 7% Cabernet Franc, 6% Petit Verdot and 1% Malbec. It won a Gold Medal at the Harvest Fair last year. Tom says that so far, it's the best wine he's ever made.
In closing, Dan remembers the late Ben Pearson who was the show's co-host until his untimely passing in July of 2016. He was the wine buyer at the show's on-air sponsor, Bottle Barn, and Dan talks about his fine work selecting the store's stock.