Podcast: Play in new window | Download (Duration: 38:19 — 17.5MB) | Embed
Subscribe: Apple Podcasts | Google Podcasts | Stitcher | RSS | More
William Knuttel, winemaker of William Knuttle Winery and partner in Ottimino Wines, Square Peg and other labels as well. (We thought we were featuring Ron Rubin Vineyards but Ron was a late scratch.)
Bill has also just launched Knuttle Family with his son and daughter. He also recently started Square Peg Winery, with his partner, who needed his own brand and had Pinot Noir growing by his house near Occidental. Ottimino is a Zin from Sonoma Coast.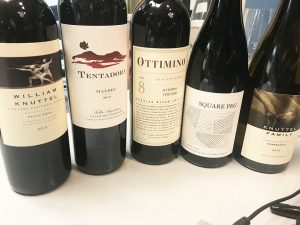 Dan knew Bill when he was at Dry Creek Vineyard. Bill didn't have any Pinot Noir there, he was making really good Chenin Blanc. They open a 2015 Knuttle Family Cardonnay, Russian River Valley, Kate's Pas de Deux, and Steve asks Bill about his career.
Bill started in Napa, at Saintsbury, 1993-1996, made Sonoma side and Napa side Carneros Chardonnay and Pinot. His winery was instrumental in bringing Burgundian style Pinot to California. He may have done the first unfiltered Chardonnay in 1986 before anyone else. Later on he was winemaker 1993-2003 at Chalk Hill Estate, with all estate fruit.
Then he went to Dry Creek Vineyard as a winemaking consultant and turned their program around with Chardnnay, Cab, Zin, and saw lots of varieties over the years.
Steve asked Bill how he got started in the wine business. He explains that he was trained as a Chemical Engineer and was 5 minutes from a plant explosion and traumatized, decided to change his line of work. He was lucky because it was when UC Davis was bringing on new faculty to hire chemical engineers instead of faculty from farming backgrounds. He has been making wine since 1983.
Next is a Knuttel Family Russian River Valley Chardonnay. It's an $18 RRV Chardonnay in full Burgundian style, done in French oak. Dan thinks it should lay down for 6 months to one year. Steve tastes pistachio fresh nuttiness and the others agree.
Dan says Chardonnay is red wine with no color. The secret to this wine is treat it a little like red, decant it, for an hour or two. Maybe an extra year or year and a half in the cellar. Dan says it's gorgeous now but a little awkward, and would be perfect with a little more time. Dan says, this Chard would go well with scallops prepared with vanilla, which he had once. Steve is getting pistachio flavors. Would that change with time?. Dan says no, it's complex. Aromatics now are youthful, you want to broaden and soften it, so they will come out more. Nuttiness comes from broken down yeast. Steve thinks it might work with raw oysters.
Ottimino, all Zinfandel, is an Italian name. The label is named after a gentleman who lived on the property who lived to be 104 years old. His name is a play on the Italian word for "best" so his name means "best little guy" instead of the usual name "Ottaviano."
Bill says that the vineyard is located in what he calls the "Banana Belt" of the Green Valley section of Russian River, on a peninsula where the Harrison Grade is, where it catches the fog and Zinfandel grows very well.
Dan talks about the heritage of Zinfandel vines being part of the culture of the Italian families who first planted vines in Sonoma County. Bill says it's cooler there so it's always ripe by the end of September. Dan mentions, ripe in the traditional sense, not the present-day practice.
Then they taste the Pinot Noir. All of his Pinot Noir wines are 100% Pinot Noir. Dan says the Pinot Noir is a good example of western Russian River Valley, with a great mid-palette. Most of these wines are available at Bottle Barn. It is as natural a wine as you can get, no filtration.
Now they taste the Ottimino Zinfandel. They are true Sonoma Coast Zinfandels. The western Russian River gets just warm enough for the grapes to ripen an extra couple of weeks. It makes a balanced wine with limited alcohol. Some growers will change Zin fields to Pinot Noir because they might make more money but there is more long term value in keeping the old vines.
Next they taste a Malbec from Argentina, grown at high altitude. It has a deep dark color. Dan thinks it would bear 6 to 10 years of aging. It sells for $24 retail. He has a new brand called "Bad Brothers" that he is making with partners in Argentina, blending Malbec with Torrontés.
The Orange Wine is a Bodegas Viñátigo vinatigo.com/en/wines/ from the Canary Islands. Dan says he has never smelled a white wine that smelled like black pepper. It is orange colored but not made with oranges, nor is it intentionally oxidized. Dan finds it interesting. "I like it to the degree that I don't hate it."
Finally they taste a William Knuttle 2013 Petite Syrah that Dan says needs 2-5 years more in the cellar. The grower has two rows named after his children, Rex and America, 100-150 cases per year.  A lot of Petit Syrah is very pedestrian, but this wine is special. He just got Gold Medal and Best of Class in Sunset Magazine competition for it.